Jeanneau Sun Odyssey 349
By Sven Donaldson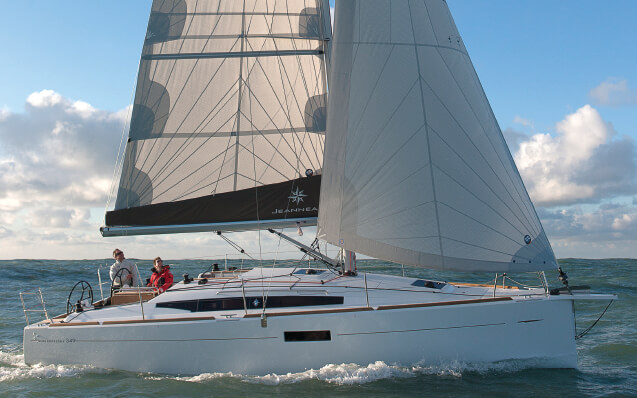 Full credit goes to Jeanneau for some genuinely innovative thinking in creating a new 34-footer to join the pre-existing Sun Odyssey series from 37 to 56 feet. Even when viewed from dockside, this boat is conspicuously different from the Jeanneau's other "9" series models, primarily because naval architect Marc Lombard has given her reverse sheer—a feature rarely encountered in the conservative world of sailing yacht design. Arching the sheer line upward is, of course, an entirely sensible thing to do because it boosts living space and headroom amidships where it matters most. In my estimation the convex sheer helps to soften the squared-off, angular look that often results from flat sheers, plumb ends and above-water chines. Kudos to Jeanneau for daring to be different.
Hull and Foils  Like many contemporaries, the Sun Odyssey 349 beam barely tapers from amidships back to the transom. Modern keelboats with extremely wide sterns are excellent candidates for the twin rudder treatment because even a deep single rudder will be prone to lift-out and ventilation at high heel angles—the times when steering authority is most needed. Instead, the 349 has two fairly small spade rudders with the shafts canted outboard so the leeward one will be more-or-less vertical when heeling over in a stiff breeze. At times, the windward rudder will create a bit of extra drag, but superior steering control, especially in gusty conditions, makes this minor tradeoff well worthwhile.
In most other respects, the basic
design of the 349 is unsurprising with a clean, undistorted canoe body and those popular topsides chines, which, more than anything else, provide extra space in the aft cabin(s). That said, considering the 349 has a displacement-to-length ratio of 179—relatively light for a well-equipped 34-foot cruiser—there's a good chance that these chines will sometimes facilitate transitional planing when a keen crew pushes hard in a stiff breeze.
Construction Again, no big surprises here: the Sun Odyssey 349 is built very much like its larger siblings. The hull has a single-skin lay-up with in-turned hull flanges that create a substantial bonding area where the deck gets glued and screwed into place. Early in construction, while the outer hull laminate is still supported by its mold, the internal supporting grid is permanently bonded into place. This substructure also serves as a foundation for the plywood bulkheads and furniture modules—robotically cut, assembled and pre-finished prior to
installation.
Our test boat was equipped with Jeanneau's standard T-bulb, cast iron keel drawing 1.98 metres (six feet, five inches). A shoal keel is available for shallow water areas like the U.S. southeast and the Bahamas.
Also available is an unusual third option: a hydraulically-actuated swing keel that pivots backward until it's trailing edge lies parallel to the boats bottom. Even when fully lowered, the leading edge of this swing keel is raked about 30 degrees—a definite advantage for shedding seaweed and flotsam. There's no bulb, but because the swing keel draws nearly eight feet when lowered, designed stability is virtually the same as with the fixed keel options.
And unlike other shoal draft alternatives, Jeanneau claims zero performance degradation with this swing keel option. An on-line video of two-boat side-by-side testing (conducted by a German magazine) appears to bear this out. Whether the gunkholing potential of 1.09 metre (3.5-foot) draft is enough to justify the roughly $12,000 added cost for the swing keel option is debatable, especially here on the West Coast where it generally seems the depths are either more than 50 metres, or less than one. All the same, it's an innovative feature, and another example of Jeanneau's willingness to explore some unique and offbeat solutions in the new 349.
Cockpit, Deck and Rig  To complement its twin spade rudders, the 349 also sports twin wheels installed on molded fibreglass pedestals (which double as back rests at the aft ends of the cockpit seats). The foot well between the cockpit seats is wide enough to accommodate a fixed, drop leaf table while still leaving space enough on either side for easy access to the stern boarding area.
Thanks in part to the hard-chined hull shape with its near-vertical topsides extending aft, the hinged transom platform becomes remarkably wide and spacious. Indeed, despite having a hull length under 33 feet, the 349 offers cockpit amenities that match, if not surpass, most 40-footers that date back a decade or more.
The standard jib sheeting arrangement for the 349 is a "flying ring"—not uncommon on today's raceboats, but seldom seen aboard cruisers. Instead of longitudinal, deck-mounted tracks equipped with captive lead blocks, the jib sheets pass through low-friction fairleads that are suspended using small tackles anchored to deck eyes with the control lines lead aft to the cockpit. To prevent the windward ring from rattling around on deck when its jib sheet is slack, each eye also accommodates one tail of the double-ended mainsheet. Although I'm not entirely sold on using the "German" mainsheet system on a boat as small as the 349, it's certainly nice to have the mainsheet close to the helm while also keeping the cockpit free of encumbrances. The downside, of course, is the necessity of using a winch for trimming, which is slower than a conventional mainsheet tackle.
All in all, the rig and deck arrangement on the 349 is well-sorted and workable. Moreover, it minimizes the need for expensive hardware—a key consideration when building a small cruiser that competes in a particularly price-sensitive sector.
Systems Despite being the entry boat for Jeanneau's mainstream cruising line, the Sun Odyssey 349 offers a full suite of onboard comforts including compressor refrigeration, hot and cold running water, extensive lighting and a spacious marine head (with separate shower stall in the two-cabin version). Fuel, fresh water and holding tanks are generously sized—not always the case for yachts in this size bracket. Here and there, are signs that building cost remains a serious consideration (i.e. single galley sink instead of double, and a shaft drive engine instead of a sail drive). But, by and large, there isn't much missing from the 349 that the average cruising couple or young family would have trouble doing without.
As for that shaft-drive auxiliary, the standard Yanmar 21 horsepower diesel gave the test boat a comfortable cruising speed of 6.9 knots at 2,900 rpm with a sound level reading in the main saloon of 75 dBA. Full throttle yielded 3,500 rpm and 7.5 knots, but interestingly no change in the decibel reading—a sign of effective sound insulation.
Interior Amenities The basic layout of the 349 is a popular, time-tested arrangement: L-shaped galley adjoining the companionway to starboard across from the heads, and a central saloon table flanked by long settees. The main cabin area is bright and cheerful thanks to large cabin and hull side windows, plus overhead hatches. The main bulkhead incorporates French doors which open for an unbroken sight line, galley to bow. There's rather less woodwork than in most previous Jeanneau yachts, but the substitution of textured, slate-coloured laminate in some areas looks smart and promises easy upkeep.
The larger 9 series Jeanneau models are notable for their cryptic, yet surprisingly extensive stowage provisions. The smaller 349 can't match the profusion of drawers and lockers to be found, for example, in the 379. However, it still offers more usable stowage than its sleek, contemporary interior might initially suggest—mostly in the form of bins, cubbies and cabinets.
Both forward and aft sleeping cabins are adequate, although quite compact—the consequence of devoting more space to the communal living areas amidships. Our test boat featured the two-cabin layout, and while a three cabin is available, most buyers will probably favour the former.
Under Sail Our 349 test boat—tricked out with a performance package that included a full batten, fat head main and folding prop—displayed plenty of pep in a spotty breeze that peaked at about 10-knots true. Close-hauled speeds ranged between 5.4 and six knots with tacking angles noticeably under 90 degrees. The 349 accelerated briskly out of tacks, and with both sheets leading aft to the helm, it is a good boat for single handing. Because there's no backstay to get in the way, the corners of the stern are particularly comfortable, whether driving from the windward or the leeward side. The helm itself felt pleasantly light, but failed to deliver appreciable feedback—no doubt a consequence of twin wheels actuating dual rudders. It's hardly a serious price to pay when balanced against the benefits of direct stern access and a wide open cockpit.
Unfortunately the test boat didn't have a spinnaker or code zero, but even with just the working jib we managed seven knots on a close reach. Given a suitable off-wind headsail, the 349 would obviously be a real hoot in a stiff breeze, especially with the added control of twin rudders to ensure matters didn't get out of hand. A standard 349 is now racing on the East Coast with a PHRF of 150, and I wouldn't be surprised if the boat does just fine at this rating.
Concluding Remarks Judging by early worldwide sales success, the Sun Odyssey 349 has hit a sweet spot as a fun, family-friendly cruiser with enough pace to double as a viable club racer. Attractive pricing doesn't hurt either; even in western Canada where buyers feel the effects of a 9.5 percent duty plus shipping costs from France, a duplicate of the lavishly-optioned test boat could be ordered for about CDN$229,000 at time of writing. No question, Jeanneau has a winner in the 349