Raise Your Spirits at Sidney's Seaport Place
By Marianne Scott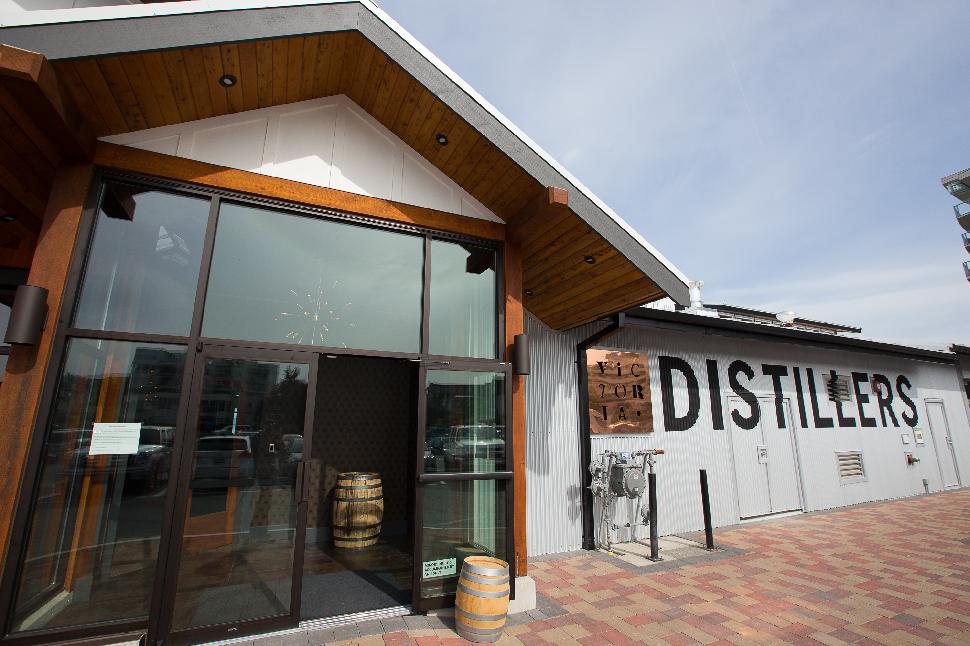 The town of Sidney is a great destination for boaters. Two large local marinas provide access to provisions, the Shaw Ocean Discovery Centre, a sculpture walk along the ocean and a horde of restaurants and enticing shops. It's also home to a throng of bookstores and thrift emporiums. Now a
new attraction, Victoria Distillers, located in a stylish wood and corrugated-metal building, has opened next door to the Port Sidney Marina. Victoria Distillers is an open, modern facility whose 790-sq-m cocktail lounge, tasting room and distilling area provide an outstanding view of Mount Baker standing proud behind San Juan Island. While seated comfortably inside and later on the patio, I watched sail- and powerboats glide into the marina and observed the antics of owners and their dogs walking the seaside boulevard.
Victoria Distillers main product, Victoria Gin, is not new. The company producing this craft gin began 10 years ago under the name Victoria Spirits. The Marker Group's Grant Rogers recently bought the company. To introduce more people to the product, Rogers bought the waterfront destination, which has had past incarnations as a restaurant and as the setting for the TV show, Gracepoint.
The establishment offers tours between 12:00-16:00 every day ($7). I took the tour led by Leon Webb, who learned his distilling expertise in his native Scotland. He took us to the German-built copper still and held a cup under a spout. We had a chance to sniff the clear liquid with its full-bodied scent—way too strong to drink. "It's the last bit of gin we've just distilled," Webb said. "The distilled product is made-up of heads, hearts and tails. Only the heart, the middle of the distilled liquid, is drinkable. But there's no waste. The heads are recycled as biofuel, the tails are redistilled and form the base for the five bitters we make here. They're the spice for cocktails."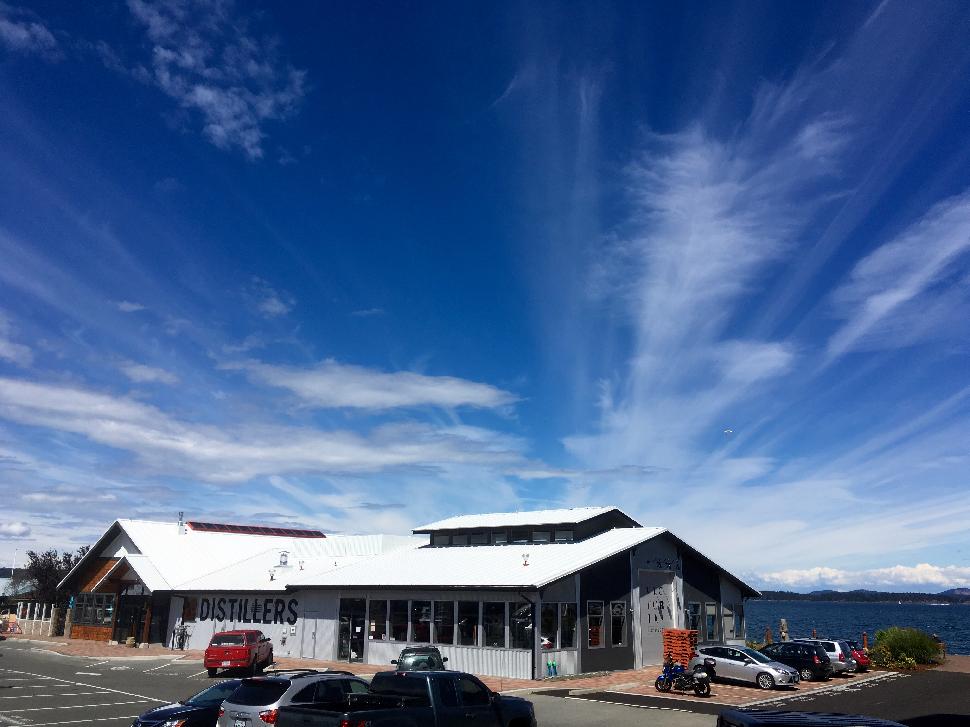 Gin is made from corn-based ethanol stored in barrels stacked in the distillery's production area. The main addition to all gins is juniper—in fact, without this piny flavouring, the beverage cannot be called "gin." That said, Webb showed us dishes of the other botanicals added during the distilling process: lemon peel, coriander, angelica, orris root, rose petals, orange peel, star anise, cinnamon and sarsaparilla. The proportions of these added ingredients are top-secret.
The company produces three other spirits. Soft amber-coloured Oaken Gin has been aged in charred Jack Daniels barrels. Left Coast Hemp Vodka derives its subtle hazelnut taste from hemp heart oils. Finally, an eau-de-vie is distilled from a pinot noir base—it's a strong liqueur only available in house. The company plans to add whiskey and rum in the future.
After the tour, we congregated at the tasting table, where Scott Klausen offered samples. Each had a distinct flavour. The signature gin would certainly deliver a first-class martini. I could see serving the eau-de-vie as an after-dinner liqueur, and sipping the hemp vodka while slipping a dark chocolate behind my teeth.
Victoria Distillers is located at 9891 Seaport Place in Sidney. hello@victoriadistillers.com