In mid-August a fleet of tourism ships began an unprecedented, six-week expedition to the Great Bear Rainforest's outer coast, as part of the Marine Debris Removal Initiative (MDRI), a project funded by the provincial Ministry of Environment & Climate Change Strategy.
With the blessing of Indigenous leaders in the region, the expedition expects to remove between 75 and 100 tons of marine waste, including plastics, from over 1,000 kilometres of coastal beaches along the Great Bear Rainforest.
"When life gives you lemons, make lemonade."
A group of BC small-ship tour companies developed this innovative project in response to tourism shutdowns in the wake of COVID-19. Wilderness Tourism Association of BC (WTABC) and Small Ships Tour Operators Association (SSTOA), with support from the Commercial Bear Viewing Association (CBVA), have joined the Province of BC in an ambitious beach cleanup of harmful marine debris across BC's mid-coast.
"In these trying and uncertain times, the proposal and initiative from the SSTOA provides a rare opportunity and a good news story," said Doug Neasloss, stewardship director with the Kitasoo-Xai'Xais Nation. "Marine debris is an ongoing challenge and a removal initiative of this scale—to clean up a large, remote coastline—is an undertaking that will provide significant environmental benefit to Kitasoo/Xai'Xais territory and beyond."
SSTOA comprises seven Canadian-owned and operated, small-ship travel companies that specialize in providing wilderness travel experiences for groups of six to 24 passengers along the British Columbia coastline. In particular, they operate in the Vancouver Island, Haida Gwaii and Great Bear Rainforest regions. They have seen firsthand how marine debris can pile up on remote beaches, only to be washed out to sea again during the next big storm.
The WTABC supports BC's world-class wilderness based tourism operators, and helps promote a strong and sustainable wilderness tourism industry by protecting the land and water resources.
BC's debris removal expedition comprises nine ships and over 100 crew. It focuses on over 1,000 kilometres of coastline, including hundreds of islands and remote beaches along BC's central coast. Ships are fully provisioned and self-sufficient, so that there is no contact with remote communities. One helicopter is assisting in the removal of debris, which is loaded onto a barge. From there marine debris is taken to northern Vancouver Island for safe disposal.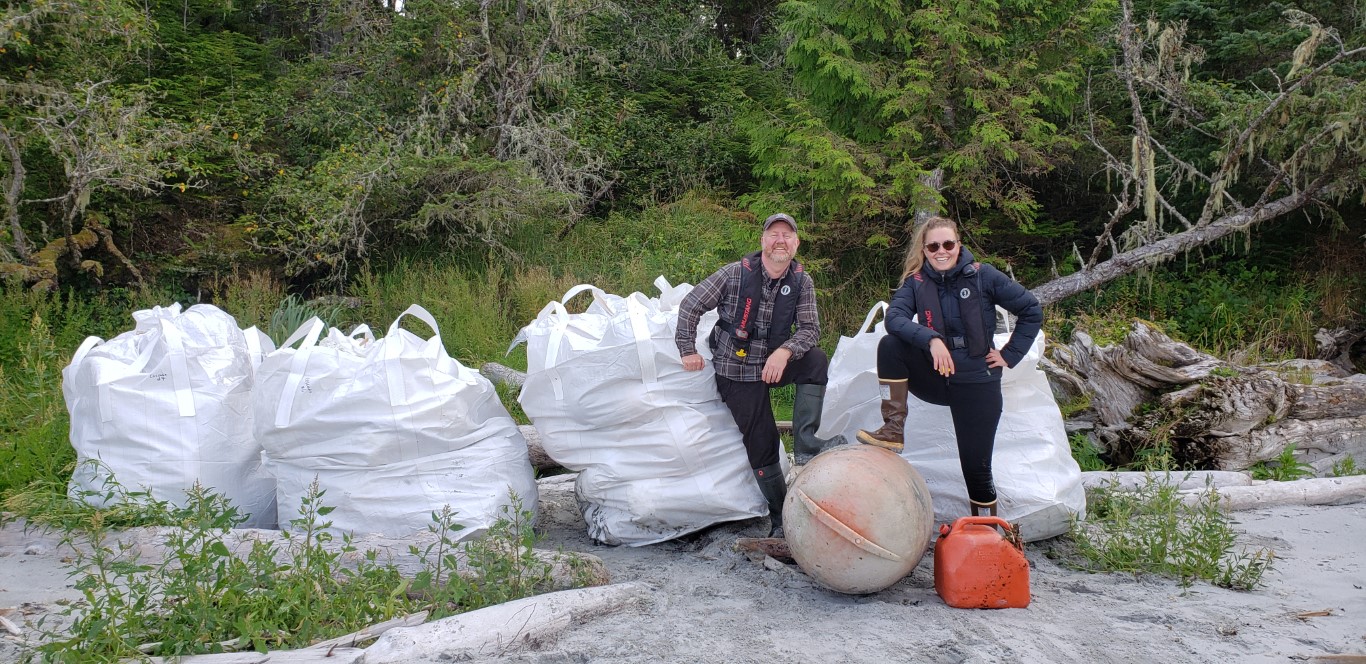 Participating operators included Kevin Smith, Maple Leaf Adventures; Russell Markel, Outer Shores Expeditions; Randy Burke, Bluewater Adventures; Ross Campbell, Mothership Adventures; Eric Boyum, Ocean Adventures Charter Company; Scott Benton; and Katherine MacRae, Commercial Bear Viewing Association of BC.