It began as just another day out boating. Well, not quite.
I was asked to drop a boat off for a friend. It was to be taken from Macdonald Beach on the North Arm of the Fraser River to a new owner in Pender Harbour.
Just the run up there, on a nice calm, sunny day, would be an enjoyable boating trip. The boat was a Monaro 24 powered by a single stern drive gas engine. A fast and efficient boat even in unruly seas. Thankfully, the seas were calm.
A smooth run down the river and past Cowards Cove and its notable Wreck Beach soon had us heading for the Sunshine Coast.
We crossed the entrance to Howe Sound with a small amount of traffic reminding me of the rules of the road and the reasons why we must obey them.
It was tempting to turn off and stop in Howe Sound, perhaps at the Union Steamship Marina in Snug Cove on Bowen Island. Or at Gibsons, where we had stopped on many previous occasions and where we knew a great place to have breakfast. But we had already had breakfast and in any event, we had a plane to catch.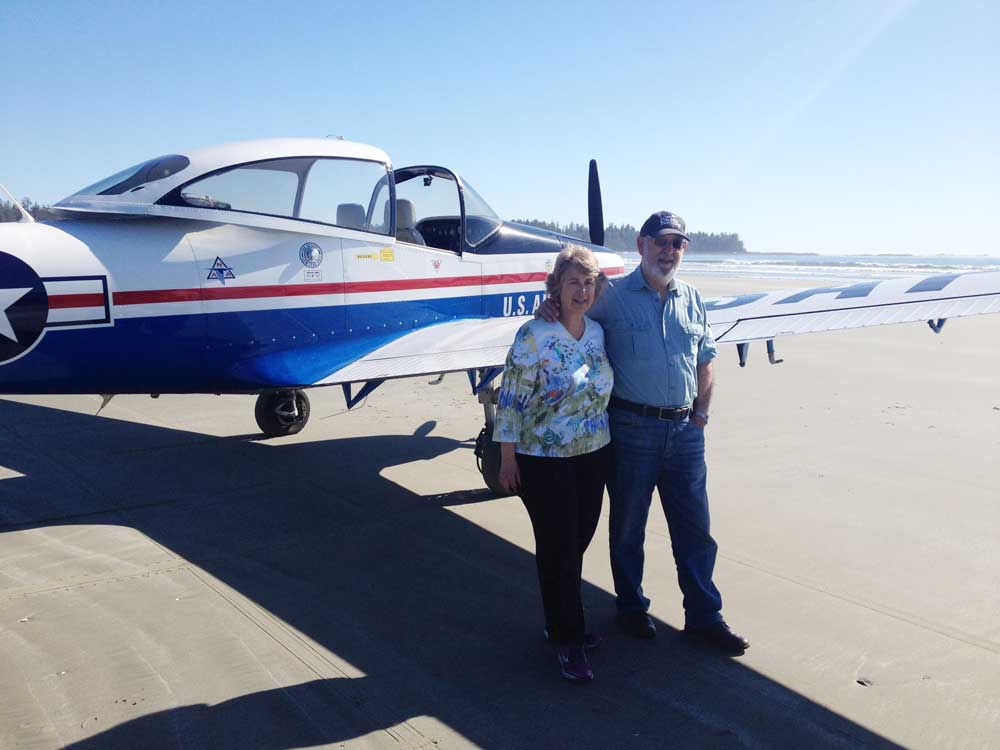 THE WHITE ISLETS loomed up ahead as we moved smoothly past Roberts Creek in the direction of Merry Island. As we continued our voyage, we passed the islets and enjoyed the spectacle of Sechelt sparkling in the sun.
We headed on toward Welcome Passage. Off to starboard we passed the Trail Islands where on more than one occasion in the past we had taken shelter during windy conditions. Today it was calm. No wind and no need to take shelter.
We were expecting to be driven back to Sechelt after dropping off the boat. We had arranged for a friend to pick us up in his sleek four-seater plane at a small airfield near the town and fly us back to Delta where we had left our car.
CONTINUING ON OUR cruise, and passing the light at Merry Island, we slowed down and enjoyed sauntering through Welcome Pass, reminiscing about the times we had stopped at adjacent anchorages such as  Frenchman's Cove and at the dock in Halfmoon Bay. What we always enjoyed most about a stop at Halfmoon Bay was the brief stroll up to the historic general store a short way along the road.
Not to be sidetracked, we continued through Welcome Pass, passed the entrances to the enchanting Smuggler Cove and the irresistible Secret Cove (lots of items available at the store, fuel, restaurant and good overnight moorage). I would have enjoyed stopping at both or either of those two places if we had the time.
Soon we had passed the entrance to Buccaneer Bay, another fabulous anchorage and tempting stop. There are lovely white sandy stretches at Gill Beach on South Thormanby at the head of the bay and large areas along the shores of North Thormanby Island, particularly where the two islands are linked at high tide. Wouldn't it be delightful, we surmised, to be able to stop in the bay, anchor off Gill Beach and spend the day strolling or just reclining in the sun on the beach.
But, no—not today, there was that arrangement to meet the plane, so we kept going and were soon pointing the bow toward the western tip of the Francis Peninsula. We watched the depth sounder record shallow water as we passed over Bjerre Shoal and then, as we continued past Francis Point, we angled northward toward the entrance of Pender Harbour.
Slowing down to no wake speeds, we chose an entry just off Irvine's Landing. We ploughed gently across the surface of the harbour, did a short stop at John Henry's Marina and then nosed across into Gerrans Bay where the new owner of the boat was waiting for us at the dock. After a brief visit with him we climbed into his car and he drove us to the air- field at Sechelt, bade us farewell and headed back to where his new boat was awaiting him.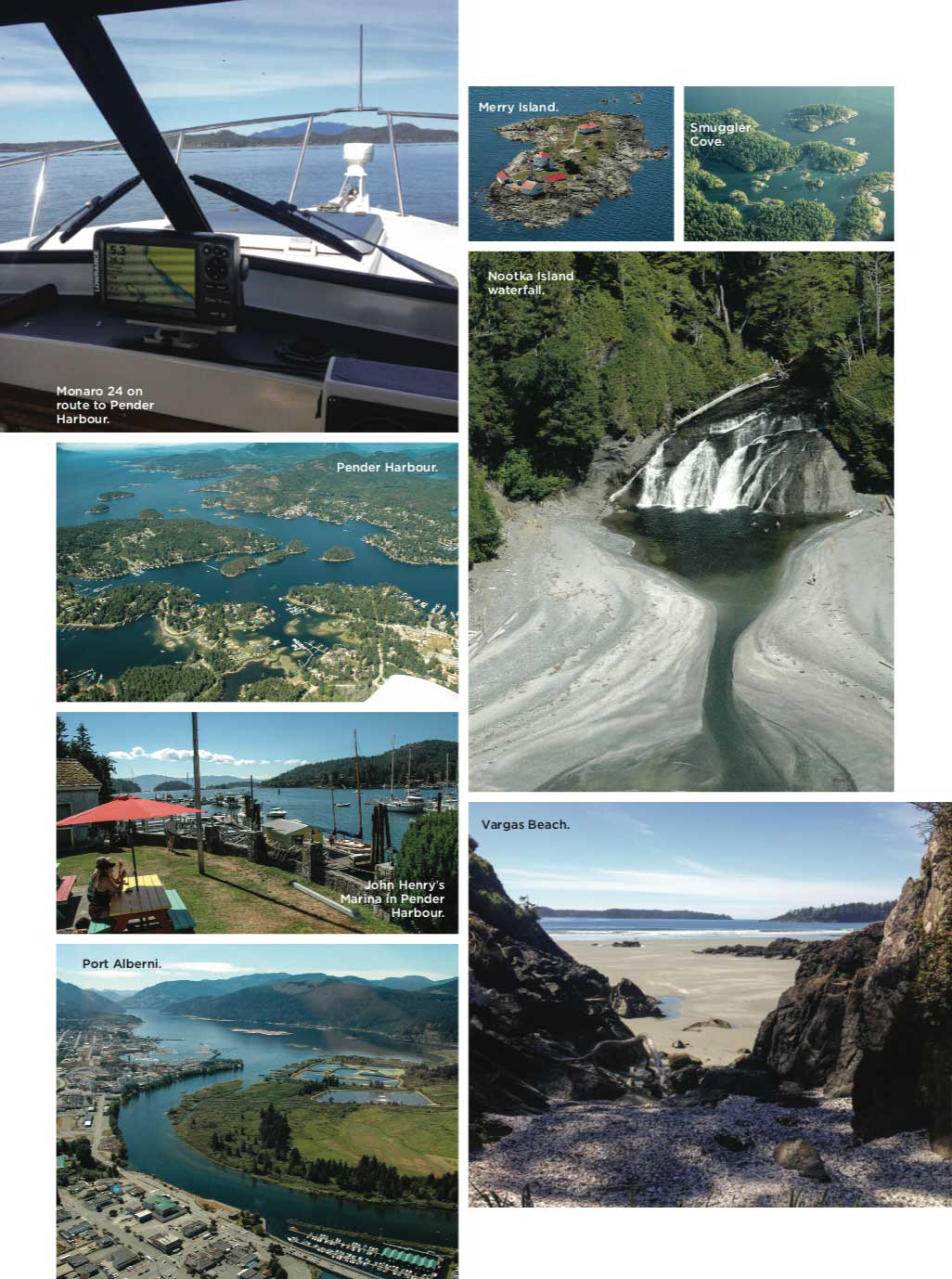 WELL, OUR DAY on the water had ended. Or so we thought.
It was still relatively early and as we awaited the arrival of the plane we began discussing options for the balance of the day back on the mainland. We watched our friends Ray and Arlene fly in from the south, do a smooth semicircle and land on the runway. He taxied up to us and we joined them in the plane. He asked us about our boat trip and for a few minutes we discussed our pleasant excursion on the water and some of the places where we could have stopped.
We got set to take off. As we trundled down the runway Ray asked us if we had any plans or if we were anxious to get back to Delta. We replied that we were free for the rest of the day and with that he nodded and said," Let's head for the beach."
Little had we realized until then how interesting and different a day of boating can be if you throw an aircraft into the equation. We took off and flew in a line with the runway, south toward Gibsons, and I wondered where we were going. The direction was short-lived. We turned west and flew over Merry Island then headed across the strait toward Passage Island and Nanaimo. What beach are we heading for? I wondered. Surely not at Nanaimo?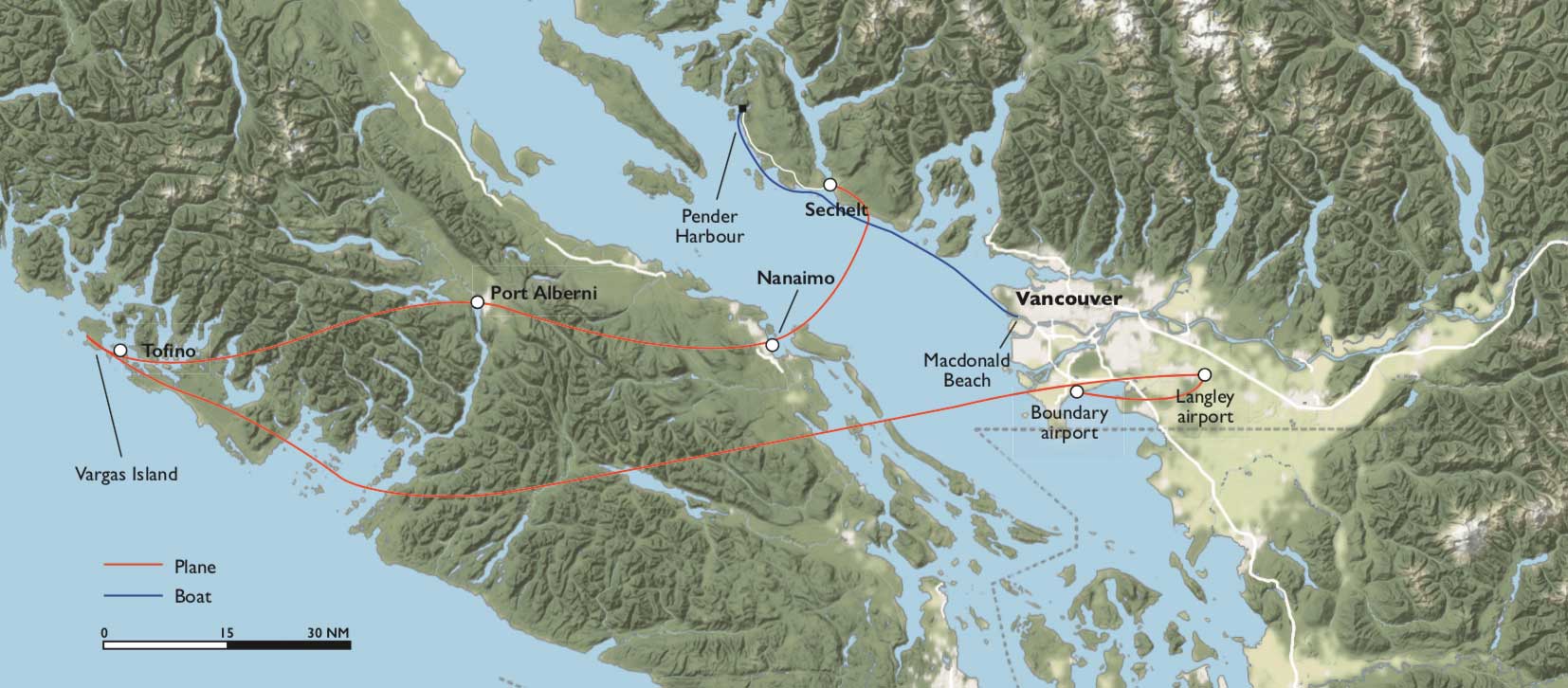 I did not want to spoil the pilot's surprise, so I refrained from asking, but quickly noted we were not heading into Nanaimo airport. Rather, we were soon flying across the island in the direction of Port Alberni.
We passed Port Alberni and in no time at all we were flying over and past a range of mountain peaks. I realized we were headed toward the west coast of Vancouver Island. I figured we were surely headed for Tofino airport. And then where? There must be some transport available from the airport to wherever we would be going. If that was in fact where we would be landing. So perhaps we would end up languishing at a scenic spot or restaurant in Tofino, or even make our way to Long Beach.
The flight continued to the west coast where we did a slight swing to the north, flew past Tofino on a course that took us over Lennard Island and toward the west side of Vargas Island. Now it did not seem as though we would be going to the town or to Long Beach.
Our pilot friend began putting the plane into a gradual descent and I realized where we were heading: To the beach on the west side of Vargas Island. I had heard talk among pilots in the past about flying there and knew that the beach was firm and good for landing. As we approached the south end of the beach on a flight path that would have us touching down with lots of firm sand for a safe landing, I noticed a couple of other planes sitting there. One was a much large aircraft and I knew if it could land there safely so could we. Also, I knew how competent our pilot was and I was totally relaxed with all the elements of the flight.
WE LANDED SMOOTHLY on the beach and taxied to a stop toward its north end. There we secured the plane in an appropriate position and went strolling on the beach. It was sunny and warm and the seas were lapping gently against the low water mark.
This is a place that pilots visit quite frequently due to the firm sand and the suitable length that serves as a runway. Often, visiting planes head for this beach or another one nearby to the north on Nootka Island where there is a delightful waterfall and a pool for swimming. Like Vargas, it is a popular destination for an evening barbecue in summer, or a day of picnicking and swimming.
Time seemed to fly by almost as fast as the speed of the plane getting us there. After lying on the beach, walking around some tide pools and rocky divisions between the beach and adjacent sandy patches it was time to end our boating day. We noted the rising tide and knew it was time to leave.
AFTER AN EASY TAKEOFF we flew south over Tofino, Long Beach, Ucluelet and a section of Barkley Sound before heading back across the island over Lake Cowichan, then over Active Pass and across the Strait of Georgia to Langley. We landed there and had dinner (or was it a late lunch?) at a popular restaurant alongside the airport. After dinner it was a short flight back to Delta where our car was waiting. It had been an awesome day and I look forward to another day of boating equivalent to that.