The Canada Border Services Agency (CBSA) is committed to limiting the spread of COVID-19 in Canada while facilitating travel and trade. To protect Canadians and to ease the potential burden non-essential travellers could place on the health care system and its frontline workers, the CBSA has implemented new travel restrictions across all ports of entry in all modes of transportation—land, sea, air and rail. Since March 21, there has been a temporary 30-day restriction on all non-essential travel at the Canada-US border, a restriction that may well still be in place when this article is published.
All travel of an optional or discretionary nature, including tourism and recreation, is covered by these measures. Jacqueline Callin is the media spokesperson for Canadian Border Services Agency (CBSA). We recently asked her to clarify the CBSA's position on cross border recreational cruising and to explain the agency's role.
Q: On March 21, the Government of Canada enacted an emergency order to restrict the entry of travellers from US to Canada across all travel modes—including marine—for recreation and/or tourism purposes. What does this mean for international boaters?
A: The border is not closed but restricted to essential travel only. There are many reasons a person may be allowed to enter, including but not limited to: Canadian citizens, permanent residents and Registered Indians under the Indian Act, who are allowed to enter by right. As well, healthy people who have to cross the border to go to work or for other essential purposes such as medical care, will be able to continue to cross.
Q: What other essential travel would be allowable for international skippers?
A: Crossing the border for work and study, economic services and supply chains, critical infrastructure support, health (immediate medical care), safety and security, shopping for essential goods such as medication or goods necessary to preserve the health and safety of an individual or family and other activity at the discretion of the Border Security Officer.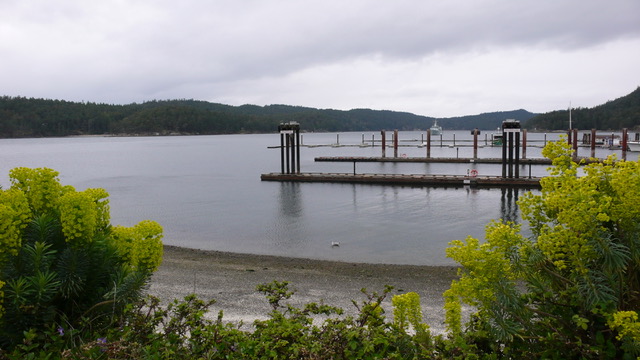 Q: Canadian boaters and Gulf Islanders have seen evidence that this restriction is not always being complied with and have seen instances where skippers and crew from a foreign vessel have actually tied up and come ashore without checking in to customs. What is your response to that?
A: Canadian boaters who see American registered vessels need to realize that there are Canadians with US registered vessels, and they need to recognize that there are also possibilities that foreign vessels that appear to not be complying with customs requirements may have already reported at a different site or even before such restrictions were put in place.
Q: What procedures are followed when reporting to customs during this time of COVID-19?
A: All persons seeking entry to Canada will be asked about the purpose of their visit and whether they are feeling ill or unwell by a border services officer in order to make a determination. Since March 25, 2020, all persons entering Canada must self-isolate for 14 days.
Q : What role does CBSA play in policing Canadian waters ?
A : The CBSA is responsible for enforcing the enhanced border measures as they apply at the border. All travellers are required to report to the CBSA when seeking entry to Canada. Failure to do so may result in the person becoming inadmissible to Canada, and skippers may face fines or even imprisonment under the Immigration and Refugee Protection Act.
Canadian law enforcement authorities patrol Canada's coasts and inland waterways and have the authority to stop any boat that has recently entered Canadian waters. The CBSA works closely with its domestic and international law enforcement partners to ensure all travellers report to the CBSA when seeking to enter Canada. The Canada Border Services Agency also works closely with the Public Health Agency of Canada (PHAC) to prevent the introduction and spread of communicable diseases into Canada at all international ports of entry.
Q: If boaters see a foreign vessel that appears in contravention of the border restrictions, what should they do?
A: The CBSA does not recommend anyone approach a vessel. Instead CBSA strongly encourages anyone with information about suspicious immigration activity to contact the Agency's Border Watch Toll-free Line at 1-888-502-9060.
Q: What are the penalties for illegal immigration activity?
A: Foreign nationals who provide false information are misrepresenting and this has immigration consequences. If the traveller provides false immigration information or false information about the purpose of their travel, they may be denied entry and be barred from returning to Canada. In addition to the above, for boaters, failure to report to the CBSA may result in detention, seizure or forfeiture of their boat and/or monetary penalties. The minimum fine for failing to report to the CBSA upon entry to Canada is CAD$1,000.
Failure to comply with a direct back order could result in the foreign national being denied admission to Canada.
Q: Things are changing very quickly as regards to COVID-19. By the time this is published, it's extremely possible the situation may be different. How can boaters get up-to-date information?
A: They should review the Government of Canada's COVID-19 website for more information. We also encourage everyone to also keep an eye on the CBSA's social media accounts, as they are a reliable source of information and we will add the latest information as it becomes available.
Facebook – Canada Border Services Agency (@CanBorder)
Twitter – Canada Border Services Agency (@CanBorder)
Instagram – Canada Border Services Agency (@canborder)
Q: Any other information you would like boaters to have?
A: Every traveller entering Canada has a key role to play in protecting Canada. By properly declaring, travellers are helping the CBSA obtain the information needed to help prevent the introduction and spread of serious infectious diseases into Canada.