In the Port of Friday Harbor Marina, handrails and masts sport glowing, festive colours. Soon, in the darkest days of winter, we will celebrate our brightest days of giving.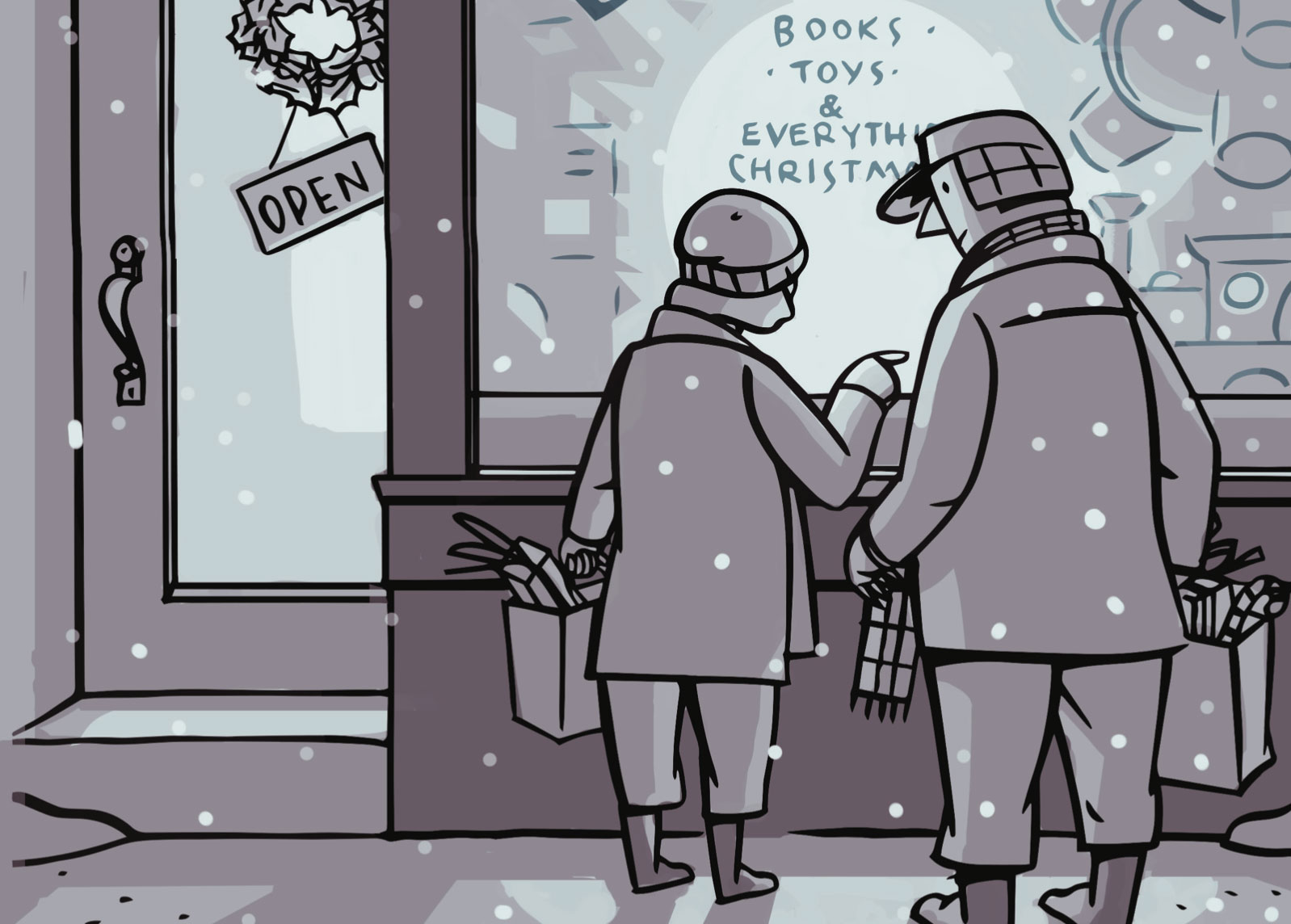 My dock mates agree, we've become skilled online shoppers, and we like it. Click and you're done. You don't have to comb your hair or brush your teeth or even get out of your jammies. But while we've been clicking, many small shops have been struggling. The owners are our neighbours and friends, and they miss us. In fact, they need us.
Why not plan a holiday shopping cruise? Wait for a break in the wind and rain, and go. Many small towns along the rim of the Salish Sea offer interesting and intriguing gifts—for your own stocking, as well as for others.
South of the border, one of my favourites is La Conner, Washington. It's known best for daffodil and tulip festivals in the spring, but excellent restaurants and charming, well-stocked shops make it a year-round destination. And the marina provides good moorage even in winter.
My first stop: Seaport Books, an intimate, friendly book-lovers paradise. I talked to Janna Gage, one of the owners. "Every small town should have a quality bookstore," she said. She and her partner strive to find the most authentic and best editions; to have the best of the best for both children and adults. Not only do they feature local authors (including me) and specialize in books about the Salish Sea and the Pacific Northwest, but they have many timeless classics on their shelves. Want to encourage a 10-year-old who doesn't like reading? The staff will put exactly the right book in your hands. Don't see a book you want? They will be happy to order it for you.
"We enjoy every customer and often ask for their recommendations," Janna said. "We make new friends every day, and we want to make their visit to Seaport Books memorable." She has introduced me to some wonderful authors, and I always leave with a jigsaw puzzle as well.
A little way from Seaport Books, the Olive Shoppe/Ginger Grater features TA-DA! olives and olive oils from every olive-growing region in the world, some with the unadorned flavours of the terroir, others flavoured with lemon or herbs. I love to browse the shelves of olive products such as tapenades, all made without artificial preservatives and half the salt. And that's not all. Other gourmet treats: balsamic vinegars from Italy, sweet and savoury seasonings, marinades, toppings, tea, coffee and spices also find their way into my basket.
The Ginger Grater side of the store boasts a potpourri of kitchen equipment. Roberta Westover, one of the owners, broke up a set of non-stick pans to sell me the size I wanted, and it's the best non-stick pan I've ever owned. It was her testimony that convinced me to buy it. "I took one home and deliberately overheated it, then cooked an egg in it, and it still performed perfectly," she said. "The egg slid right out." You don't get that kind of help when you're shopping online.
Back home in Friday Harbor, I scratch all the book people and foodies off my gift list. That leaves the ones who already have everything. But I know just where to go. I walk up the dock, past the totem poles in the narrow park, then up Spring Street to Island Studios.
Representing over 400 artists, writers (including me) and craftsmen from the San Juan Islands and surrounding communities, Island Studios is San Juan Island's largest art gallery. Kris Drain invites everyone to come in and browse the large selection of original paintings and prints, photography, woven goods, jewelry, pottery, outdoor art, glassware and glass art, handmade soaps and other beauty products, and home furnishings. Whether shopping for a gift, a remembrance of your time in the San Juans, or art for your home, Island Studios has something for all the art lovers on your list.
I always find something here. This time, I leave with a scarf pin made of wood picked up on the beach, a whimsical sculpture, and an alpaca headband.
Finally, I pop across the street to Friday Harbor Chocolates and, for my own stocking, select my favourites from trays of gorgeous, handmade confections. I add a bottle of my husband's favourite port for his. Then I hustle back down Spring Street. Time to make hors d'oeuvres for revelry on the dock.
Thanks to Kris of Fourdice Culinary Enterprise for the following twist on fruit and cheese. Try it. I bet you could also serve it as dessert.
Kris's Mascarpone-Stuffed Dates
Ingredients (For 1 dozen)
12 large pitted dates
1/2 cup mascarpone
1 teaspoon honey
1 teaspoon lemon zest
Pinch of salt
12 glazed pecan halves
Method
Mix mascarpone with honey, lemon zest and salt.
Slit dates lengthwise and stuff with cheese.
Top with half a pecan.
Try not to eat them all yourself.
Ricotta-Stuffed Endive
Ingredients (Approx. 1 dozen)
Head of endive
1 cup whole-milk ricotta
1/4 cup hazelnuts
1/4 cup golden raisins
Method
Put raw nuts on a baking sheet.
Roast at 180°C (350°F) for 15 minutes.
Once cool, rub them between your hands or in a kitchen towel to remove most of the skins.
Chop coarsely.
Trim the root end of the endive, then separate the leaves.
Place a dollop of ricotta in the centre of each leaf.
Sprinkle with hazelnuts and raisins.
Glazed Pecans
Ingredients
2 cups pecans
1/4 cup water
1/2 cup brown sugar pinch of salt
1/2 teaspoon cinnamon
Method
Put all except nuts in nonstick pan.
Bring to simmer and add nuts.
Stir constantly six to eight minutes, until liquid evaporates.
Spread to cool on parchment or waxed paper.
If sticky when cool, toss them back in the pan for a couple more minutes.
Happy holidays, everyone!