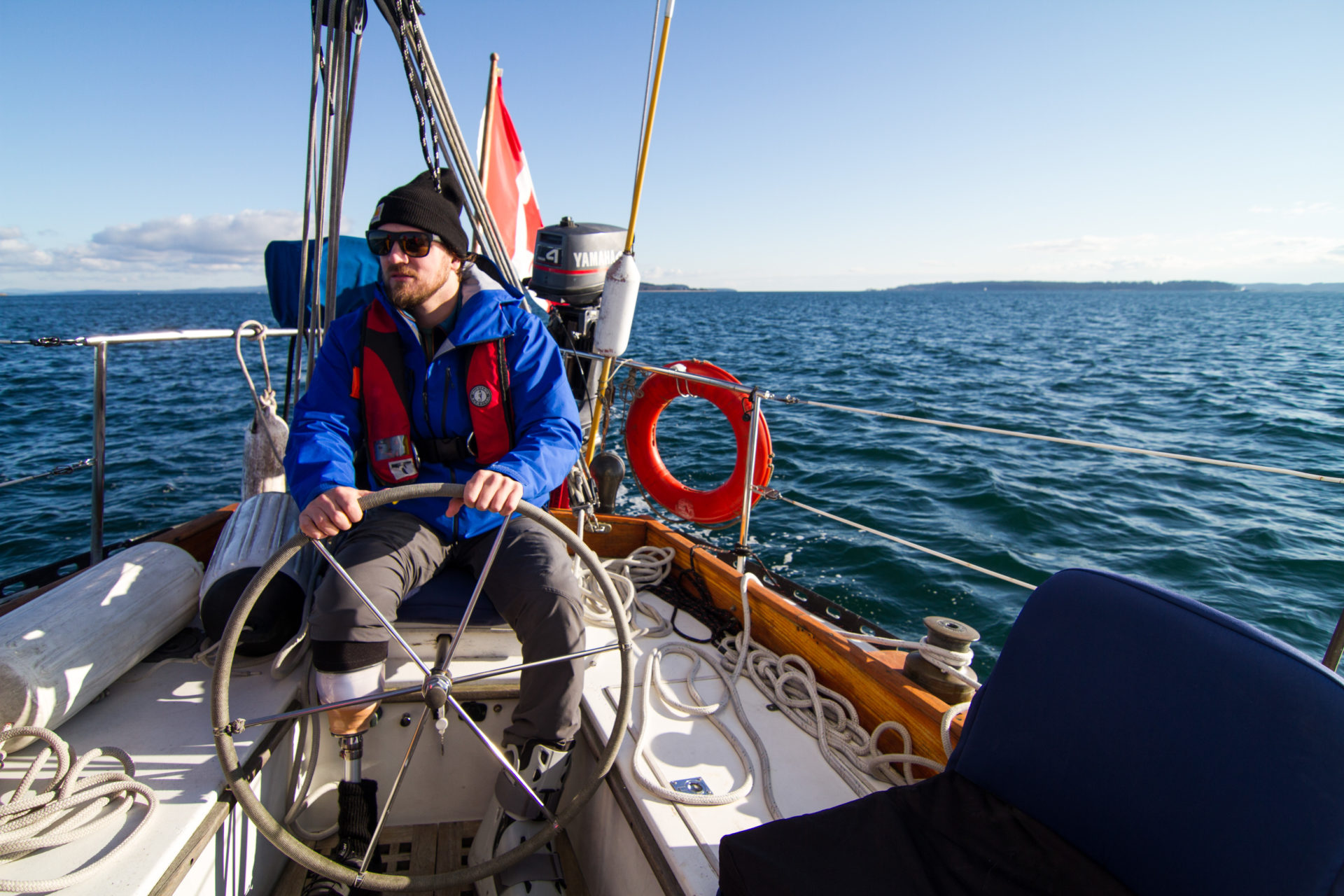 Tyler first stepped aboard my recently purchased 30-foot sailboat last summer. With both feet firmly planted on the deck, he grabbed the shroud beside him and dreamingly looked over at me; I saw the same spark shimmer in his eyes that I had seen on our first rock climb together. People call him an adrenaline junkie. He calls himself an extreme sport enthusiast. As an avid skydiver, backcountry snowboarder and rock climber, sailing was still on his list of things to learn.
Months later, now with dull eyes, Tyler lay in the hospital bed at Victoria General with an amputated right leg, a badly broken left foot and a shattered pelvis. While working as a skydive instructor he crashed while executing a high performance landing. We spent three months laying in the small hospital bed. It was a mental challenge as much as a physical one. The only way to get through his all-consuming pain and depression of being stuck within four walls was to dream of the future.
I've had a growing itch to leave British Columbia's familiar waters to sail south to Mexico and the South Pacific for years now. I had temporarily satisfied it by crossing to Hawaii and back two years ago with my father on his boat, but it had only made the itch worse. While laying in the hospital bed I shared my dreams with Tyler. Maybe it was the cocktail of drugs he was on, or perhaps it is simply his unbreakable lust for life, but he enthusiastically jumped on board with my idea. Now with someone to plan with me, injuries and all, my dream that I've been slowly working toward for years started to feel less like a dream and more like a concrete plan.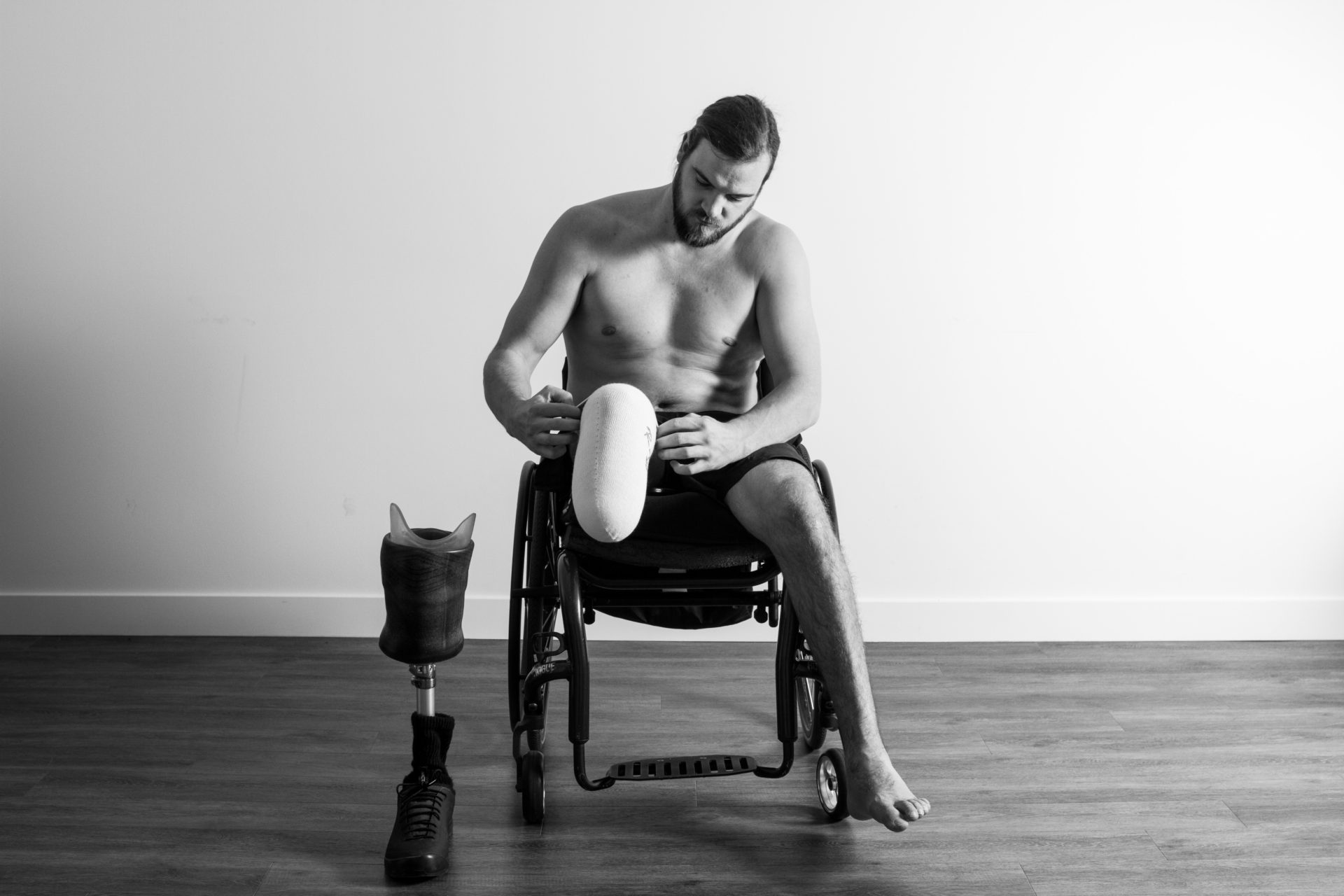 I sold my Northstar 1000 shortly after Tyler was discharged from the hospital; I knew this was not the boat to take us south. After all, the sloped decks wouldn't fare well with a prosthetic leg (how do pirates do it?) It didn't take much time to find myself falling in love again, this time with a Jason 35. This boat has previously sailed south to the turquoise waters of the South Pacific and returned over 30 years ago. Despite her overall tired appearance, I could tell she was ready for another challenge. Tyler rolled up to the dock and surveyed my new boat from the seat of his wheelchair. It had only been five months since his accident; his bones were still healing and his muscles were trying to regain the strength he had quickly lost. He looked up at me with pride and I saw the spark twinkle in his eyes again.
Tyler's stubbornness shone through that day as he managed to clamber out of his wheelchair and pull himself up the side of the boat and into the cockpit. Despite his sea legs being more than shakey, we shook off the dock lines and rolled out her sails. Her cutter rig design had her cruising almost effortlessly on a beam reach out toward Sidney Spit. Maybe it was just my imagination, but I could almost hear a sigh of relief from her hull as she cut through the whitecaps that filled the empty channel.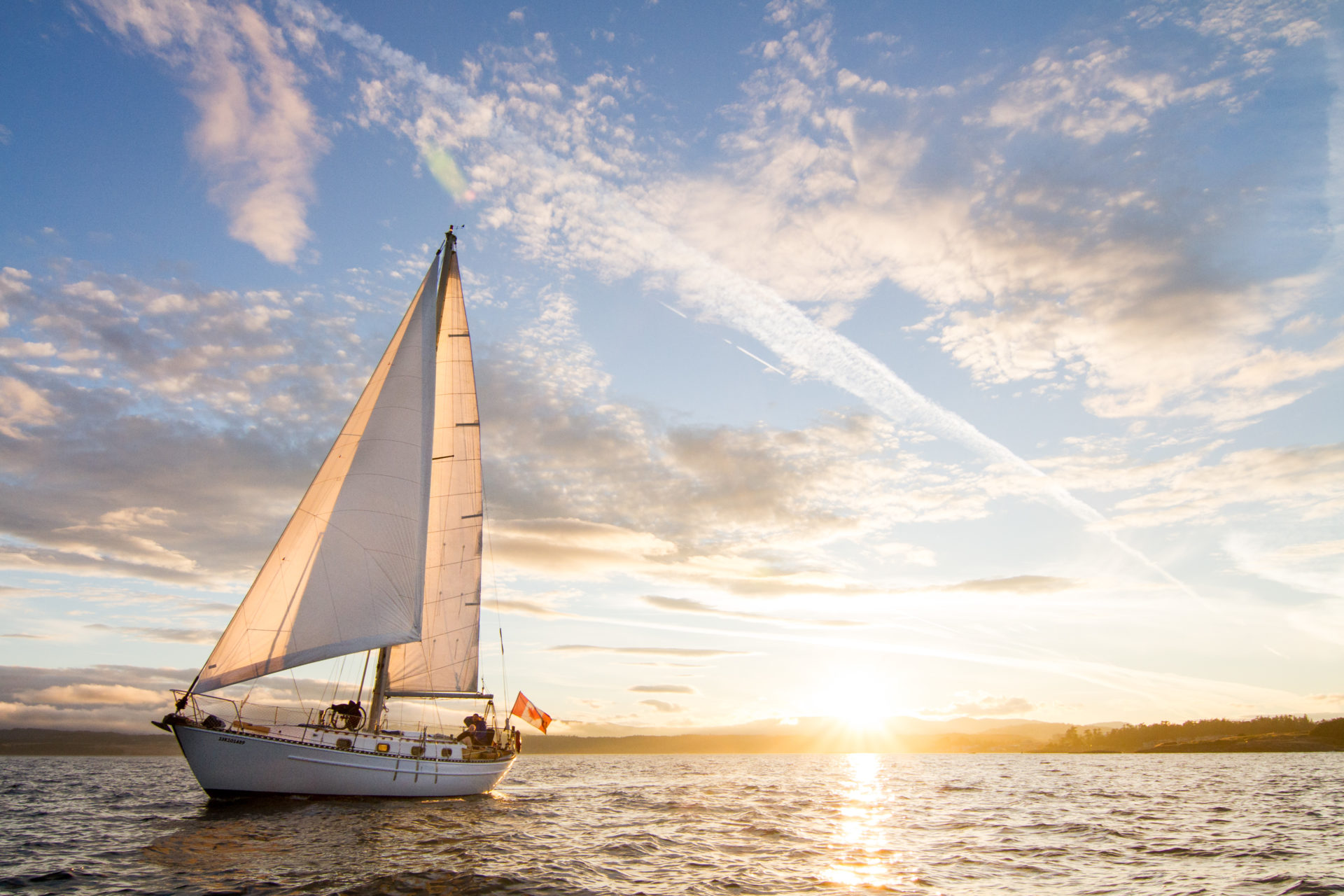 Nervously (and not so effortlessly) Tyler slid behind the wheel; he awkwardly shoved his prosthetic in the corner of the cockpit and gripped the cold steel with determination. A crisp February wind picked our speed up to seven knots, putting our toe rail inches from the water. For the first time since his accident, I saw his whole face come alive in pure joy. He let out a whoop, caught up in the exhilaration of the moment. Months of pain and mental darkness seemed to melt off his face. Adrenaline coursed through his veins once again. On land, we have discovered that the world we live in is full of constant barriers for someone in a wheelchair; on the ocean, whether one leg or two, the possibilities seemed endless in that moment.
Reality is that life on a boat is still demanding for Tyler, but once aboard, the multitude of handles to hold on to allow him to start finding his sealegs. Each week brings new challenges in his recovery, but also a growing list of physical progressions. As he progresses, I am happily providing him with a growing list of projects. Our first small project of adding a latch to a door in the head had him balancing precariously with one hand holding himself up and the other holding onto the drill. What would have taken him a couple minutes pre-accident took him almost half an hour of struggle (with only a few screws sacrificed to the bilge gods).
Next up was a slightly bigger project: Haul-out. My new boat needed new bottom paint and a full survey for insurance. Tyler excitedly picked up the power tools and scrapers, his wheelchair put him at the perfect height to tackle the keel while I reached up above him to the waterline. With a fresh coat of bottom paint and a shiny prop, she splashed back into the water with a new sense of purpose. We left the yard with weary arms and a feeling of accomplishment.

When I first met Tyler, he was living in his van, enabling him to travel between skydiving jobs, surf breaks and rock climbing crags, while I had lived on my boat for almost a year. We both were drawn to the freedom of alternative living, but also the simplicity of not being burdened by material things. Reality hits us hard now when we realize the 'simple' life we have chosen has now become extremely complicated. My checklist leaving the dock used to consist of saltwater intake valve, oil check, shore power cord and dock lines, but has now evolved to include a few more checks.
Being a real-life pirate comes with its challenges. Growing up on the water, I've learned the importance of sunglasses straps, but never thought I would have to use the same concept on a prosthetic leg. While Tyler was going through the process of having a socket fitted, his leg shape changed and occasionally resulted in it losing suction and slipping off. Perhaps pirates were on to something: A wooden peg leg would be a cheaper solution in case his leg decides to head to Davy Jones' locker. We are still figuring out the best way to stow the wheelchair, which only folds down so much. On sunny days, I strap it to the foredeck, it sits proudly like a figure-head leading the way. On stormy days or multi-day trips, it gets taken apart and stowed beneath the galley table taking up valuable storage space. We soon came up with the idea of a wheelchair garage that allowed us to keep the chair locked on the dock. This accident has created a lot of change in our life, but at least on the water, the freedom of the wind in our sails is something we know where to find.
When I purchased the boat, she didn't come with all the electronics and gadgets that most modern yachts have. No radar, AIS, chartplotter or auto-pilot. As I'm gearing up for offshore cruising, my first big purchase will be a Monitor Windvane. We spent the first summer saving up for one, all while getting to know the boat without the extras that we have quickly learned not to take for granted. In the meantime, Tyler sits behind the wheel, steering us with the confidence of an autopilot, yet with the ability to adapt. Tyler's lack of mobility means he isn't able to jump up to adjust sails or jump down to the dock with the lines. Part of learning to captain my own boat is knowing when to step down and let Tyler make the calls from behind the wheel. The boat has been patient with both of us, as we've figured out our roles in a way that ensures the safety of the vessel and its crew.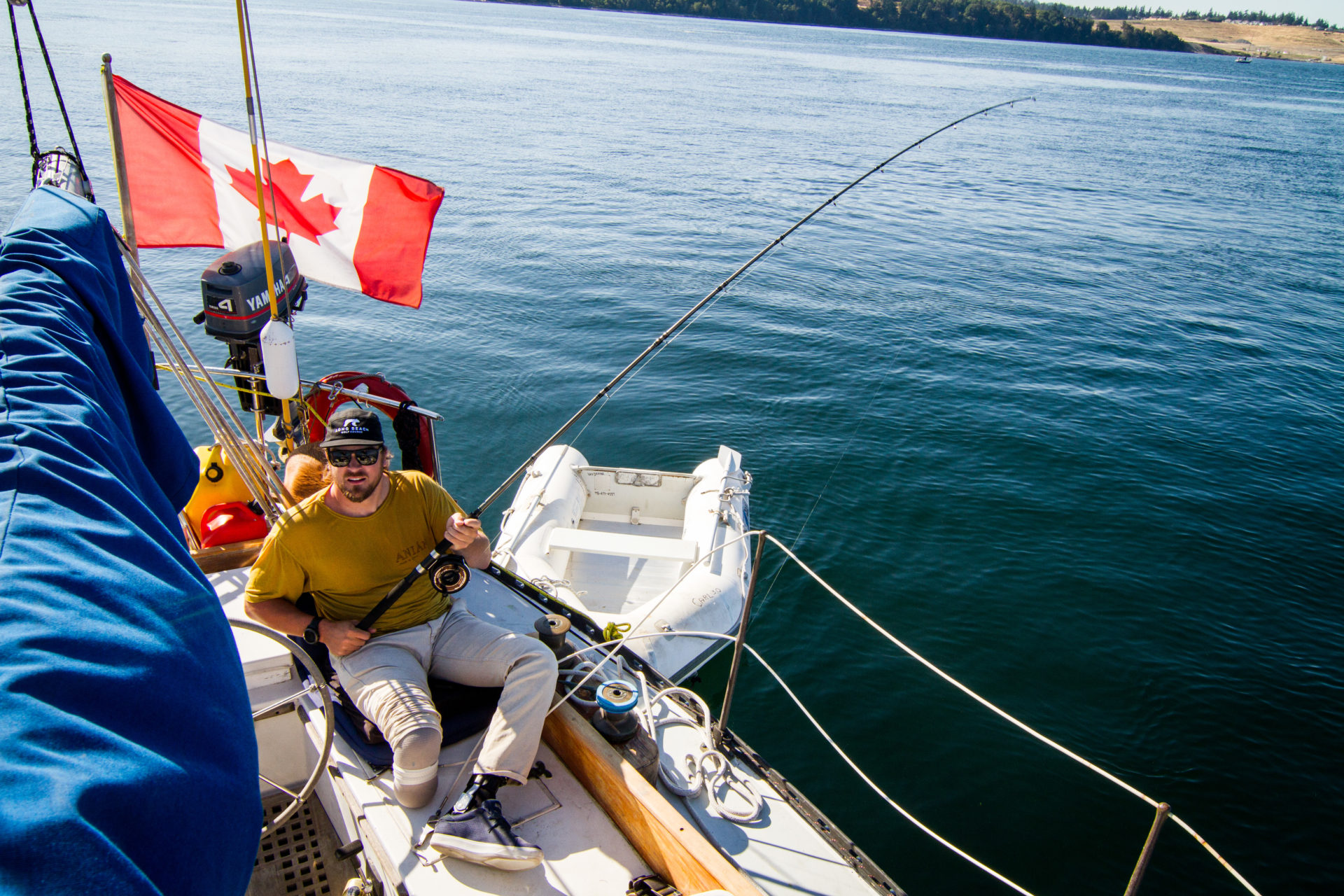 Tyler's physical progress has been slow. Over the course of the summer, we fought the mental depression that comes with the progression plateau. Weekends gave us something to look forward to knowing we would be out on the water. Tyler threw himself into learning the art of saltwater fishing. With every new challenge that seemed to be thrown our way, the smaller moments, like catching our first coho or successfully flying the spinnaker for the first time, lifted our spirits higher.
After a long summer of waiting for his left foot to heal, the transfused bones started deteriorating. The continuous mechanical and nerve pain lead Tyler to make the hard decision whether to live with a foot that will never allow him to live the lifestyle he desires or to have it amputated and have a functioning prosthetic. With innovations in prosthetic technology, he decided amputation would allow him to live with less pain and more mobility. Before the surgery we sailed her north to Comox to haul her out for the winter.
We happened to line up our three-day journey north from Victoria to Comox to with the first storm of the winter season. We knew a late November trip wouldn't be easy, so had arranged for a couple of crew members to help. The night before our crew were schedule to join us, we received a phone call explaining they had to cancel. We had not yet operated her in high winds with just the two of us. Competent sailors though we are, the forecasted gale force winds made the journey now seem even more daunting. With Tyler immobile at the wheel, I am responsible for all other tasks: Sail changes, engine checks and even making lunch. On a typical day I don't mind these responsibilities; in fact, I love them! But on this blustery, wet November day, it felt as though this was more than we were ready for.
We pored over the weather and wind forecast and decided that we had to take advantage of the next day's window while the wind was on our stern, even if it was just the two of us. With a small bit of headsail out, we blasted north making over eight knots. Tyler managed to pull the boat into the slip perfectly, high winds and all. We arrived feeling slightly disheveled after the 10 hours in high winds and rain; yet the immense pride trumped all other emotions (the celebratory beer helped too)! Perhaps we are capable of whatever we put our mind to.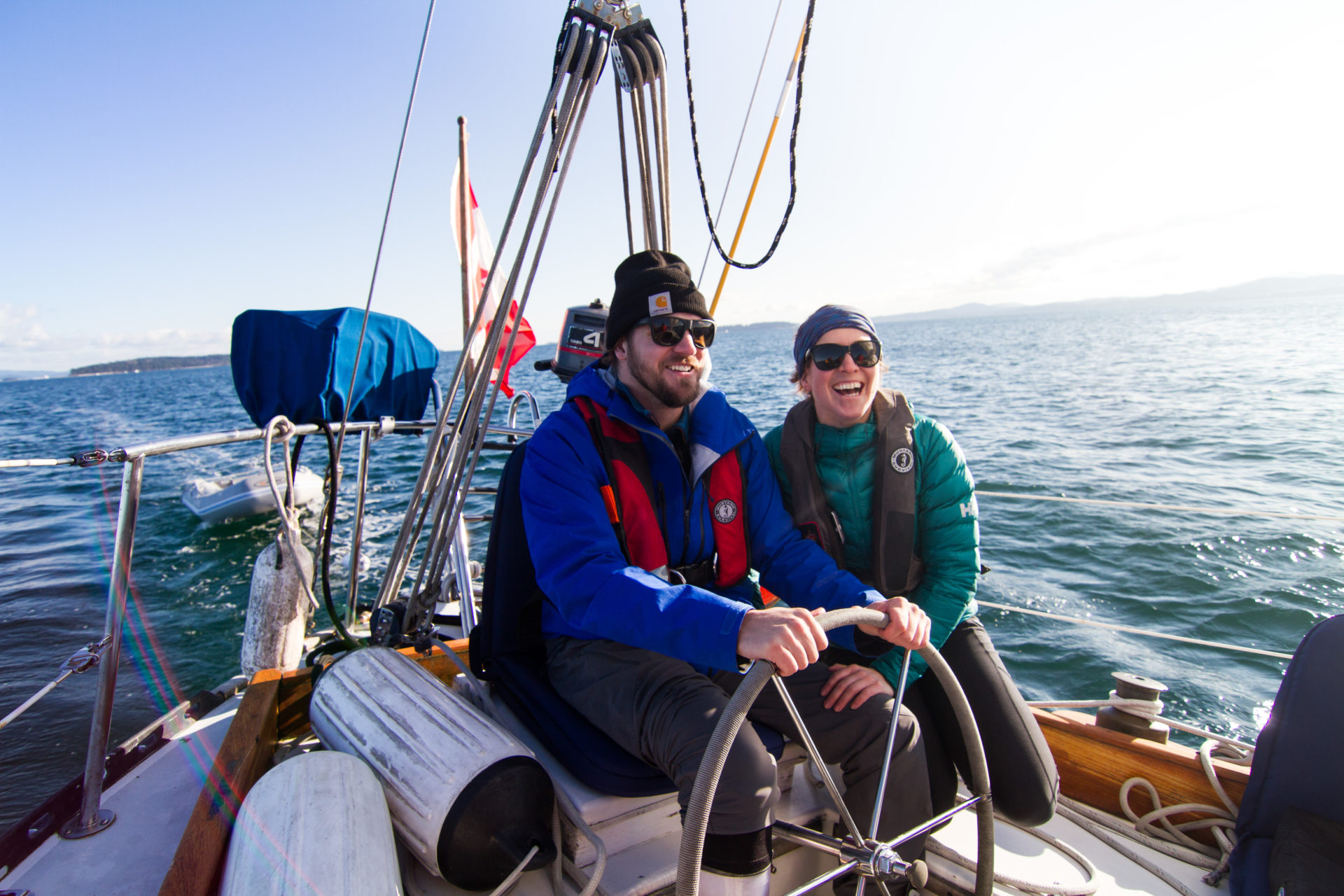 Our journey south may be delayed a little longer and our project list may take longer to get through than I had hoped, but I can tell that the boat doesn't mind. She sits on stilts with pride in the yard awaiting the arrival of spring. While Tyler gets fitted for new prosthetics and undergoes a second year of extensive rehabilitation therapy, I dive back into project mode. With each upgrade or repair, our boat becomes a little more capable and I, a little bit closer to my dream. Together the glimmer turns into a flame and the spark returns.