Think summer and many boaters start dreaming of beaches: anchoring close to a welcoming lee shore fronting a beach just waiting for unshod feet on silky sands, sunshine settling on bare arms, seductive sea breezes tousling hair while jade waters refresh sweaty limbs. Add a picnic table, perhaps, or a majestic tree or two to provide a shady arbour when you've had enough sun, plus beautiful views everywhere you turn. Aren't these the makings for the beginning, middle or end of a perfect day on the water?
My favourite seven beaches are kind to bare feet, to bodies and to eyes. And while the temperature of the water for swimming has not been the number one priority in this shortlist, the waters licking these little strips of heaven won't freeze your assets off on a gorgeous hot day.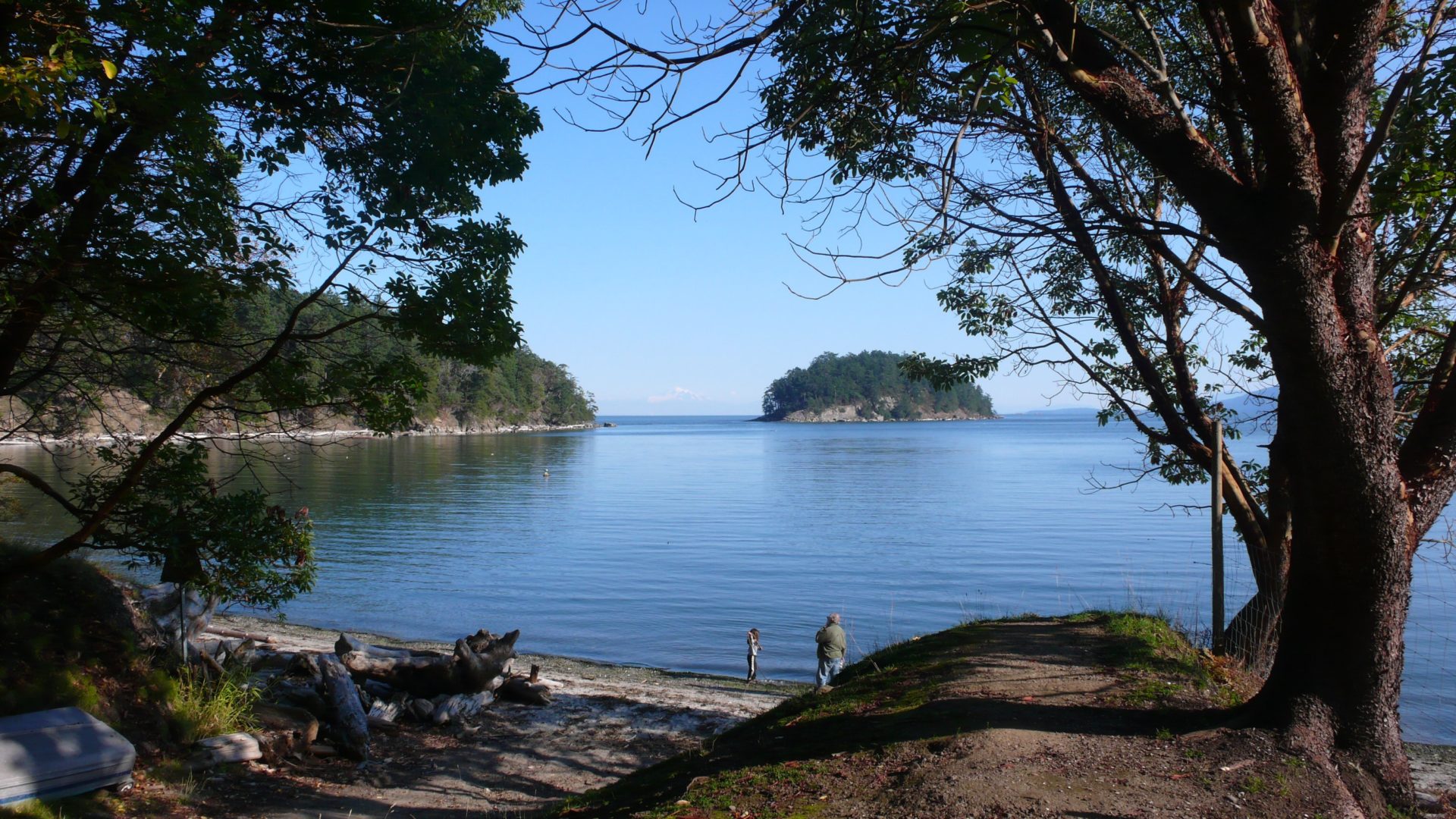 1. Bennett Bay, Mayne Island
A beach that nudges up against one of the Gulf Islands National Parks can only be a good thing, and that's true of Bennett Bay. Campbell Point's peninsula walk features old growth forest, a beautiful trail and views across to Georgeson Island as well as out on to the Strait of Georgia and Mt. Baker. It's a great spot to stretch your legs after or before you've relaxed at one of Mayne Island's most perfect beaches. Bennett Bay has lashings of sand to dig your toes into, plenty of evergreens to shade you, and a wide expanse of gentle, sloping shoreline, perfect for paddling and warm bathing. Best yet, the Mayne Island Resort is within a beer stein's toss and its bistro is open daily in summer. There's nothing better than slaking your thirst after a bit of splash and sunshine while sitting on a deck overlooking the bay. We consider a beach that shares paradise with a gorgeous natural park on one side and a well-stocked bar and bistro on the other to be as good as it gets.
Another plus is that your overnight anchorage is close at hand. Skippers can choose to drop the hook in nearby Horton Bay and walk through to Bennett Bay, or to anchor in Bennett Bay itself, which is protected from all but strong south easterlies, and they also may be able to grab one of the Mayne Island Inn's proposed mooring buoys. (Call first: 250-539-3122.) 
The only down side is that the bay's sand comes liberally sprinkled with stones so you need to pick your way carefully into the water. Another negative might be if you have an aversion to peacock cries. (The exotic sounds come from nearby Curlew Island). 
Also, skippers need to carefully time their leaving if going through Georgeson Passage or the small passage on the northwest end of Georgeson Island—best navigated at high slack. However, if you have no time constraints, spending additional time waiting for slack in this idyllic location is hardly a hardship.
2. Veruna Beach, Saturna Island
Don't be discouraged by the no anchoring sign
in front of this little pocket of paradise. The underwater cables here may prevent dropping the hook, but the anchoring is better around the corner anyway. 
Drop the hook in the south side of Winter Cove and you'll be within a half-block walk to this great little beach. The down side, obviously, is that you can't anchor closer. Also, the beach itself is not too extensive, but we all know good things can come in small packages. 
This is a quiet, undeveloped spot and it's always a treat to find great sand on a southern Gulf Island beach, especially when it's coupled with warm water. Drop your blanket under the shade of the overhanging firs and plan on a relaxing few hours. The views over Navy Channel are easy to take and an added plus is the historic little church you passed on the way in. Parson Payne's chapel was built in 1900.
And then, when you're ready to roll up your blanket but perhaps still thirsty, or hungry, you can wrap up a perfect day with a dinghy trip over to Saturna's Lighthouse Pub in Lyall Harbour—if your dinghy is motorized. Does it get any better?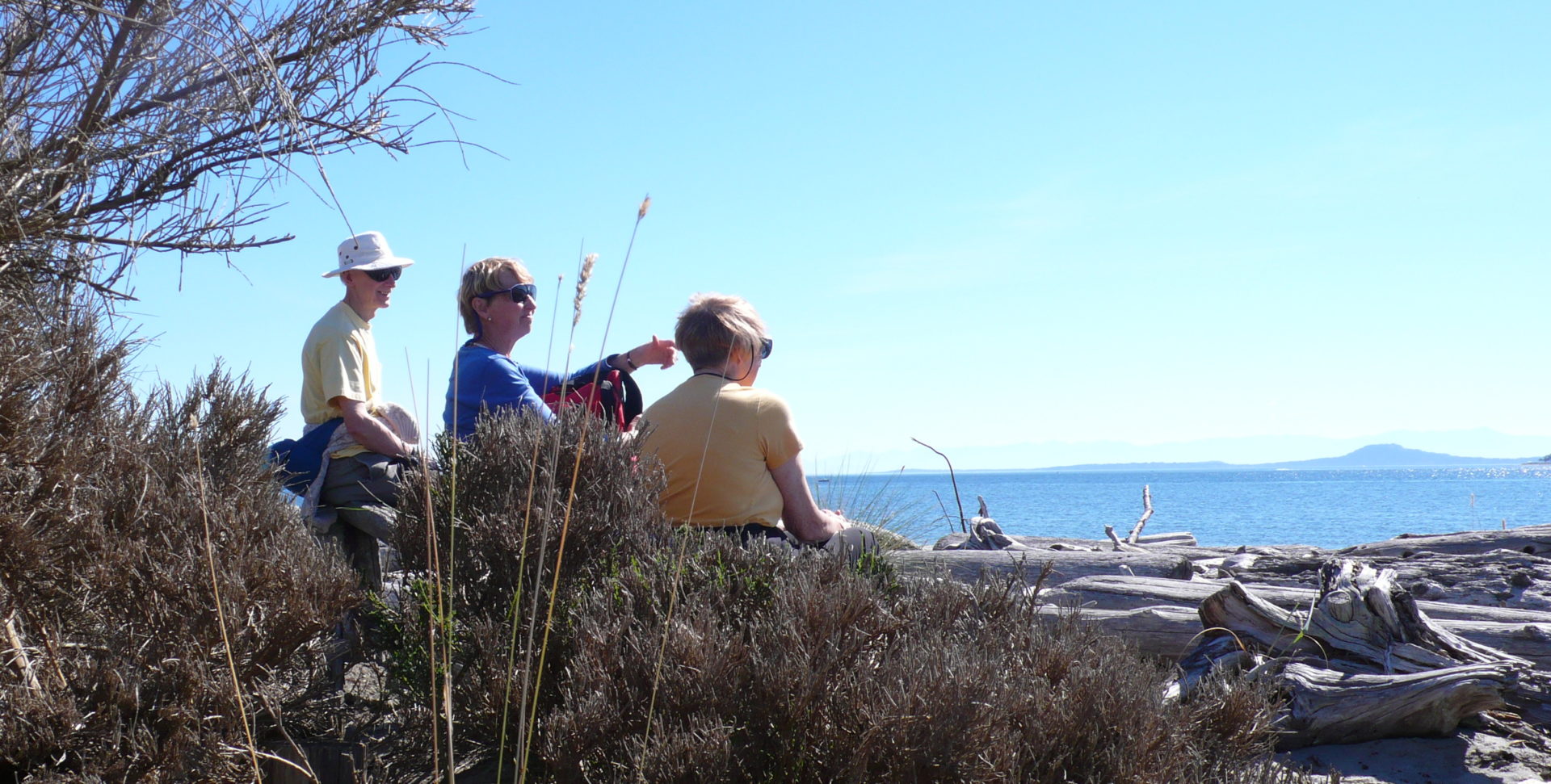 3. Sidney Spit's Western Shores,
Sidney Island
Where else are you going to find more than 20 kilometres of beaches? You've dropped the hook, tied up at the park's docks or grabbed a mooring buoy at Sidney Spit. While almost everyone knows how great the beaches are on either side of the spit, not very many boaters explore the Sidney Channel side. It's worth doing. 
The downside is that you'll need to pack light and limit your beach toys and munchies as the walk takes about half an hour. The upside is that because many boaters are reluctant to leave the comforts of their decks and galleys, and because the beaches within sight of the anchorage are so glorious, there is not much interest in walking further. The result: there may not be another blanket in sight. 
The walk along the anchorage and past the campsite is very pleasant as well. Fallow Deer are often grazing in the pastures and old orchards, the remnants of the brick making factory that operated from 1906 to 1915 provide an interesting glimpse into the island's history, and Parks Canada signposts add to the educational experience. Turn right at the signposted junction past the fields and walk another 10 minutes and you'll soon arrive at a sandy beach that stretches on forever in each direction. 
Stake a claim on your acreage and then settle down to watch the boats travelling the channel while you enjoy the views over to James Island. Take a walk in all that fine white sand or splash along the shore. This prime spot will only lose marks if you're seriously into swimming. The water's cold.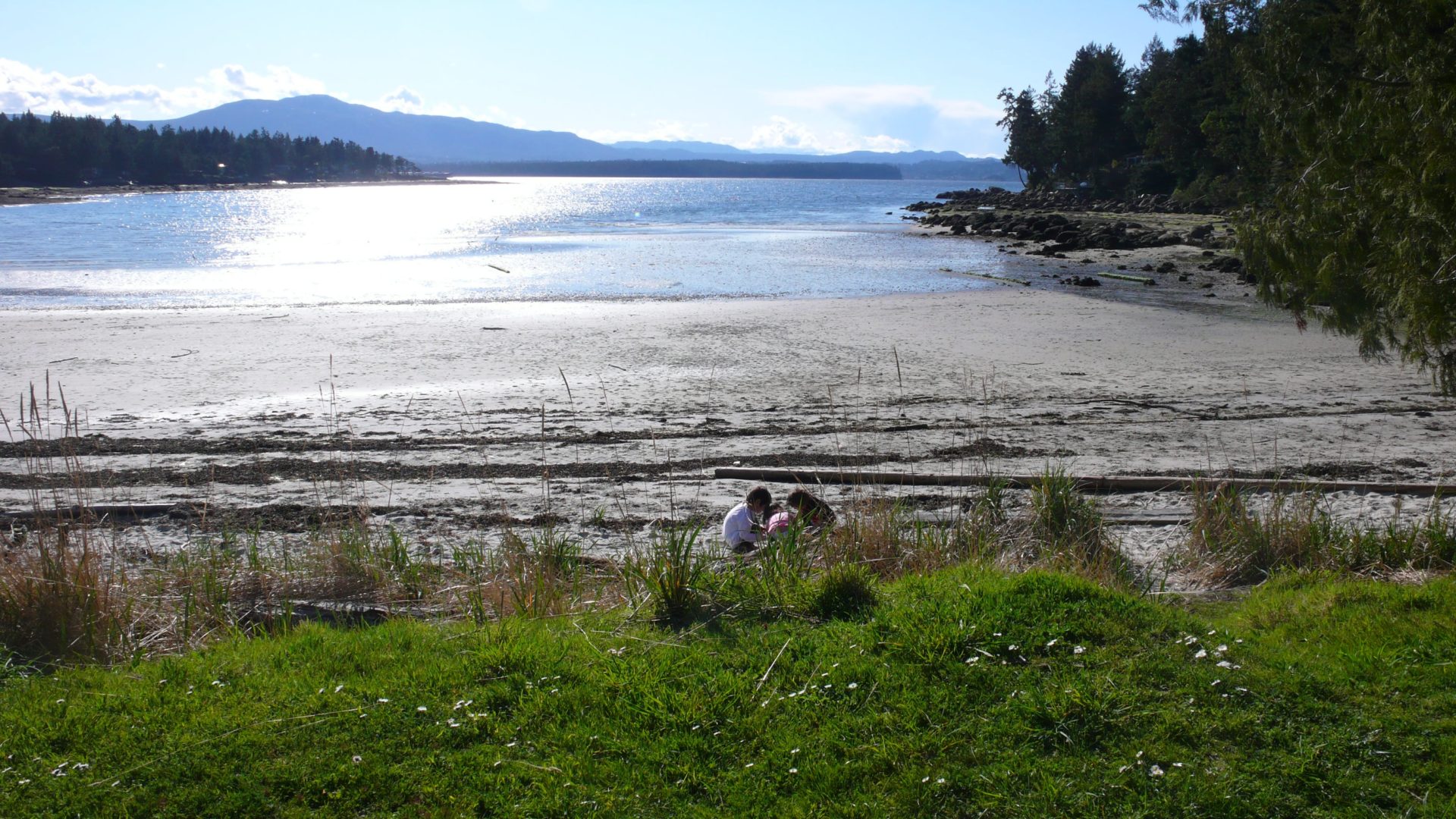 4. Gabriola Sands Provincial Park,
Gabriola
 

Island

Where else can you have a choice of two beaches? They fringe both sides of the rounded peninsula on Gabriola's northwest side: Taylor Bay to the west and Pilot Bay to the east. The park covers six hectares and has picnic tables, toilets, grass, a play area and a shopping centre within walking distance. 

Commonly known as Twin Beaches by the locals, both sides offer sand and a gentle gradient for wading or swimming in warm water. If you have kids aboard, this is the place to head. Down side? The park is popular and both beaches are bordered by private homes, so seclusion is not part of the package here, but with so much beach and lawn area, it's not difficult to find a spot to get cozy. 

The many amenities and the acres of sand can entertain children, and adults, for hours. Anchoring is also good in two to five fathoms. Taylor Bay is an ideal spot to watch the sunset but it can be buffeted by strong offshore westerlies, so we prefer dropping the hook in Pilot Bay and rowing ashore for the sunset ritual. 

In settled conditions when no northwesterlies are forecast, Gabriola Sands has a lot to recommend it, although as with most Gulf Island bays, increasingly skippers need to zigzag between the private mooring buoys. Note that the park is a no discharge area.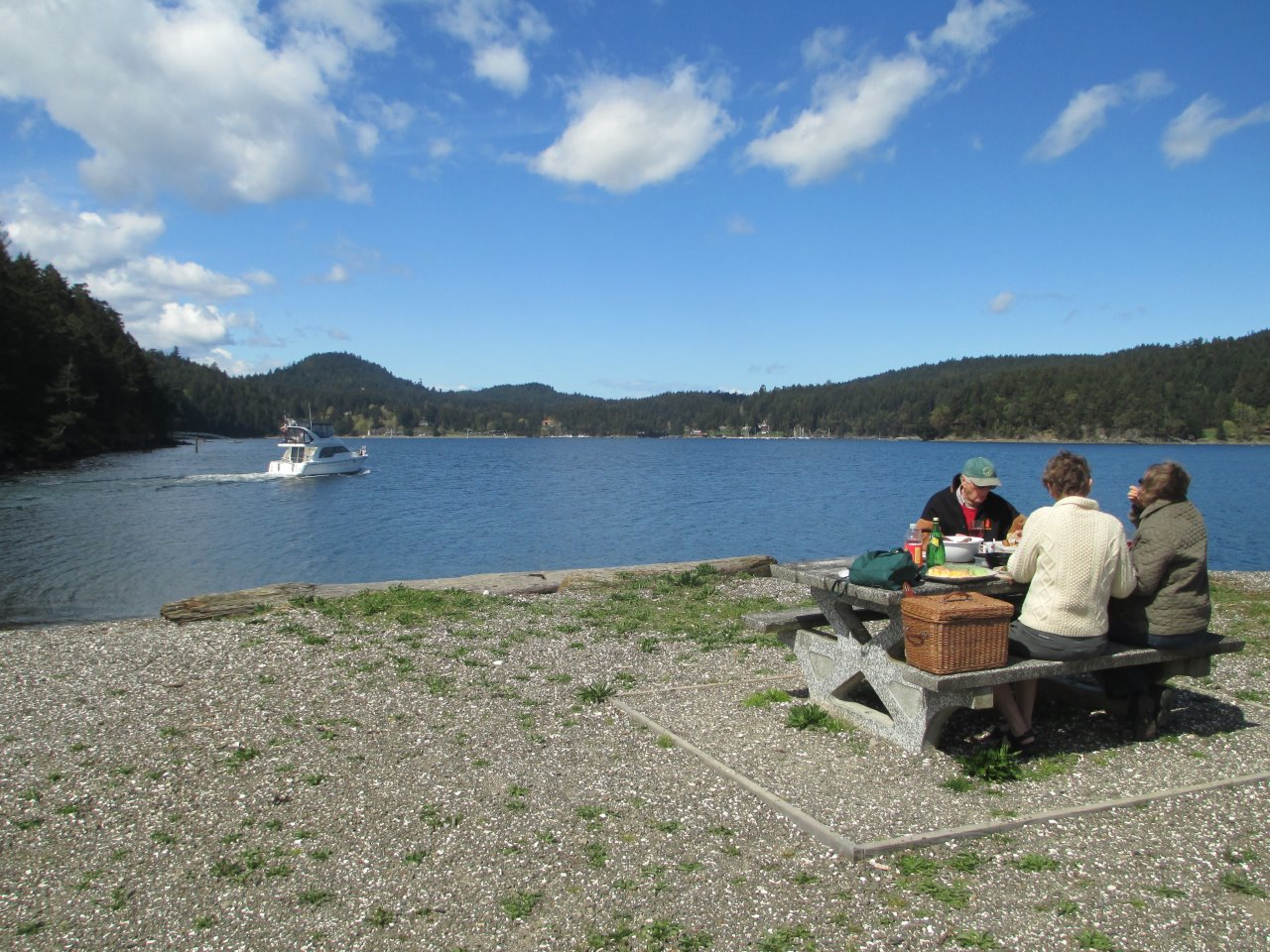 5. Mortimer Spit, South Pender Island
Spits are the definitive seafront playgrounds, providing the ultimate in beach, sand and sea, and Mortimer Spit is no exception. A popular spot with kayakers and locals, the spit is easily accessible by motorized dinghy from Port Browning marina or even Poets Cove, or boaters can temporarily anchor just off the beach.
If a picnic is on the day's itinerary, the placement of the spit's picnic table couldn't be better; you're right on the highest point of the beach, near enough to the action to practically pass the skippers of the passing marine traffic a cold one as they slow down in the narrow channel before going under the bridge. Festooned with logs for backrests or pillows, the spit also protects a lagoon that makes for good bird watching. Why is it that the water seems clearer and greener here?
The wide sweep of beach makes it easy to find a quiet spot even on a busy day. If, on the other oar, you prefer chatting with the locals, position yourself accordingly on the shore facing the bridge, where the kayaks and dinghies get launched and the bathers test the water on a hot day.
The temperature of the water is probably the only down side. It's colder than it looks. If you find yourself lingering too long, it's also useful to know there's an outdoor toilet partway up the hill.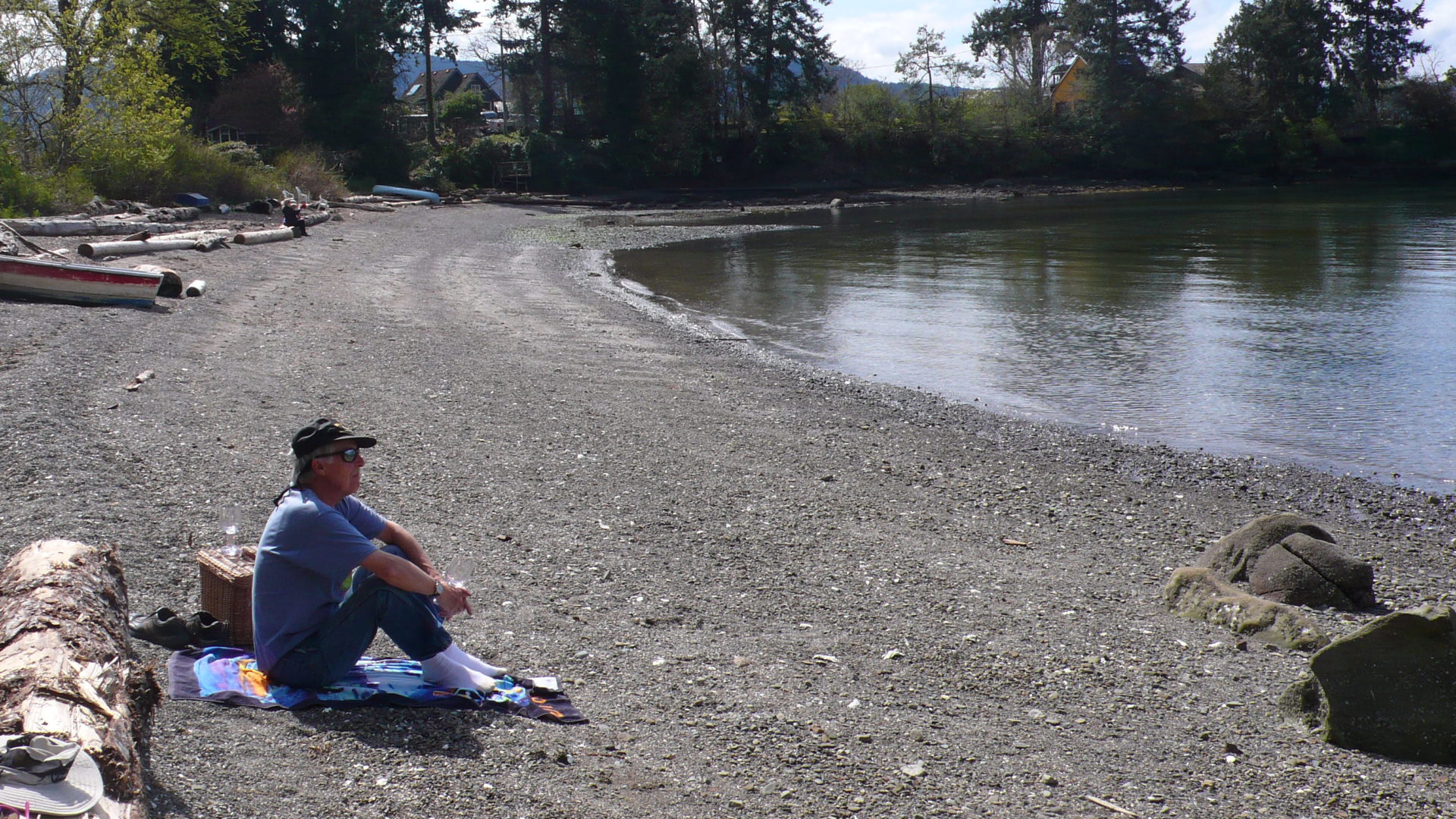 6. Vesuvius Bay, Salt Spring Island
Close to the terminal of the Crofton/Vesuvius ferry, this popular seaside is a fun place to visit. It rates highly due to the ease of dropping anchor in the bay and simply swimming to shore. The warmth of its water is a definite plus for swimmers. While this is not the place to come for seclusion, we consider the friendliness of the locals a definite plus. It's a pretty shore to loll on, watch sunsets from, and examine the interesting rock strata, and with the village of Vesuvius 'on tap' it means that takeout fish and chips, cold brews overlooking the bay, treats and other diversions are all just a few steps away. 
Skippers in smaller craft may choose to tie up at the tiny public docks near the ferry. (You won't appreciate how near until the first ferry pulls in.) There's approximately 100 feet of moorage here, exposed to the northwest. Nevertheless we have happily overnighted here after a day ashore, followed by a meal overlooking the water at the Seaside Restaurant.
There are no amenities at the public beach itself, so change into your swimsuits beforehand if you intend to swim. Public toilets are located on the ferry docks. Logs are provided free of charge at the beach, however. 
7. Indian Point, Savary Island
The best of the beaches may require a little more effort to get to but isn't that often true of special experiences? When it comes to superlatives, Indian Point really is in a class of its own. 
Comprised of glacial till, marine clay and sand, Savary Island is only 7.5 kilometres long and never more than a kilometre wide. It has been called a migrating sandbar, only anchored in the Strait of Georgia by its granite outcrop at Mace Point. It's one of the best examples of intact coastal dune ecology in Canada and while the rest of the Gulf Islands have a north/south alignment, Savary defies the rules and prefers to settle into an east/west position. 
The island's perimeter is almost entirely beach, but at the extreme north, where the north and south tides in the strait meet, cancelling one another out and creating placid waters, is beach mecca. What's not to love? 
We were there in late June and saw not a soul. The beach stretches on infinitely so beach worshippers can be as private as they want. The sea is a liquid emerald and looking at its sugary kilometres of sand it's easy to imagine you've sailed to a south sea island—sans palm trees. Look across the sparkling waters of Manson Passage to Hernando Island and you'll have more to rave about. There's no sign of civilization. Let your thoughts go back a century and imagine you're a guest at the luxurious Savary Hotel, destination of the rich and famous. It operated here for over 60 years before burning down in the 1960s. The Union Steamships used to drop anchor in the passage and disgorge the hotel guests here. Today, it's yours alone; how lucky can you be?
For swimmers, the water doesn't get warmer anywhere and the sand underfoot means you can leave your aqua shoes off. The very gradual gradient and shallow waters in much of this passage helps to keep the water warm but also means skippers should be warned. Check charts carefully. 
Transiting Manson Pass requires local knowledge. Better to drop the hook near the government dock, although it can be difficult to find a spot amongst the mooring buoys. Overnighting here will expose you to northwesterlies, so if you decide not to take a chance, head across to Lund's public docks for the night. Obviously the difficulty of anchoring and overnighting here is the one down side. 
For ultimate beach and seclusion and sand and scenery and warm water, this is your spot. Don't forget your water and snacks or thirst and hunger may force you to leave too soon.