Quatsino Sound's Coal Harbour and Port Alice may not be the easiest places on the coast to get to by boat. You could arrive there by way of Cape Scott after an Inside Passage trip and around the north end of Vancouver Island. Or you could go from Victoria up the west side of the island, visiting Barkley Sound, Tofino, Hot Springs Cove, Friendly Cove and other such delightful stops along the way. The choice of routes is yours.
An alternative is to take a small boat on a trailer and head for Coal Harbour. It lies a short distance west of Port Hardy, across the north end of the island. Coal Harbour is at the eastern extremity of the sound and is an interesting place to visit. And it has a launch ramp that gives access to all of Quatsino Sound, including a short run to Port Alice in Neroutsos Inlet. There is also a launch ramp at Port Alice, but that entails a long drive down a winding road. Coal Harbour is the recognized launch site for small recreational fishing boats heading for Winter Harbour, which lies some 50 kilometres away, at the sound's western entrance.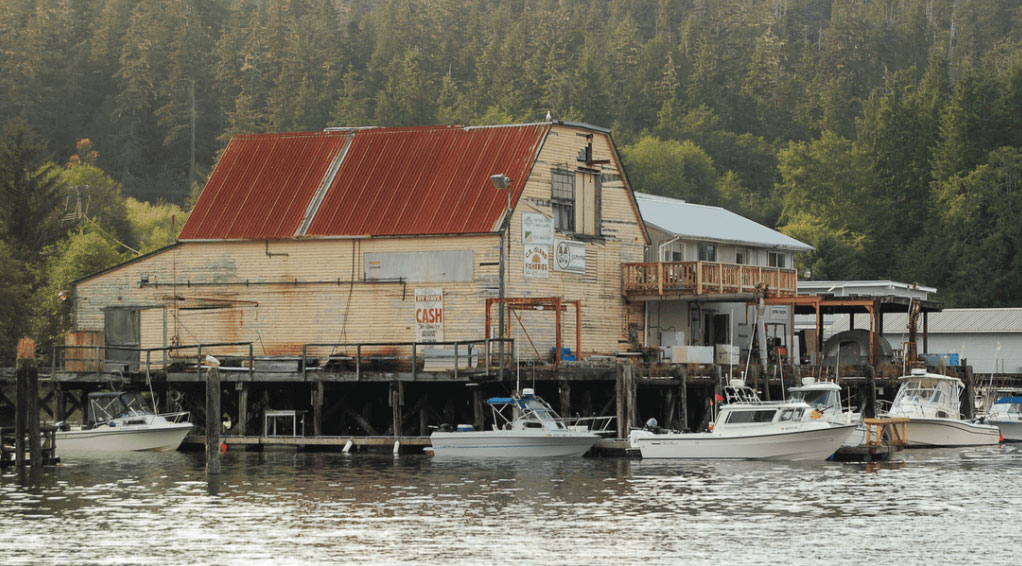 In recent years, Coal Harbour has seen many changes. At one time it served as a whaling station, one of several on the west coast of Vancouver Island. The facility was established initially as a seaplane base and served the Royal Canadian Air Force during the Second World War. BC Packers took it over after the war years, and the Gibson and Nelson brothers turned it into an active whaling station.
Whaling had its beginnings in the area in the 1800s and its heyday was in the early part of the 20th century. It provided work and produced lots of products including food and items such as oil, ink and perfume. However in the 1960s, when whaling began to be frowned upon, the industry nose-dived and eventually came to an end. When the whaling station was shut down it soon became a base for non-military floatplanes offering charters and other services.
The book, Whalers No More published in the mid 1980s by Harbour Publishing tells a compelling story of the history of whaling on the west coast. It includes the fascinating tale of Coal Harbour, its ownership, operations and demise. There is still a sense of the one-time whaling activity at Coal Harbour. But recent changes have begun to diminish that sense. A convenient café and store was located on the nearby approaches to the waterfront. It is gone and has been replaced by apartment buildings. A blue whale jawbone arch once stood nearby. It was reportedly the largest of its kind in the world.
The harbour and waterfront have taken on a number of additional changes. Not too long ago there was no fuel available at Coal Harbour. A fuel dock was recently added alongside the wharf at the end of the main street. The docks have been improved and extended and the launch ramp and adjacent property have undergone a number of interesting alterations.
What was at one time a landing for harpooned whales is now an active ramp for the launching of boats and floatplanes. And the land has a large area dedicated to parking vehicles and trailers involved in recreational boating and fishing, and for others simply intent on visiting the local facility. Part of that facility is a small but interesting museum, located in the office buildings of the marina adjacent to the launch ramp. It is called Air Cab Marina and the small but intriguing museum is named Joey's.
Travelling down Neroutsos Inlet, some vessels stop at Jeune Landing a long wharf with an adjacent dock that extends along the shore part way toward Port Alice. But tying up there prevents easy access to the town.
A little farther down the inlet is Port Alice, named for Alice Whalen, the mother of the town's founder. This quaint little village, with large surrounding forests and numerous nearby lakes, was once a thriving lumber town with a significant pulp and paper mill and lots of activity. It is one of the mildest but wettest places in Canada, almost as wet as Prince Ru- pert but nowhere near as wet as Ocean Falls that has an average of 330 days of rain a year.
My wife Carla and I cruised to Port Alice from Coal Harbour, tied up at the docks and made our way to the town's municipal office. After introducing our- selves to the folks behind the desk and discussing the pros and cons of their waterfront, my ears pricked up when I heard someone in the office talking about the naming in 1927 of Neroutsos Inlet. I heard someone say, "He was a Greek, you know."
I think I was meant to hear their conversation, so I joined in. Until then I had not really thought about the naming of the inlet and should have realized long ago that it had a Greek name. Like mine.
The name of the Greek captain of a ship that serviced the area many years ago was Cyril Demetrius Neroutsos and so the inlet ended up with his name. He was also the manager of the Canadian Pacific Railway Coastal Service that called at Port Alice for many years. Captain Neroutsos had a very interesting marine background. He had taken part in some famous international clipper ship races and had sailed around the world several times when he was a teenager.
Being that the captain was Greek made me realize that I was being told about the naming of the inlet because of my surname. I had inherited that from my father. My mother, who was English, would have been quite happy had the inlet been named by Captain Vancouver rather than by Neroutsos. That's because George Vancouver and my mother were from the same part of the world in Great Britain. And had Captain Vancouver been acquainted with her early family he might have named it for them had he not named it for himself. So it could have been called McDowell Inlet after my mother's mother. Or maybe Streep Inlet (a variation of her father's name, Stripp). No matter what name it goes by, it is an interesting and relaxing destination in the area.
Today Port Alice is known as the "Gateway to the Wild West Coast." The Port Alice Yacht Club marks the shoreline of the port. It is a long standing facility that provides membership moorage and at one time allowed those who were transiting the west coast of Vancouver Island overnight docking as space allowed. Now the adjacent docks at the more recently established Rumble Beach Marina serve the purpose of accommodating visiting boats. While most slips are for smaller craft, larger vessels up to 60 feet can tie up at the outer dock as space permits.
At Rumble Beach Marina you will find a launch ramp, port-a-head, potable water at the dock but no shore power or electrical plug-ins. It does have garbage disposal and a fish cleaning station. There is no fuel barge but fuel can be delivered by truck to the marina and arrangements can be made with the administrative office or by contacting Port Alice Petroleum Products.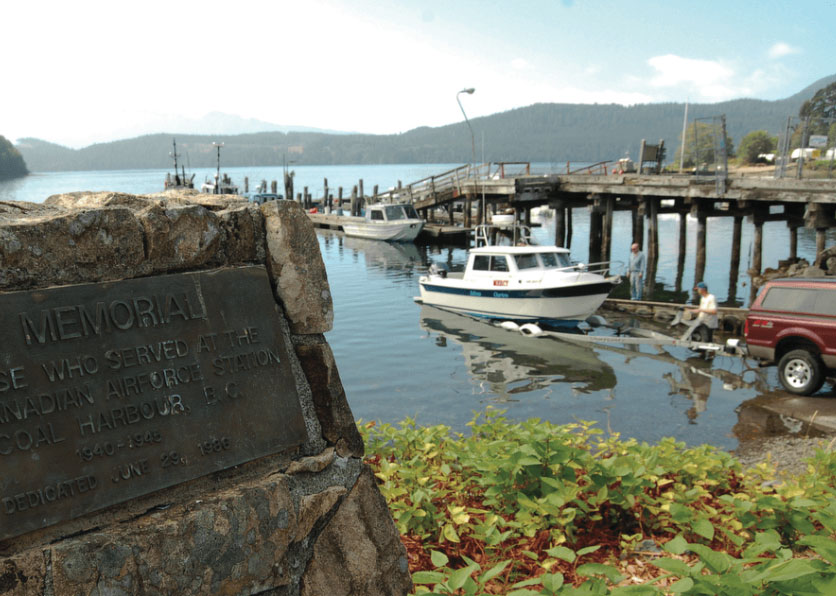 Once tied up at Rumble Beach it is a leisurely four-minute walk into town where a small shopping centre has a number of convenient stores, including a grocery store and a restaurant. There are also laundry facilities, a liquor store, a golf course, an ice rink, a bank, an RCMP detachment, a medical clinic and overnight accommodations. We stopped at the café for a light lunch and found ourselves in conversation with some of the locals—interesting and very hospitable people. We ended up meeting members of the yacht club and talking about the excellent fish- ing and whale watching in the inlet.
"There is a good reason for the marina having a fish cleaning station." They told us.
Not only are there whales, but also sea otters and sea lions to view in the inlet and adjacent waterways. Bears and other forms of wildlife can be viewed on land.
One of the things about Port Alice is the fact that it can also be reached by road. So if you have friends driving on Vancouver Island it would be a treat to meet at the marina and enjoy a social visit while you are away on a cruise.
While you are boating in the area you are advised to be on the watch for whales as they are seen quite frequently. That also may be a perfect reason to go there. Just ensure that you do not overlook the regulations requiring you not to approach the whales. Watch for them blowing and that could help you to avoid striking one.
There are other interesting places in Quatsino Sound, the closest being Varney Bay and the nearby Utah Mine,
or the small landing at Bergh Cove. If you are going to visit Neroutsos Inlet then you would surely be spending time calling also at those and other harbours and landings.
While most boaters who know Quatsino Sound make the more popular Winter Harbour their objective, Port Alice is a place that is worthy of a specific trip or even as a short side trip. After visiting it a number of times we have concluded it is one that should not be missed by boaters out for a relaxing cruise in peaceful surroundings.
If You Go
Port Alice Yacht Club
250-284-3343
Rumble Beach Marina
250-284-3391
portalice.ca
The Outpost, Winter Harbour
250-969-4333
winterharbour.ca