July is peak cruising season. That time of year when at the end of a long, hot day on the water the reward for the skipper and crew's hard work is a cold beverage and a delicious meal.
It's July again, that time of year you thought would never come but finally did, mid-summer cruising season and all that entails, especially at the end of the day, when the rewards for the skipper and crew's hard work are close at hand. Whether anchoring, grabbing a buoy, or tying up to the dock, that reward is often synonymous with happy hour, and happy hour is often synonymous with pubs. Ergo, we have sipped and supped and sussed out six winners. Each of them has a special flavour all its own and each comes with anchorage or moorage nearby. Here they are in no particular order:
1. Dinghy Dock Pub, Protection Island (Nanaimo)
One of a Kind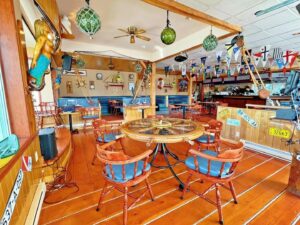 This old favourite of ours has been around in various incarnations since 1989. It's the only registered floating pub in Canada. Protection Island is accessible via a ramp, so visitors can explore the island before or after a visit to the pub. Originally, the Dinghy Dock was built as a marina and boaters can still choose to tie up overnight if they make arrangements ahead of time. However many boaters prefer the overnight option at Saysutshun (Newcastle) Island with its multiple mooring buoys and docks just a short dinghy trip away.
Pub manager, Ashley Schafer, who has worked at the pub for five summers, is outlining each of the 10 beers the pub has on tap, but I am delighted to spy two draft ciders. "Phillips Blue Buck is one of the favoured brews," she's telling my beer loving skipper, David Dossor. "But Hoyne Pilsner and Driftwood's Fat Tug are also popular with our regulars." David is happy to be reunited with a Fat Tug while I wander around the pub and enjoy the eclectic and sizeable marine touches: bronze diving masks, compasses, old life-rings, a ship's wheel incorporated into a table that Schafter says they call 'The Captain's Table', a mermaid figurehead, model ships and glass fishing floats. This is more than a pub—it's a nautical museum too!
Finally, we settle in for an early dinner. There's a great choice of food items, with new vegan options and cocktails but I always opt for the fresh halibut and chips. Tacos, quesadillas and calamari are all tempting as well. To get a few vitamins in there I also go for chickpea and cucumber soup—yes, it's delicious.
After the long covid 'winter' the pub finally opened again in March with intentions of being open seven days a week. However, the ubiquitous staffing problems may reduce that to five days so be sure to check the website before you set off.
2. Lighthouse Pub, Saturna Island
Stunning Views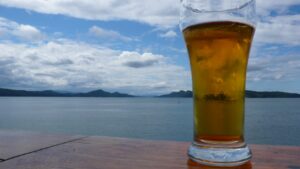 Visiting Lyall Harbour's busy pub has become even easier since the dock extension of a few years ago, so there is ample space for us to pull up our 25-foot C&C and tuck into the pub for dinner. Even if the docks are busy the anchorage in Lyall Harbour itself is pretty secure, with ample room to swing on the hook, good holding and protection from southeast and northwest winds (although the latter, when blowing strongly overnight, may creep in with its accompanying chop).
Of course there are other pubs with great views, but we chose this long-time favourite because the decks actually hang right into the sea, getting pubsters even closer to the view. You can look across to Pender Island, over to Mayne and Samuel islands and travel the length of Plumper Pass. The manager, Chaya Katrensky, agrees with us, saying any boaters enjoying the Southern Gulf Islands should know that the Lighthouse is a must visit. "We're right beside the government dock and ferry landing, with lots of short-term moorage," she says. "And you're right, what makes the pub special are the two patios that reach right out over the ocean, enabling visitors to get even closer to the spectacular West Coast sunsets." David, of course, wants to know what brews are on offer. "We have six beers on tap, and our menu is a mix of classic seaside pub fare." We've been coming to the Lighthouse Pub for many years, aboard our boat, in our VW camper in winter and occasionally on our bikes. Owner, Robert Fitzgerald, also owns the campsite nearby, our winter retreat. We always enjoy the fact that the BC Ferries' employees come into the pub to ticket passengers going aboard the ferry. That's so Gulf Islands!
Today was Pride Day on the island so we're in good company with dancing and bedecked locals and boaters who have cruised up to enjoy the day's events and join the party. We choose an outdoor table to await the sunset in style. David has a Neptune burger and chips to go along with his Shipwreck IPA while I choose two appies: Portuguese Piri Piri and warm sourdough along with buffalo cauliflower, a dish that would have easily fed two if the skipper had been in the mood for hot and sassy.
3. Moby's Pub, Salt Spring Island
Fun and Games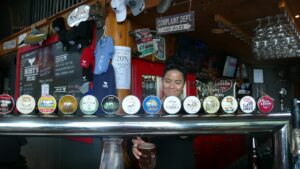 The daily food specials are fun. Ror example, can you get your mind around Duck Wings or the bartender's whiskey soup special with ice croutons? The drinks are an adventure too. This is where I always break down and get my margaritas or a Ukrainian Donkey (don't ask, just check the website). They have two ciders on tap as well, one being the local Salt Spring Wild Cider, and a dozen beers as well as a rotating tap, including another of David's favourites, Tiger Shark Pale Ale (he has a dozen favourites.) I love that they have five-ounce tasters as well, so I can get a few sips in without going overboard.
Tonight, for me it's coconut curry mussels, while David goes for the Friday special, the sticky ribs dinner. After dinner, we top up our drinks and head out to the heated deck, a fairly recent addition to the pub, to hear singer/songwriter Ange Hehr. A perfect ending to the day.
By the way, the adjacent docks at Salt Spring Marina were all rebuilt in 2018 and are in great condition. Tonight, I am very glad they are so close by.
4. Stonehouse Pub, North Saanich
The Haunted Pub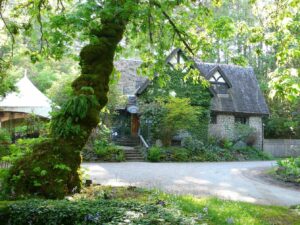 How often do you get to share a schooner with a spirit? Close to Canoe Cove and the Swartz Bay ferry docks, you would expect this pub to be a lively and noisy place, but an odd, eerie feeling of stillness always seems to envelope this place. Maybe it's the moss encrusted trees and the strange light from the forest, or the old building itself, a brooding English style manor from the 1930s set on 2.5 acres. More likely, however, it's the spirit of Willy (William) who hanged himself in the manor's upstairs bedroom. He was only 12 and it was said that he was depressed by the death of his brother who was killed in an accident on the Pat Bay Highway and also because he was unhappy about the family's decision to move. But don't let the ghastly past get you down.
Past pub owners, Tina and Marty Taylor, used to joke about installing a 'ghost cam' to record Willy when he slammed and broke the glass in the locked French doors, or turned on the VCR or opened drawers. These days the poltergeist adolescent seems more settled, say the staff. We still prefer to eat outdoors, though.
The menu is varied, from a good choice of burgers, pizza and brews to originals like seafood gnocchi and wild mushroom and asparagus risotto.
The Stonehouse is a short walk (two minutes) from Canoe Cove, which was built in the 1920s and now has 450 wet slips. It offers all services and is a bustling place. Transient moorage is usually available but boaters intending to visit should call ahead to reserve a slip.
5. The Cowichan Bay Pub, Cowichan Bay
Drop Dead Sunsets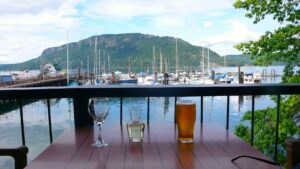 There is no place better than the Fishermen's Wharf and the pub that overlooks it from which to observe the fiery red sunsets that often flame up here. Even when it it's not fully aflame it still rarely disappoints.
And tonight, well before sunset, we're enjoying the happy hour which runs from 15:00 to 17:00. This is the time when David gets a deal on his favoured pint of the day and I go for a glass of the fruity white on offer. Today it has to be fish and chips for us both and we can definitely vouch for them here. The halibut is meaty and generous, the coleslaw delicious and the server, Emma, is as fresh as the potatoes. We eat outside on the deck, but if the wind starts up the inside is spacious and inviting as well, with large windows for sunset viewing.
Surprisingly, this has been our first visit here and initially we entered somewhat tentatively, having been convinced by a good friend that this long-time pub deserved to be featured. From the exterior the building looks somewhat tired but trust us, it has a heart of gold and a great personality. We will definitely be back.
Eventually, having soaked in the atmosphere, the vibes and the vines and succumbing to the apple pie that Emma recommended, we head down to the docks and Aquila, to see if we can buy some prawns off the fishboat while we await the sunset. I love being in a working harbor.
6. Shipyard Restaurant & Pub, Maple Bay
Loaded with History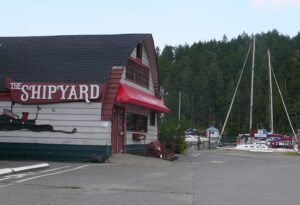 I always think of John Wayne and Jacques Cousteau when we tie up at the Maple Bay Marina. The bay was a favourite destination for both of them as well. The building that now houses the pub was a shipyard until it ceased operation in 1990.
This place has long-time memories for us. To give you some idea of how long ago that was, when we first visited aboard our 23-foot Crown, the marina had recently opened under new owners and was offering a $10 moorage special for all visiting boats.
Be sure to allow time to look at the pieces of history everywhere in this incredible building. Model ships and photos remind visitors of the shipyard's history since the early 1940s. It's kind of cool that we are eating in a venue that once had a whole different life during the heyday of boat building.
It may not be a nautical artifact, but on the wall is a piece of the only airplane that crashed in Canadian Pacific waters, during the Second World War. It went down during a training exercise in nearby Sansum Narrows.
And the 'museum' extends to the grounds outside as well. The massive propeller overlooking the marina's north side is from the tug Chehalis, which sank off Burrard Inlet in 1906, killing eight of the 15 people on board. Close to it, an employee is hard at work getting a new addition to the 'outside museum' ready for picnickers. It's the remains of a 1930s tug that now occupies a place of honour near the propeller.
Stephanie takes our orders and recommends the pepper and lemon chicken wings, crab cakes and Caesar salad for starters. The choice is too difficult, so we order them all and then eventually proceed directly to dessert. She didn't disappoint in her appy recommendations, so we take her suggestion for dessert and go for the cheesecake. During and in between we drink amber ale and toast all the marine pubs around the Salish Sea.
Websites:
Dinghy Dock pub: dinghydockpub.com
Cowichan Bay pub: baypub.ca
Lighthouse pub: saturnapub.com
Moby Dick pub: mobyspub.ca (For boaters needing to provision there's a shuttle available between marinas and the Upper Ganges shopping centre.)
Shipyard Restaurant & Pub: shipyardrestaurant.com
Stonehouse pub: stonehousepub.ca