We're just under the power lines heading south from Stuart Channel when we catch the wind frolicking up from Burgoyne Bay on Salt Spring Island. A common afternoon wind direction, it often gives us a thrilling sail for the last 15 minutes of our trip to Maple Bay. We're doing almost six knots in our C&C 25 as we zoom past Paddy Mile Stone as the bay narrows and bends southward into Birds Eye Cove, but we're running out of sea. Tempting as it is to consider heading back into the wind for an exhilarating beat to prolong our sail today, it's just a tad more tempting to hand our lines over to the friendly staff at Maple Bay Marina and kick back for the rest of the day at one of our favourite destinations.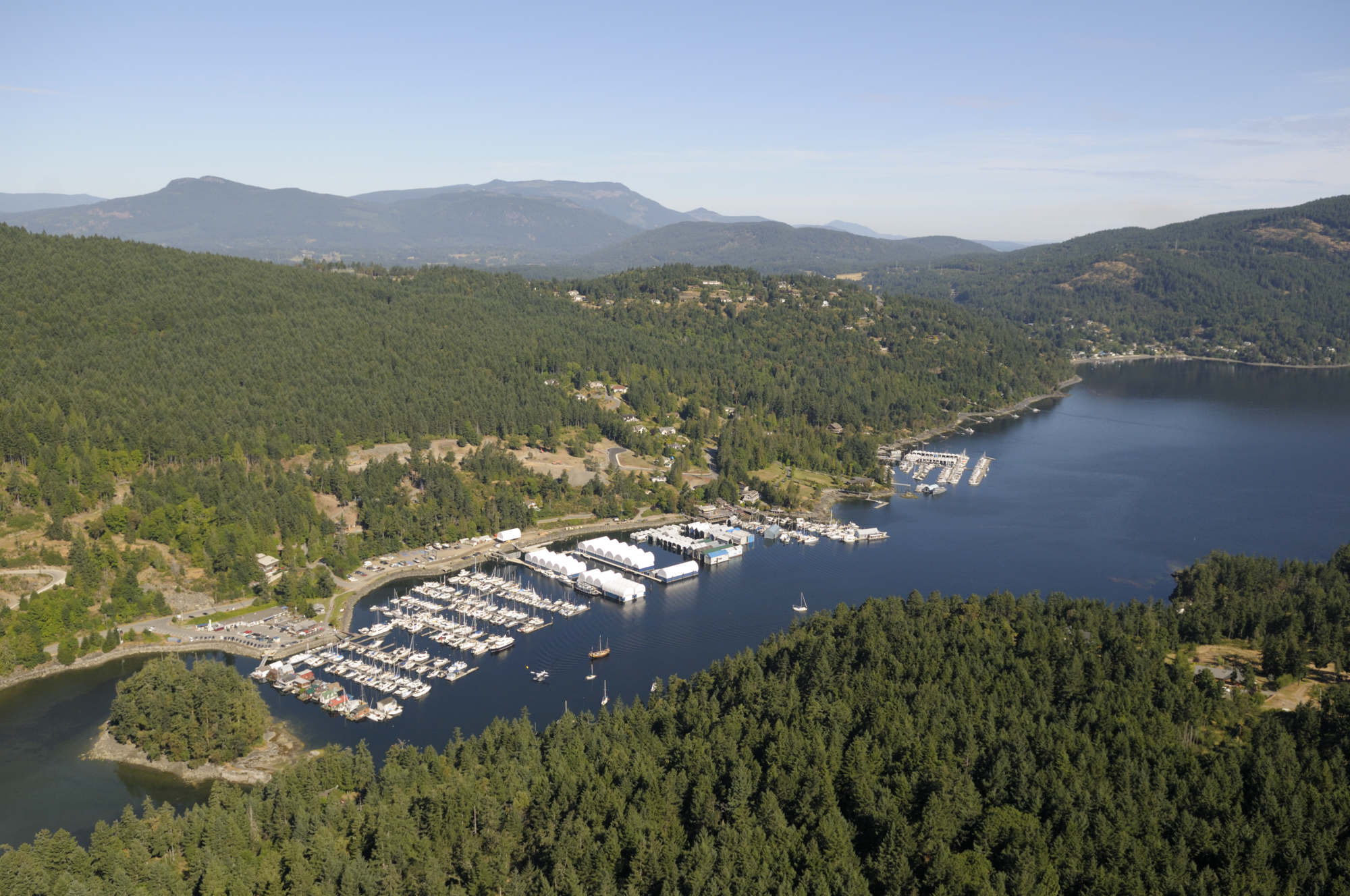 AFTER THE STORM
Maple Bay is a destination that took one hell of a wallop from Mother Nature less than two years ago, when fierce winds rampaged the coast on December 20, 2018. "It's known as being one of the most protected bays in the whole North American coast," says David Messier, who along with his wife, Carol, owns and manages the marina. "But nevertheless, that day the winds peaked at 129 kilometres an hour. We have never gone through a storm like that one and BC Hydro says they hadn't either."
It was a day they never want to relive. They witnessed a marine rescue when two of the marina's float homes were snatched away from their tethers and started bouncing toward wilder waters. The Joint Rescue Coordination Centre (JRCC) was called in and the homes had drifted across the bay before the relieved occupants in one and the dogs in another were taken aboard by the Coast Guard around 11:30.
"One float home was in the process of being connected and the moorings simply broke on it. We caught it as it was going past the fuel dock but then it ripped off the dock and carried on across the bay. The damage was unbelievable. The float home dock needed all the piles re-driven. All the concrete docks needed to be repaired. We had to completely rebuild the fuel system—all of the fuel lines and the entire gas dock. The floats were reconstructed. Two thirds of G dock was completely rebuilt; half of I dock is still missing and A dock is gone, so we are still very much in the process of rebuilding. The entire roof was torn off this building." He points to the large picture window behind him. "It was blown out and shattered. You can still see the water damage in here. Huge trees came down on the property. Power systems were ripped out of docks." A shadow passes in front of his face. "It's really hard to go back to that time and you try your best not to remember it because it was so traumatic. Lots of smashed up docks and boats tossed about and boat sheds lifted right out of the water and then smashed down. The volume of debris collected from the water filled 26 large containers. The winds and the high tide combined to put us in a real bad spot."
Looking at photos we could see how bad it had been. The scenario was devastating.
But phoenix-like, they have recovered, and today things are looking brighter and busier as Carol arrives to take our lines and gives us a welcoming smile on our mid-September mini cruise. They have both been very grateful to the partners surrounding them and attribute much of their successful rising from the storm to the assistance they received. "2019 was a pretty challenging year, so for us to be able to rise from that is very much tied to the partners we work with; companies like Harbour Air, The Georgia Strait Alliance, Columbia Fuels, our local government, Appleby Electric, the District of North Cowichan and Search and Rescue. All of them contributed to help us succeed in putting everything back together again. It's the partnerships that have allowed us to become successful. We're a community down here."
That disastrous wind notwithstanding, Maple Bay, on Vancouver Island's southeast flank between Cowichan Bay to the south and Chemainus to the north, has had a lot going for it since the marina first opened in 1945. We first visited in our 23-foot Crown in 1980, when moorage was offered at $10 per night, the shipyard was operating, the Mai Tai restaurant was a decade away from burning down and the marina had the cleanest and best-equipped washrooms and laundry we had ever seen. It still does. We call it our "one shop stop" as it really has everything we could need snugged into one space: The Shipyard Restaurant & Pub, which offers live music to munch to on Friday nights; and the Mariners Market & Espresso Bar, which has a variety of art and crafts on offer as well as great coffee, baking, ice cream and the best book swap ashore. The fuel dock has gasoline and diesel as well as a pump-out, added two years ago, a chandlery, a yacht broker and a boatyard with a 50-ton travelift and mechanics and shipwrights who were only too happy to squeeze us in two summers ago when our C&C developed a problem. The marina has Internet; 15, 30 and 50-amp power; water; garbage and a hazardous waste disposal. The covered patio and barbecue area are great for get togethers or just relaxing. Harbour Air has regular flights to and from Vancouver and Salt Spring Island and for those whose travels might involve a golf course, the Duncan Farmers Market or a visit to the Raptor Centre, a shuttle service is available, operating from March until the end of October. For those wanting a more up close and personal experience, kayaks can also be rented. The marina, which claims to be the largest marina north of Sidney, has also been awarded the highest Five Anchor Clean Marine rating from the Georgia Strait Alliance.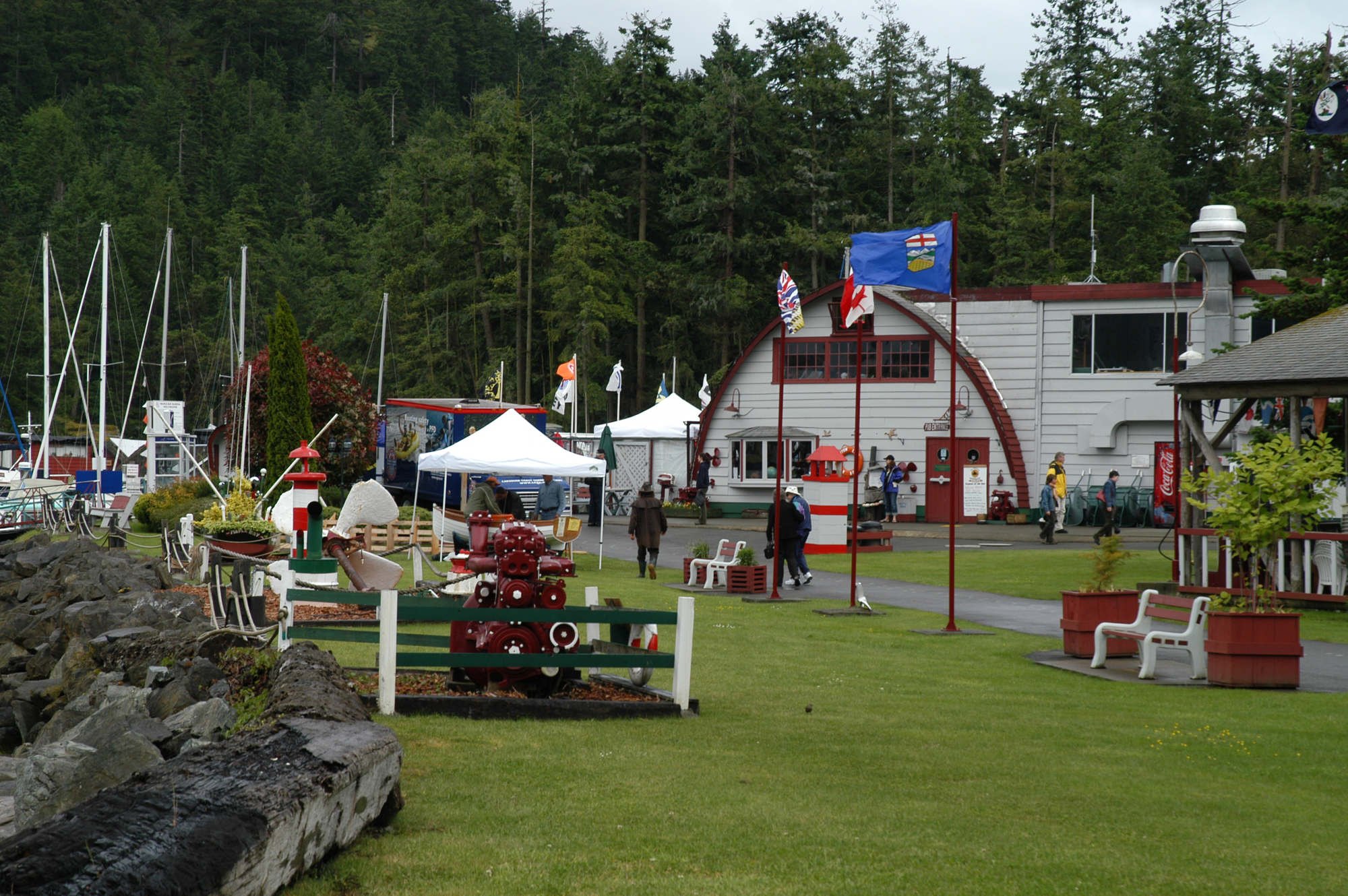 The narrow seven-kilometre scenic road that ends at Genoa Bay is great for cycling or just taking a long walk, but if skippers and crew prefer their walks more vertical, there's hiking too with inviting trails very close at foot. Mount Tzouhalem, Maple Mountain and Stoney Hill are all nearby. You can pick up trail maps at the marina office.
Once our boat is secured I jump in the dinghy and row behind tiny Chisholm Island. This tidal flat, tucked away from passing traffic, is perfect for idling away sunny hours afloat on the placid waters, or swimming in the soupy warm brine if the day is hot, or sipping a cool one. It's warm today, but not warm enough to tempt me over the side this close to happy hour aboard Aquila. For boaters with overloaded boats or for those just wanting a different sort of holiday and a break from the boat, some of the float homes here can be rented for two-night minimum stays. And no worries, the homes are definitely staying put this time around.
If anchoring in Birds Eye Cove or in Maple Bay, skippers might like to take their powered tenders over to the public wharf on the bay's west side to enjoy the village's offerings. There's no question that the Scottish pub here is a big attraction, but on a hot day there is no better place to have a swim than off the public beach here. Just look for the swimming dock. There are toilets and change rooms nearby in a snug little park with picnic tables and benches, and there is always a plethora of locals here on a sunny day. Children love paddling in the shallow clear waters, trying for shiners off the dock, playing on the beach or collecting shells. We can have a refreshing dip on a hot day, dry off in the sun on the beach and then quench our thirst on the waterfront deck at the pub. It doesn't get much better. The wee village has a tiny commercial heart: an outdoor adventure company, the Sea Cadets building and a rowing club, but I don't think it minded having been passed over as the Cowichan Valley's commercial hub. By the way, if you're out of reading material, there is a tiny book bin outside the building.
Skippers and crew considering a pub meal here will be happy to know that the pub operates a shuttle service on Fridays so that boaters from the yacht club or marina can come for dinner and the Friday night entertainment.
And divers will be very happy to know that Jacques Cousteau, who considered Maple Bay one of his favourite diving locations on the Pacific Coast, was enamored by the clear waters of Maple Bay.
Maple Bay and Birds Eye Cove were given their names by Captain Richards of the Royal Navy when he was surveying for the British Admiralty in 1858 and 1859, but well before then it was home to the Salish people, who called it Klup-nitz (deep water).
Shortly after Richards' first visit, Maple Bay was the site of a definitive battle between the Salish tribes and the invading Kwakiutl. Tired of the Kwakiutl's annual raids on their village, warriors from the other Salish tribes: Cowichan, Malahat, Songhee, Saanich and Sooke, all joined together in a concentrated effort to defeat the invaders who inevitably arrived every summer. They hid their canoes in the trees around Maple Bay and when scouts announced the enemy was approaching, they sent out three canoes with warriors disguised as women to lure the Kwakiutl into the bay. Soon the pursuers were the pursued as they found themselves surprised by the surrounding Salish canoes. It's said that the battle went on for four days and nights with not one Kwakiutl warrior surviving
Ensuing surprise attacks on their enemies at settlements in Alert Bay and Cape Mudge made sure that the vanquished Kwakiutl never again raided the settlements of the Salish.
But the visit of Captain Richards' survey ship foretold a new challenge for the Salish. With no roads or railways yet established, Maple and Cowichan bays became the entry points to the lush Cowichan Valley and many settlers began to arrive. Soon a public wharf appeared at its current location, a steamer from Victoria visited every two weeks and a store and inn were built at the wharf's head.
The area was soon surveyed for a town site, prompting entrepreneur William Beaumont to buy the store and inn from its original owner, Tom Windsor, a few years later. Beaumont had plans of developing a town here but the construction of an island railway soon afterward seriously diminished the importance of a port. Plans for Maple Bay becoming the Cowichan Valley's commercial heart were deep-sixed.
Nevertheless, the lure of the bay and its surroundings did not go unnoticed. Homes, farms, a hotel and a trading company were established and Windsor's original inn became a private residence until it was sadly demolished around 1960.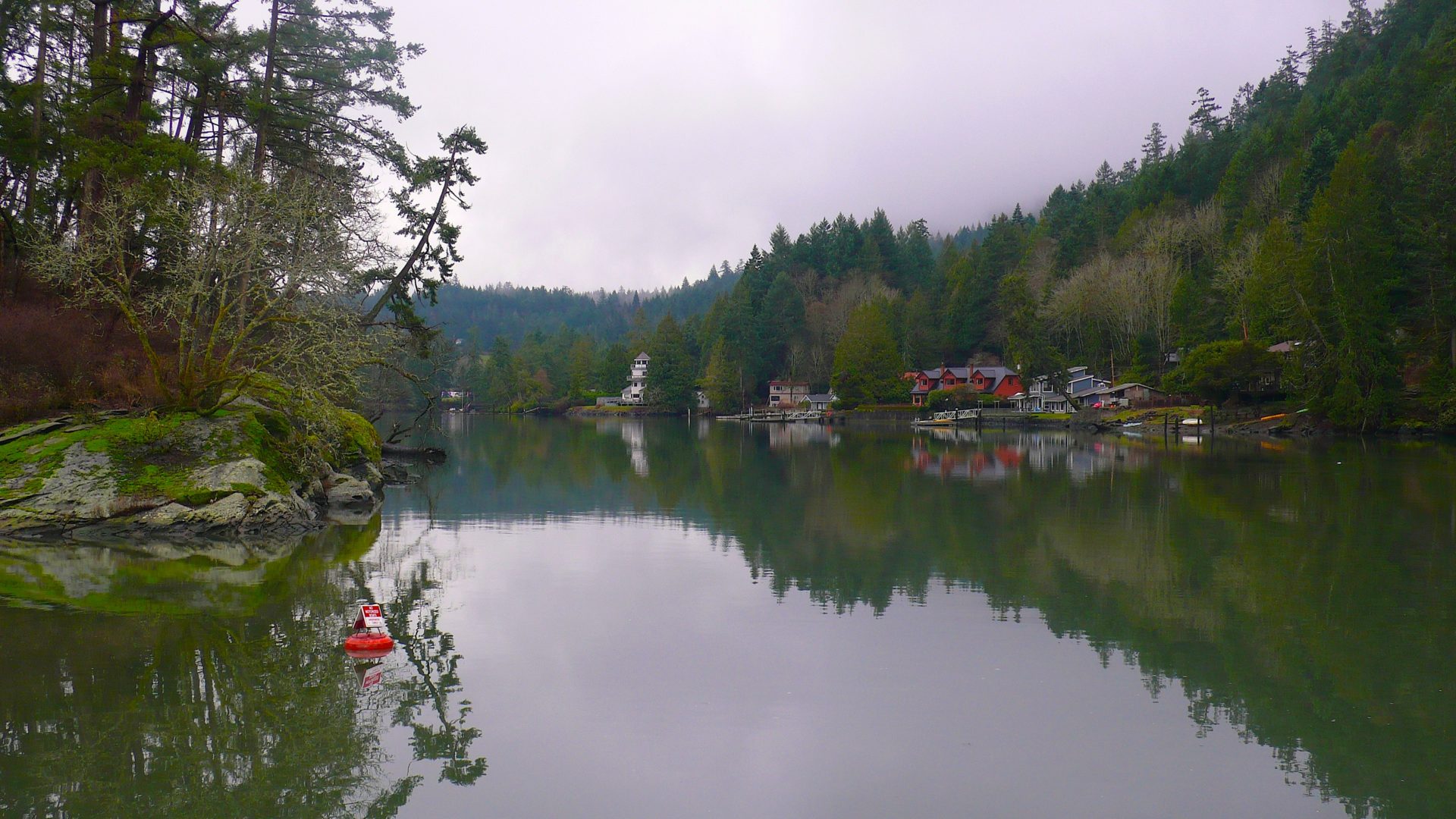 Chisholm, that little island in front of the lagoon, which is sometimes referred to as Hidden Cove, was named after William Chisholm, an early settler whose farm at the head of the cove remained in the family for over a century before being sold.
The boulder whimsically called Paddy Mile Stone was actually named Boulder Point until the early 1900s, eventually changing to its new name on the Canadian Hydrographic charts in 1945. No one is certain how the name change came about although the venerable late nautical writer, Bill Wolferstan suggests in his Cruising Guide to British Columbia, Vol. 1 that it might have been named after a huge granite mass in Scotland, Ailsa Crag, which became known to locals there as Paddy's Mile Stone because of its equidistant location in the Firth of Clyde between Belfast and Glasgow.
The marina has been a protected harbour for boaters since 1924 and not surprisingly has had a series of owners. Back in the 1970s it was owned by three brothers: John, Leif and Arnie Bentzen and called Shipyard Cove. It was purchased out of receivership 18 years ago by the Messiers and has since thrived. The restaurant and pub was once a bustling shipyard, as photos and other memorabilia inside will attest. That ceased operation in 1990 but the building was soon given a new life as a popular restaurant and pub, with the marina offices occupying the floor above.
After our dinner at the Shipyard we're already planning our next visit. The next day we get that invigorating beat as we pull out of our berth and head past that selfsame boulder. The tide will be slack in Sansum Narrows by the time we get there, and then it's back to our homeport on Pender Island. Maple Bay is a happy cruising ritual that will get revisited again this cruising season.