Boating is generally not a calorie burning sport, which isn't really ideal when you consider how good that daily happy hour is, or how good meals taste when they're taken al fresco barbecued on the grill, or how much fun it is to discover a hot new restaurant or pub. If you add daily explorations ashore to the cruising log, however, the scales tip in the right direction and you won't fear to look at them when you return to you home port. There are a number of other benefits to lengthening your shore excursions as well. First, you'll have broadened your local knowledge and enjoyment. Second, you'll be more agile for those sudden last minute leaps ashore with docking lines. And finally, you'll have paradise to yourself because boaters are seldom parted from their cold drinks once the anchor is set or the lines are tied. Even crowded popular anchorages in August rarely have many dinghies ashore.
These seven destinations all have good overnight moorage and nearby hikes that are rated from kid-friendly to killer, and range from a half hour to a full day.
San Juan Islands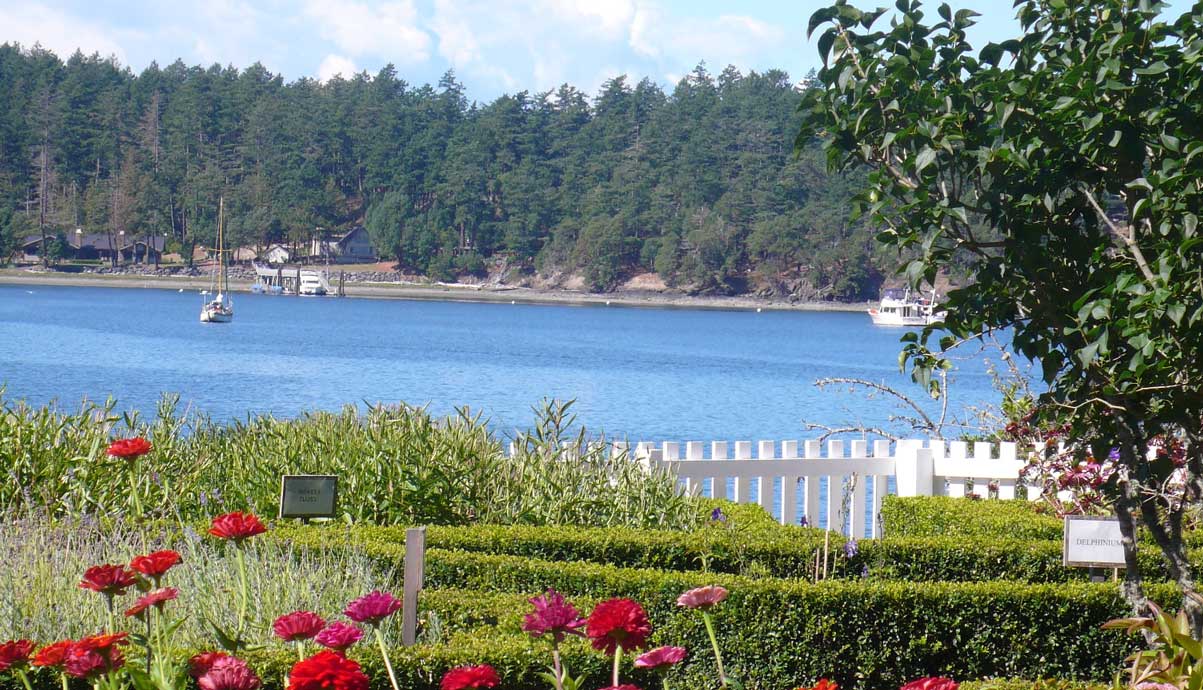 1. San Juan Island—Garrison Bay Our favourite anchorage surrounds a 500+ acre historical site with its two-storey blockhouse that reminds boaters that this sylvan paradise was once English Camp and the scene of that 'almost war' over Porky the Pig. The British departed in 1872 but their influence remains in the manicured gardens of the grounds. Sheltered anchoring is secure in mud and sand at depths of 1 to 2 fathoms.
The dinghy dock awaits, so put on your hiking shoes and choose your route. You can take the easy trail heading north from the dock along the shore to Bell Point, a perfect 4-km circular pre or after dinner stroll, or you can take the calorie burner across the road—a short but steep trail up 650-foot Young Hill. It's just half an hour to the summit with a stop halfway at the English Camp cemetery, but it'll get you sweating. The immediate rewards are an extensive view over to Vancouver Island with, in season, a summit rife with wildflowers, including chocolate lilies. The trail as far as the cemetery is fine for young children, but watch them at the summit.
Upon your return, you can combine the climb with an historic guided walk around the camp. Borrow a booklet from the park's dispenser. Kids will find this fun; it'll take them about half an hour to sleuth out the markers and for everyone to learn about that Pig War while exploring the old buildings, the gigantic maple, and the English garden.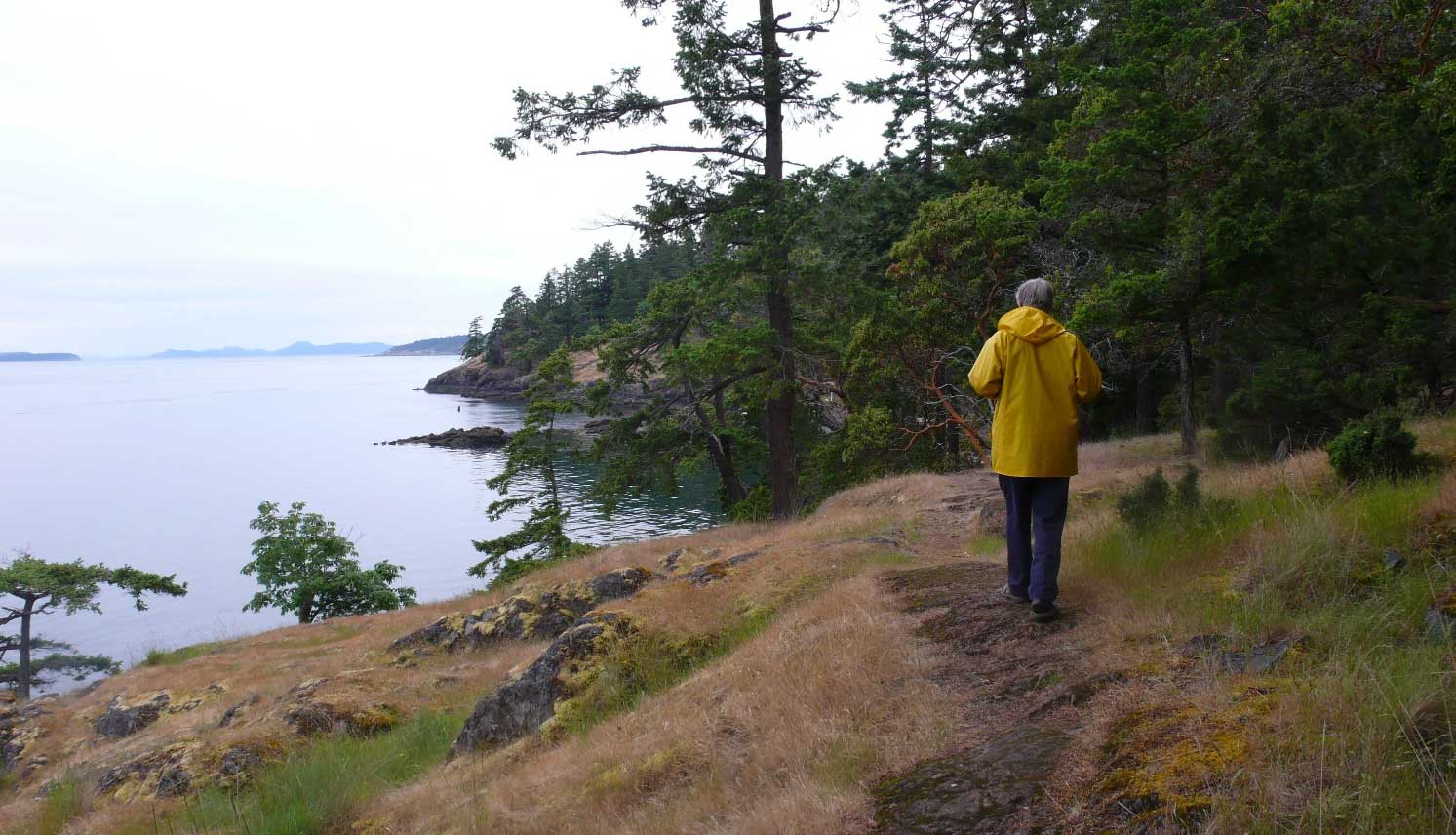 2. Jones Island Marine State Park We always head for the most sheltered anchorage, North Cove, and if we're lucky we can squeeze our 25-foot C & C into the 264 feet of docking space or grab one of the four buoys. This 77-hectare island park has clearly marked shoreline trails with tiny beaches en route. Avoid the NW loop with small children, as some areas are precipitous. Otherwise, combine both trails for an enjoyable 50-minute (5 km) hike. Take the main path from the north to the south cove and then proceed to the right. You'll pass arbutus trees and Garry oaks, discover secluded campsites and have great views of San Juan Channel. No drinking water was available when we were there last year, so fill up on the boat.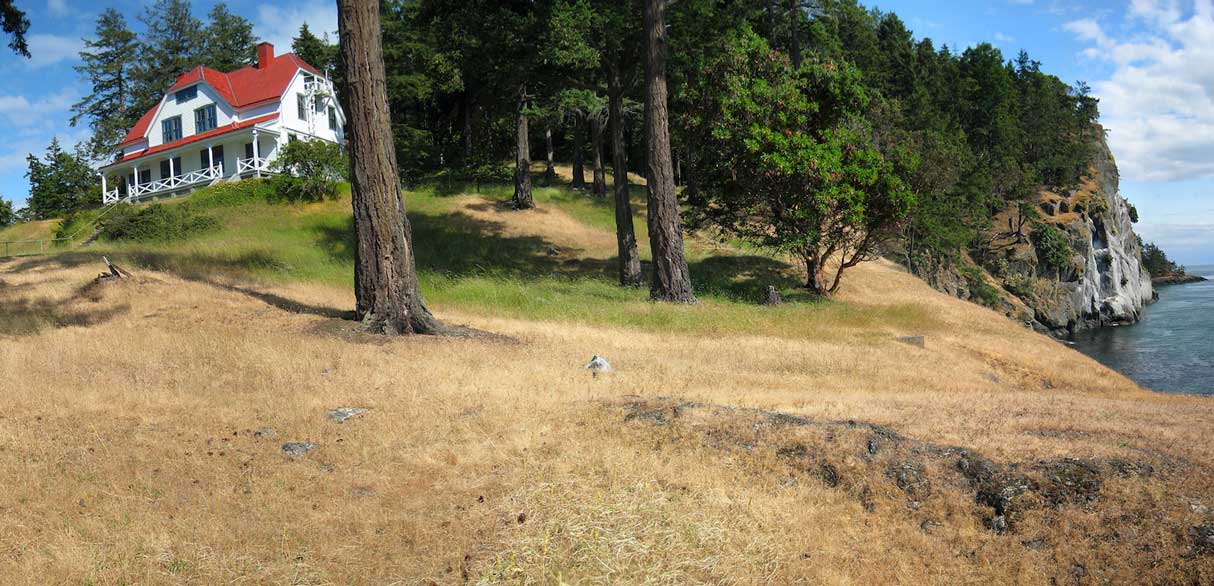 3. Stuart Island—Reid or Prevost Harbor The nearest San Juan Island to our North Pender Island port, Stuart is often our first visit each year to American waters. With 13 buoys, 200 feet of linear moorage, a floating dock, and 192 feet of dock space at Reid Harbor and seven buoys and 256 feet of docking on the Prevost side, as well as ample anchorage in each, there is usually space for us, even in summer. Hikers have their choice of a short circular stroll or our favourite—a 6 km return trip to Turn Point Light Station. To reach the country road leading to the lighthouse, take the trail to the head of the bay. The short walk, culminating in some steep steps, takes you past the beach campsite, and then climbs gradually up to the school—about 1.5 kilometres. Be sure to stop and view the tiny Teacherage Museum. T-shirts and other colorful items for sale flapping in the wind will probably catch your eye first.
A side trip near the old school soon leads to the little fenced graveyard. Carrying on to the lighthouse, you'll pass some friendly cows near the T-Junction. Right leads down to the public dock. Left takes you past the airfield and culminates at the light station and its original accommodations, recently restored. Freighter watching is our favored pastime and we've been known to sit and sip and munch for hours, admiring the views over to the Gulf Islands. If you take as long as we do on this trip, be sure to carry drinks and snacks. Although safe until you reach the unfenced lighthouse area, it's a long trek for children.
The public toilet here has definitely raised the bar for outhouses.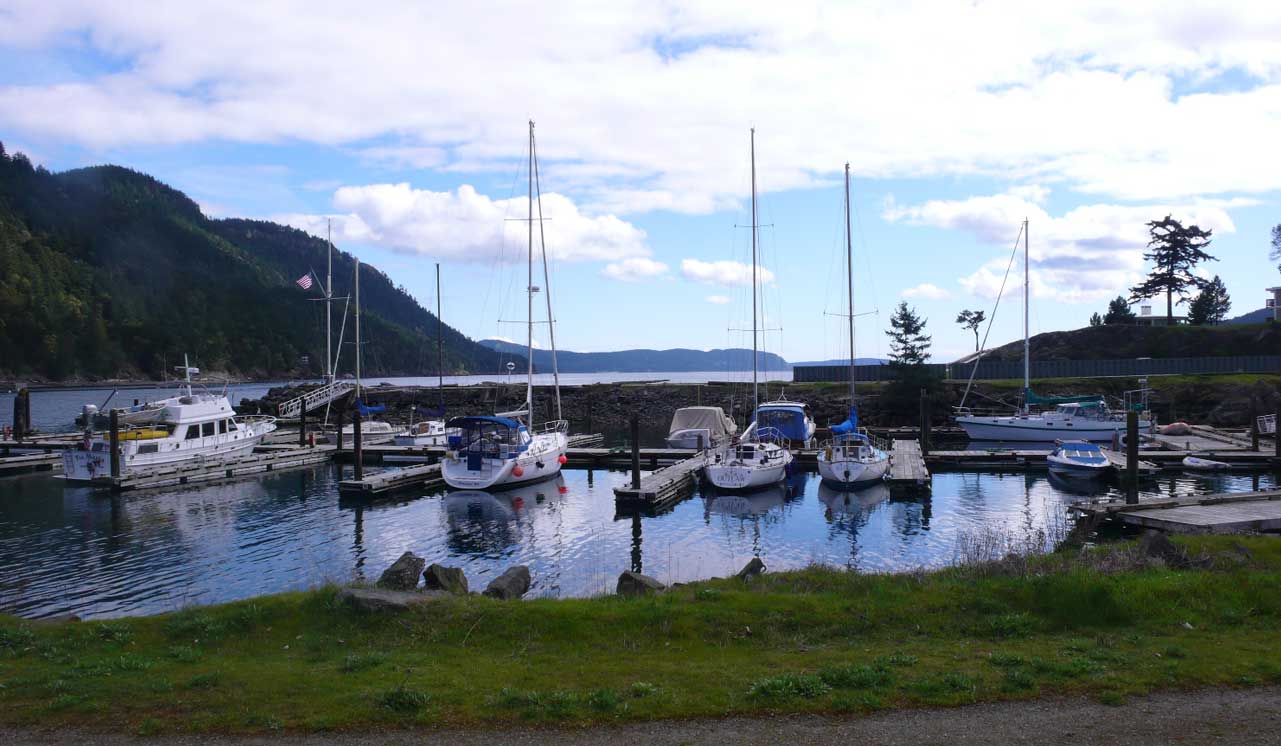 4. Orcas Island—Rosario Imagine hiking your choice of the 80 kilometres of trails in Moran State Park and then soaking in a hot tub, swimming, having a massage, or maybe even treating yourself to gourmet oceanfront dining later. Allow a few days for this trip to Rosario because there is so much to explore if you're into hiking and so much pampering to have upon your return. The lashings of trails and the five lakes in this famous 1457-hectare park can keep you very busy during those long, hot summer days.
Head up the road to Cascade Harbor Inn. In 5-10 minutes you'll see the trail following the stream uphill to the lagoon; take it and you'll soon arrive at the south end campground. Two small trails snake off to Sunset Rock (10 minutes) and Cascade Falls (20 minutes). From the falls, you can carry on to Cascade Lake's day use area, with its swimming, picnic tables, seasonal concession and toilets. This is a perfect half-day outing if accompanied by energetic kids, or if you need to rinse off some of that sweat. If you want to extend your trek beyond the seven-kilometre Cascade Lake Loop, you can win accolades by climbing up 2409-foot Mt. Constitution, a strenuous nine-kilometer climb. Moran State Park rates at the top of our hike and cruise list because of the variety of its trails, its perfect swimming lake, and its moorage. Ask at the reception desk for directions and hiking info. One of the best things about mooring at Rosario is the way they treat you like a special guest. 
Gulf Islands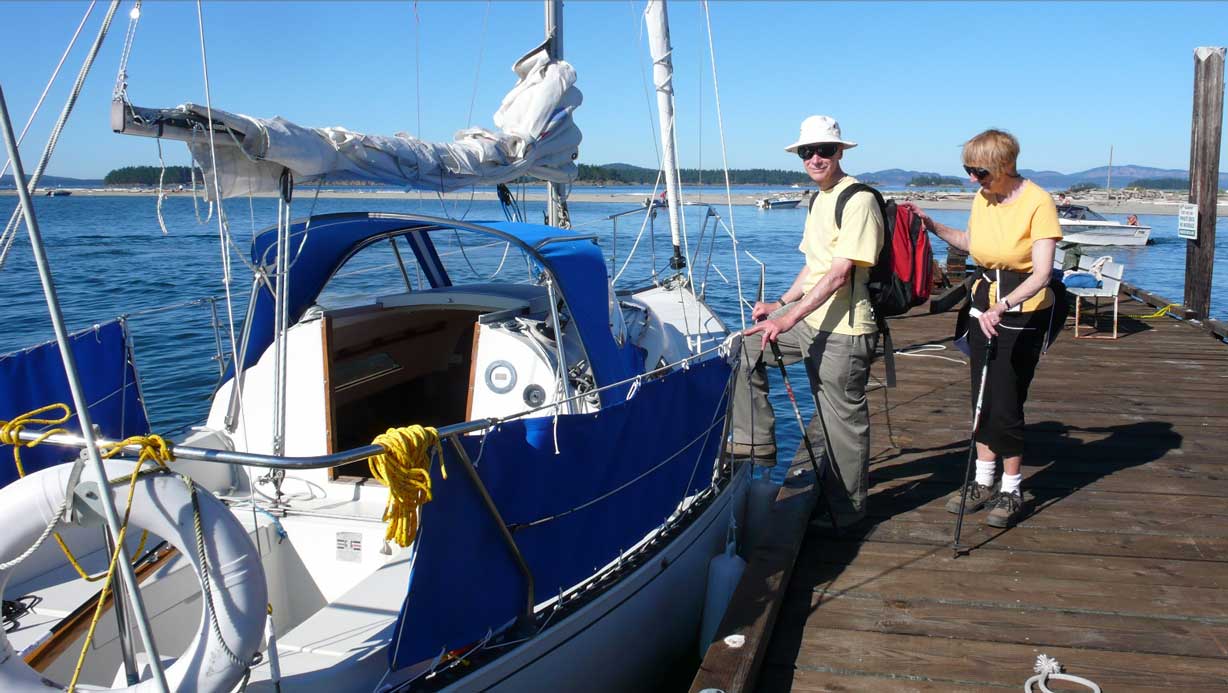 5. Sidney Spit Twenty-one mooring buoys along with 492 feet of dock space await you here as well as an expansive anchorage. After many an uncomfortable night buffeted by westerly winds we are wary of dropping the hook and unless the weather is very settled, head for a buoy or spend the night elsewhere. This is an anchorage of superlatives otherwise. Children will love roaming the beaches, making beach houses out of driftwood or trying to out dig a gooey duck and we love the sweeping expanse of sugar sand on each side. Of the 400 hectares of the island's marine park area, 223 of them are foreshore and about 220 of those are deserted.
A short and easy hike from the docks will take you to the campsite and lagoon—a prime bird viewing area and site of a brickmaking industry in 1907. We carry on through the forest until we reach the west side with its deserted sandy beaches stretching on like a perfect summer holiday. You can walk for over 40 kilometres on these sandy shores. We tend to head north along the 'lower jawbone' separating the marsh from Sidney Channel, around the tip and back, which can take several hours, but of course you can start back whenever you've had enough sand and sun. Another popular walk is to travel the skinny easternmost spit to the light at the end and back, about a 3-kilometre return.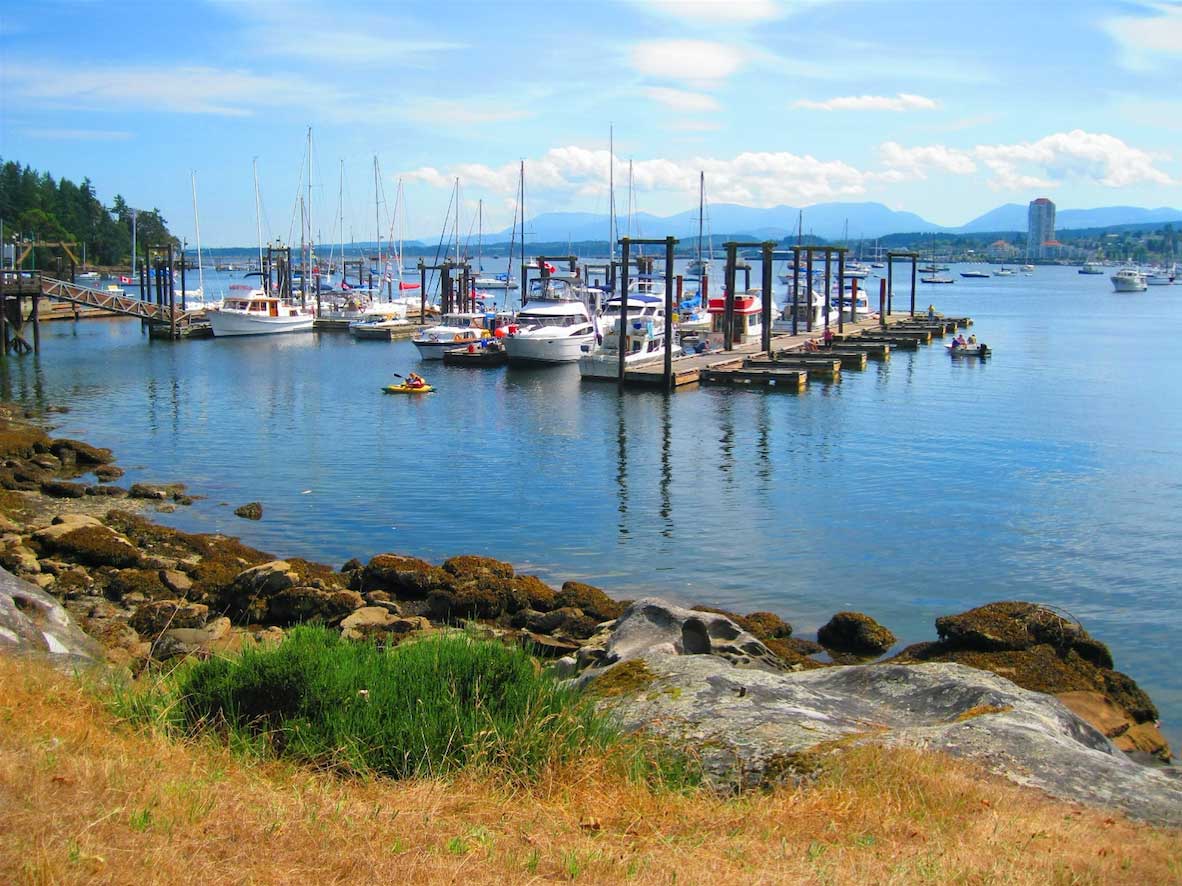 6. Newcastle Marine Park—Nanaimo Newcastle Island is perfect for both cycling and hiking. The whole 306-hectare island is a park, with trails crossing the forest and fringing its shores.
Once we snag one of the 42 new buoys in Mark Bay or tie up at the 1500 feet of dock space, it seems that immediately the island's past settles over us in a way that doesn't happen with the other islands. Previously heavily coal mined, it later became a popular destination where passengers on the Canadian Pacific Steamship boats came for picnics and outings. Perhaps that feeling of age emanates from some of the buildings still standing from that time, like the dance pavilion. Much earlier than that, the island was famous for its sandstone blocks, then later for its pulp stones and its coal. Relics from these industries are found throughout the island, many in Kanaka Bay. There are over 20 kilometres of trails through beautiful Douglas fir, Garry oak and arbutus trees, past Mallard Lake, and along the shores. Be back before nightfall though. I've read that this is one of the most haunted islands in the Pacific due to the deaths of many miners here, and the unmarked grave somewhere on the island of a Kanaka who murdered his family. Yikes!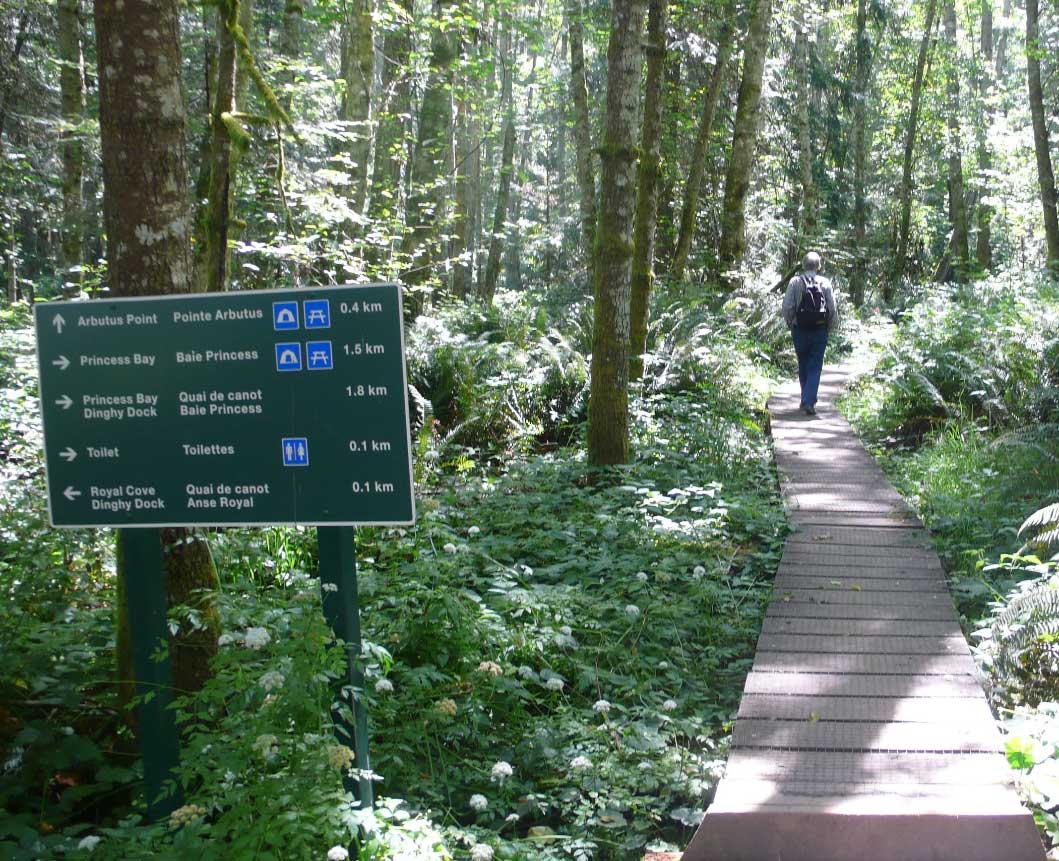 7. Portland Island A 575-hectare island that's all parkland and offers 10 kilometres of trails isn't to be sailed by and we seldom do. Two secure anchorages at Royal Cove on Portland's northwest side and the more spacious Princess Bay on the southeast, offer dinghy docks, stern tie-up rings and onshore toilets. The former anchorage is subject to ferry wake from Satellite Channel so plan meals between ferries, although Chads Island offers some protection. Princess Bay is partially sheltered by the Tortoise Islets but open to southeasterlies. The dock here belongs to the Royal Victoria Yacht Club, used by their park host, so is off limits.
Since becoming a federal park, the island's trails are now all well signed but the water pump has disappeared, so be sure to take your own water.
If you only have a short time or have young children, the trail from Princess Bay to tropical Shell Beach is perfect, a 2.8-kilometre round trip to a white shell beach ideal for splashing and a rocky headland that's fun to explore. This is a campsite as well so there are picnic tables under the old cherry trees and a toilet. We continue westward on the island perimeter walk as far as Kanaka Bluff and then take a path back to the cross-island trail to complete a circular route. A trail fringes the entire island. Not surprisingly, it's the longest and most strenuous one.
The most popular trail by far is the one crossing the island from one anchorage to the other, and then branching on from Royal Cove to Arbutus Cove, another campsite with picnic tables, toilets, sandy beaches and tent platforms. It's a 4.6-km round trip, partially on boardwalk, passing orchards and the site of Major General Sutton's stables. (You can read about it when you get there.) We all have the youth crew to thank for these sylvan paths that were bushwacked in 1980.
So—is this going to be the cruising season that you take a hike? The scales await!
For More Info
Another good resource is www.trails.com which gives trail descriptions, topo maps and GPS positioning.
Be sure to pick up the Your Guide to Moran State Park at the resort desk in Moran Mansion. It outlines the 15 hikes available here and includes a map.
For information and maps of trails on Portland and Sidney islands go to www.pc.gc.ca.
Rosario Marina info: www.rosarioresort.com/marina.htm.
General info on Newcastle Island. www.newcastleisland.ca.