Shearwater on Denny Island has become a boating hub and a destination resort in its own right on the central British Columbia coast. Boaters converge on it nowadays from all directions with an increasing number of boaters making the trip up from the metro hubs of Vancouver and Seattle.
In addition to its own appeal, it has popular nearby destinations that include Bella Bella, Ocean Falls, Bella Coola and the Nascall and Eucott hot springs. It is also the jumping off point for further coastal excursions north to scenic waterways along Seaforth and Grenville channels and adjacent passages, as well as functional stops at Klemtu with its Spirit Bear Lodge, Hartley Bay and anchorages and points of interest en route to Prince Rupert and beyond to Alaska. In other words, there are a lot of reasons to stop in at Shearwater.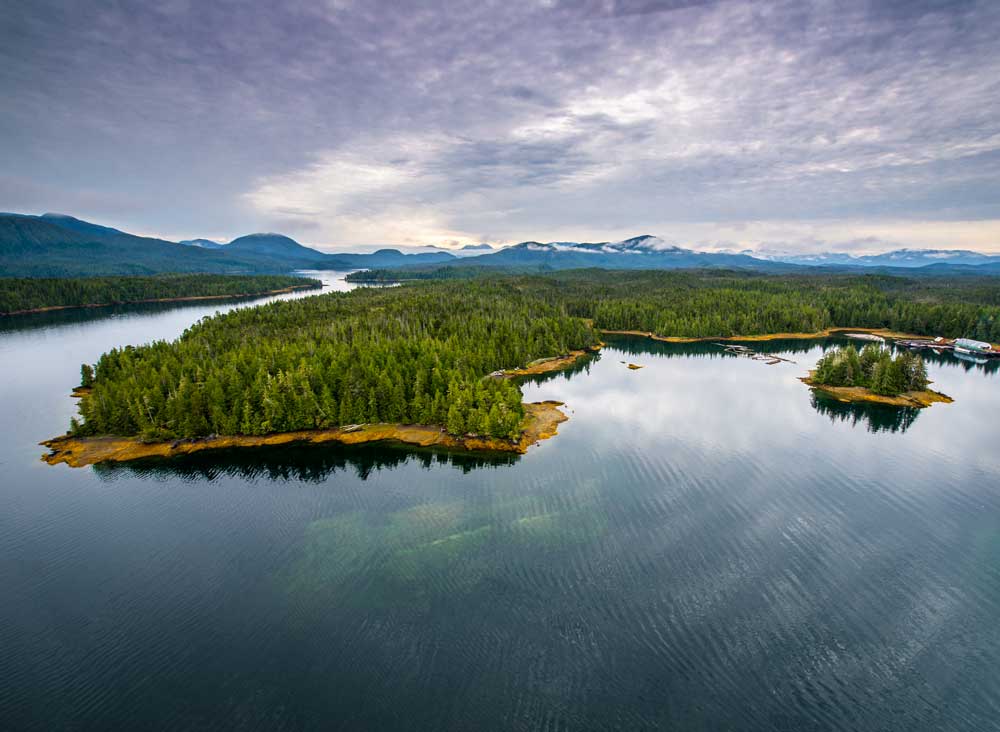 HISTORY From 1941 to 1944 Shearwater served as an antisubmarine bomber reconnaissance post. It was then purchased by the Whidstens, who had settled on the central coast at the end of the 19th century. They developed the old RCAF site into a full service marina and fishing resort. Shearwater's harbour and settlement were already established and its function as a marine centre, its service as a military flying base and its commercial link with nearby Bella Bella and Bella Coola prompted its growth. Then, as the years rolled by following the end of the war it began taking on new life. In the late 1970s then president of the Shearwater development, Craig Whidsten began to make major changes and improvements to accommodate and promote recreational sport fishing, eco-adventures and services for visiting boaters.
With the growth of the community, services had become available that included shipbuilding and repairs, water taxi and seaplane operations, freight and shipping to other remote coastal locations and eventually the addition of helicopter sightseeing and BC Ferries stops for access between central coast communities. The site also saw the establishment of a sawmill and other employment-generating facilities. In recent years Shearwater has reached many of the goals initiated by Whidsten and others involved in its development and it has turned into a thriving centre for locals and visitors.
In 2013, the resort and marina hosted two projects focused on the history of the central BC coast. These included a historic mural above the entrance to the general store, on the old RCAF hangar, and a waterfront war memorial to commemorate local Second World War veterans and their history at the wartime base. The event was attended by a large segment of the local population from Denny Island and nearby communities, as well as cross-Canada relatives and government officials. The ceremony included traditional First Nations performances, a salmon feast and a variety of dances and other activities. A representation of participants and their regalia is incorporated into the images on the mural over the store entrance.
GETTING TO SHEARWATER is part of the joy of the overall experience. After leaving Port Hardy on a good day (calm seas and suitable weather), the stops at God's Pocket or Bull Harbour, at Smith Inlet, Rivers Inlet and Hakai Pass are hard to beat. There are safe anchorages and marina stops at places such as Takush Harbour and Millbrook Cove; Goose Bay, Dawsons Landing, Duncanby, Fury Bay and Finn Bay on Penrose Island; Lewall Inlet on Sterling Island and Goldstream Harbour on Hecate Island.
In addition to attracting boaters to its marina and fine facilities, Shearwater is a prime base for recreational fishing and the gateway to the Great Bear Rainforest. It is from this facility and community on Denny Island that many set forth on waterborne expeditions to view exotic and plentiful wildlife; anything from the rare white spirit bear, grizzlies and black bears, to Sitka deer, bald eagles, humpback whales, orcas, stellar sea lions, Dall's porpoises, Pacific white-sided dolphins and harbour seals.
THE MARINA Boats large and small fill the docks daily along the 1,500 feet of concrete floats in the marina. Moorage is complete with 15, 30 and 50-amp power, potable water and superb cellular service. An easily accessible fuel dock is located near the floats and a substantial breakwater provides moorage for boats. There are also boat haul-out, storage and repair services available at Shearwater.
Boats arriving at the marina are greeted by a harbourmaster who is available to assist with lines while docking and to introduce mariners to the facility with information and answers to questions. If boating guests are flying in to join boats at the marina, there is a 3,000-foot paved airstrip on Denny Island and a larger airport with fuel services at Bella Bella on nearby Campbell Island. The water taxi service is in operation daily between the two islands. Pacific Coastal Airlines has regular daily flights connecting Bella Bella with Port Hardy and Vancouver. Friends and guests come and go frequently to join boats cruising the area.
During a recent visit, a familiar-looking vessel could be seen tied up at the outer dock. It was the incredibly remodelled As-cente, formerly named Black Tie that was familiar to me, having met the previous owner numerous times and visited it at places such as Lagoon Cove in the Broughtons and at Coal Harbour in Vancouver. It is always a pleasure to meet up with mariners and their boats after socializing with them elsewhere in previous years. The As-cente was so radically changed at the stern that I did not recognize it as I approached along the dock. The new owners gave us a tour of the vessel and I was astounded at the major upgraded changes.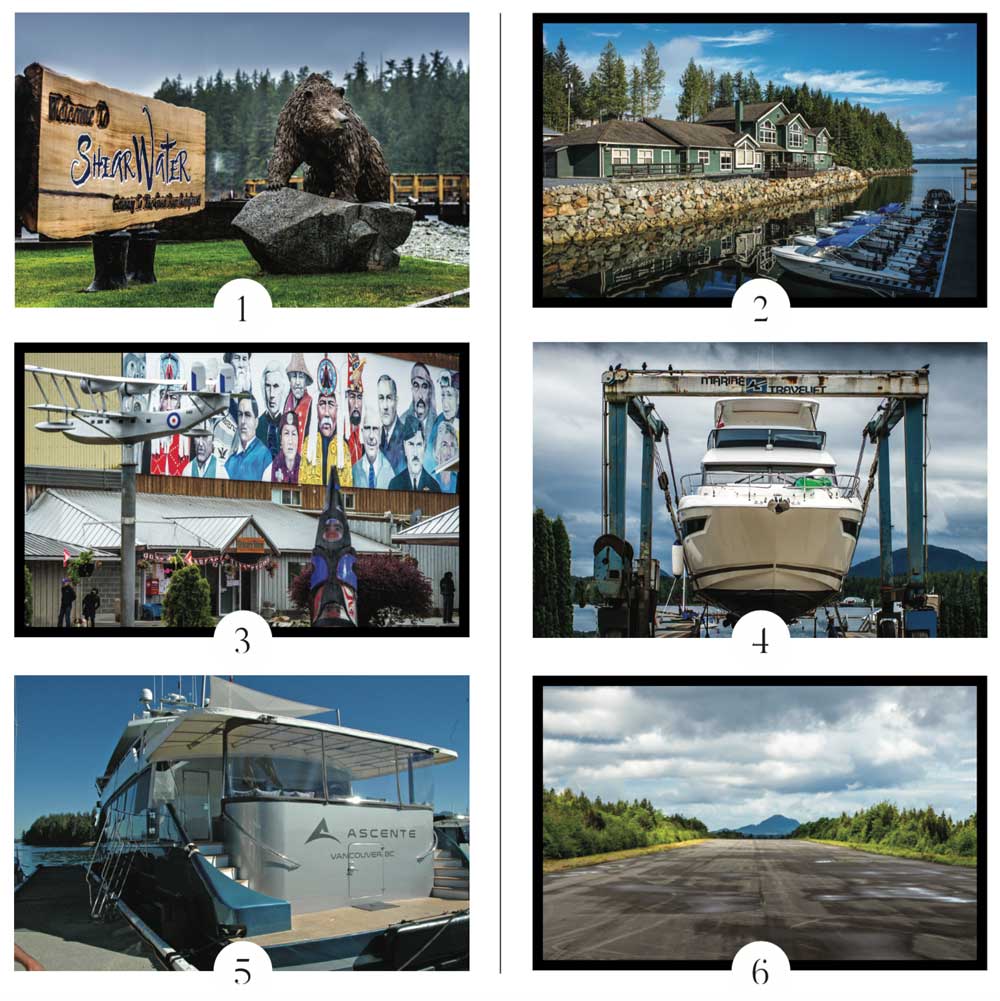 Other vessels regularly stopping at Shearwater include the beautifully restored Ballymack, the Coriolis and the Salish Ranger. Reports from owners and boat crews such as these included high praise for the Fisherman's Bar and Grill restaurant and its manager Steve Edgeworth. And for the harbourmaster Christophe and his two assistants George and Justin.
LUXURY ACCOMMODATIONS A fine lodge built on the water's edge provides highly rated accommodations. The lodge, designated specifically for groups of sportsfishing and eco-tourism enthusiasts, corporate groups, families and friends, has all amenities including a restaurant with an executive chef, custom lounge with a river rock fireplace, a poker table, a pool table and a wet bar.
As a thriving and popular fishing resort and eco-tour centre, the lodge sees a busy flow of groups enjoying the facilities and services for the active summer season. Charter boats and rental boats carry groups and individuals to nearby fishing and wildlife viewing areas. They can be seen leaving the marina early in the day and returning jubilant with their catches and memorable photographs of their wildlife viewing experiences.
GENERAL SERVICES Accommodation, household supplies and restaurant services are significant in other buildings as well. A smaller lodge structure, for the use of the general public and marina guests, is located at the rear of the property. Management has been trained to work with visitors and make their stay as enjoyable as possible, so boaters should have no trouble finding what they are looking for. The marina restaurant has a substantial patio overlooking the waterfront. Adjacent to the restaurant and pub building is another large building, the original hangar, which houses a supermarket and a very well equipped marine store. Another smaller building on the property includes a delightful coffee bar and deli, the Hodge Podge by name, complete with an extension displaying novelties, items of clothing and other paraphernalia for sale. It is a popular place with casual picnic table seating outside in the shade of some tall trees.
THE LATEST VISIT I made to Shearwater was by private aircraft. I wish to convey special thanks to Ray Roussy for the flight and for the extended stopover at Shearwater. We found the staff at the marine store, the lodge, the restaurant and the other facilities very helpful and friendly. When cruising in the area, my boating friends, visitors we met at the marina and other boating acquaintances, concluded, in accordance with my own views, that it is most definitely a place to return to whenever time and seasonal plans allow.
If You Go
Shearwater Resort & Marina
Phone: 250-957-2305
Email: general@shearwater.ca
Chart: 3939
Seair Seaplanes
Phone: 604-647-7575
Pacific Coastal Air
Phone: 604-273-8666