Sidney by the Sea, the alliterative name the town often goes by, is a delightful stopover for cruisers. Not only does the town with its 11,500 inhabitants boast two great marinas, its compact, people-sized downtown offers something for everyone. And for our southern neighbours, it's the perfect gateway to the Gulf Islands and destinations farther north.  
Sidney Island—more or less across from town—and its famous spit offer a spacious anchorage, mooring buoys and some dock space. The northern end of the island, including the spit, is part of the Gulf Islands National Park Reserve. If you've anchored there and walked the park, it may be fun to pop over to town with its public art, multiple restaurants and varied shops.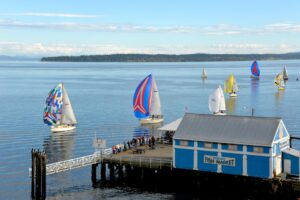 Van Isle Marina is located a 30-minute walk north of Sidney's downtown, and is operated by the Dickenson family, now into its third generation. It offers cruisers a host of services, including fuel, pumpout, showers, laundry, wifi, up to 100-amp power, even a do-it-yourself dog wash. If you need repairs, Philbrook's Boatyard and Gartside Marine Engines, as well as other marine services, are nearby. The on-site Sea Glass Waterfront Grill is well-known for its fine local fare and water views. Boating supplies can be found at All Bay Marine chandlery. To transport registered guests to Sidney, Van Isle offers taxi vouchers and provides complimentary bicycles. 
Port Sidney Marina has the advantage of being located at the east end of Beacon Avenue, only a minute from the town's heart. The marina offers the usual services, including wifi, showers, laundry, pumpout and a lounge area. It can accommodate transient yachts up to 125 feet and provides up to 50-amp power. Three grocery stores—Fairway Market, Save-on-Foods and Thrifty Foods—are reachable within minutes, and Thrifty Foods delivers to the dock.  
I invite you to stroll along with me on a sunny day in this walkable town that has taken full advantage of its seaside location. Its main sections are squeezed between the water and Highway 17, and the town takes pride in having embellished its streets with sculptures and murals. 
The first large building you encounter after leaving Port Sidney Marina is Victoria Distillers. It has an inviting tasting room where you can quaff their two best sellers: Victoria Gin and 1908 Empress Gin. With Victoria Gin, the company carved out a niche—it was the first premium, artisan, small-batch gin made in Canada. The 1908 Empress Gin is named after the famous Victoria hotel; the gin is infused with some of the Empress' celebrated teas. The gin also has a famous indigo colour—which has made it wildly popular—bestowed by a botanical called the "butterfly pea blossom," an herbal tea grown in southeast Asia. 
Outside the distillery, a broad, red-brick-lined 2.5-kilometre path meanders along the shore. The views of nearby islands and Mount Baker flanked by other Cascade Mountains are peerless. Groups of three tree trunks of varying heights are roped together and edge the path, accompanied by bright flowers and grasses—they've replaced the industrial factories that once crowded this coastline.  
Sculptures abound along the path. The Town of Sidney and the Community Arts Council for the Saanich Peninsula have organized the "Seaside Sculpture Walk." Artists exhibit their work for a limited stint, although a number of sculptures are permanent. The first pieces can be found just outside the Sidney Pier Hotel's Shaw Centre for the Salish Sea. The sculptures are by Paul Harder and celebrate marine life with large, local rocks flanking a small pond and exhibiting bronze river otters and a heron.  
Jake James' "Pirate Captain," a permanent bronze figure seems to portray both Captain Hook and Captain Ahab—missing a hand and a leg. Lifting a telescope to his left eye, the sculpture may even recall Vice-Admiral Horatio Nelson who hoisted a glass to his blind eye (hence the term "turning a blind eye") during the 1801 Battle of Copenhagen. Thus, unable to see the signal flags, he disobeyed an order to retreat and won the battle.  
Farther south, a pier supports the popular fish market and next door, the Pier Bistro. A small beach hosts people watching waves from their driftwood perches; others search for shells and beach glass. Groups of cormorants colonize the pilings drying their feathers and plucking at the vermin all wild birds seem to host. Eagles and gulls also rest on the former logs. 
As I approached Sidney's long walking pier—a great place to continue stretching your boat-bound legs—the first of sculptor Nathan Scott's five life-size figures lounges on a bench: it's an older man resting his hands on a lunch box. In the hollow of his hands someone had placed a golden daffodil—a cheerful, bright touch in the dark metal. Along the way, Armando Barbon's bronze girl, "Pure Energy," seems ready to take flight and might inspire us to go to the gym. The Iroquois Park between Fifth and Seventh streets is home to the propeller and anchor of the eponymous steamer that sank in 1900 off Sidney with a loss of at least 20 people. The park has been revamped recently and includes tennis courts, more walking paths and a water park.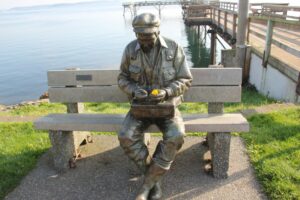 I retraced my steps on the seaside path to visit the Shaw Centre for the Salish Sea, housed in the Sidney Pier Hotel. Visitors enter a simulated submersible with waves swirling over the glass ceiling—making me think of Jules Verne's Captain Nemo—then the sliding doors led into an aquarium. The aquarium encloses many sea creatures found in our waters. If your children are accompanying you, they can participate in a scavenger hunt. Usually, there's an interactive exhibit; when I visited, kids fished bits of plastic out of buckets of sand. A sign explained that microplastics, or nurdles, are the plastic pellets used to form all plastic objects worldwide.  
Further in the facility, tanks displayed dainty, delicate jellyfish pulsing their tentacles among groups of lacy anemones. Lesser-known sea creatures, like the mosshead warbonnet and the saddleback gunnel, were also on show. The centre is informative and not too big, just the place to spend time with children before they run out of patience and start itching to get back to the dock.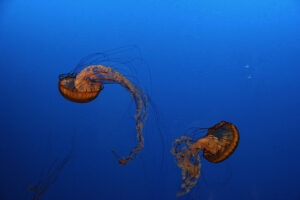 Like so many placenames in British Columbia, Sidney Island was named after a British surveyor and lieutenant in the Royal Navy, Frederick W. Sidney. Although there is some controversy over the "Sidney" moniker, it's likely it was the hydrographer George Richards, captain of the Plumper, who bestowed the name on his friend and fellow surveyor, although like Queen Charlotte, the Prince of Wales and Lord Townshend, Sidney never sailed to the Pacific Coast. Instead, he surveyed in Africa, the Azores and Australia. The name then transferred to Sidney Channel and eventually to the town site established in 1891. Town celebrations and significant events are often announced by the town crier, who is appointed by city council. Kenny Podmore is the present town crier.  
The area was once a favourite summer camp of Coast Salish who lived and fished here for at least 3,000 years. Their middens are found throughout the region. The Salish called Sidney Island "Sallas," and the area around the town of Sidney "Tseteenus," meaning "sticking out," a likely description for the promontories of Roberts or Armstrong points. North of the town centre, Tsehum Harbour is now filled with a number of yacht marinas, but the Coast Salish once maintained a sizable winter camp there.  
According to Andrew Scott in his useful Encyclopedia of Raincoast Place Names, the Hudson's Bay Company tried to sell land on Sidney Island at "six shillings an acre," but enticed few buyers. For a while, a group of Victoria businessmen  bought island property as a hunting preserve.  
Early settlers arrived in Sidney after the Fraser River Gold Rush while other Europeans also found their way to the area. A post office opened shortly afterwards. After the area was logged, the Victoria and Sidney Railway and two other railways transported people and agricultural products. Ferries served the town as well. Industry included a roofing manufacturer, a grist mill, a clam cannery, fruit-canning factory and a sawmill. Munitions were fabricated on nearby James Island. When, in 1919, the US passed the 18th constitutional amendment prohibiting the sale of alcohol, fast boats and rum running brought illicit income into Sidney and the South Coast of BC. In 1940-1941, the airfield near Sidney became Royal Air Force Station Patricia Bay, teaching pilots basic flight training, preparatory to returning them to the UK. Today it's the Victoria International Airport. 
Sidney is known for its many interesting emporiums, found on Beacon Avenue and its side streets numbered from one to seven (beginning at the water). This is only a sampling of the many goods on offer. For readers, new books are stocked at Tanner's, while second-hand and collectible bookstores include Beacon Books, Galleon Books and the Haunted Bookshop.  
Used goods stores abound. Perhaps because Sidney is home to many retirees, the thrift shops stock items from their downsized abodes, or the belongings of people who have passed away. Perhaps the best known is the Beacon Community Services Thrift Shop on Third Street, where I have found some treasures at great prices. The House of Lily Koi and Connections consignment shop sell previously owned clothing.  
New clothing stores include Barbara's and Baden Baden. Both are owned by sailor Barbara Hubbard, who shops in Germany for some of her stylish outfits. Apparel and souvenirs can be found at Seawards; Butik Naturals offers trendy household wares.  
During my visit, I enjoyed the father-and-son show at the Peninsula Gallery.  The dad, Sandhu Singh, paints lovely watercolours, many of them of lively, colourful water scenes. Son Liam Singh has supersharp and sometimes dramatic photos of birds in their natural habitat.  
I also stopped by the Fourth Street tribute to Canada's Peacekeeping Forces, who, according to a plaque, were deployed in support of the United Nations and NATO. Two bronze soldiers are flanked by a Second World War Sherman Tank and an RCAF Sabre fighter aircraft.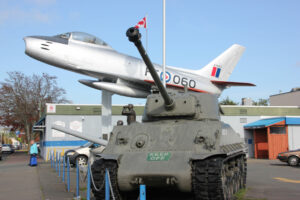 By the end of my long walk, feet hot and stomach rumbling, I popped into the Five & Dime Diner. The turquoise stools and chairs, the vinyl benches and other vintage touches brought me back to my high school's Hasty Tasty we once patronized after basketball games. Although it was the middle of the afternoon, I ordered breakfast, the diner's all-day offering. The eggs were perfect, the bacon crunchy and the home fries crisp. It's no greasy spoon and I recommend this diner.  
Since I couldn't eat at every restaurant during our visit, I asked Sidney residents and friends Nat and Leslie Klein for recommendations. Both the Sabhai Thai and Thai Corner restaurants made the cut. The Pier Bistro is popular especially in the summer as patrons dine directly above the water. Next door, you can buy seafood caught that day at the Satellite Fish Company. There are weekend lineups for the breakfast at the Third Street Café. And if you like marinated artichoke, roasted garlic, pickled beets or other esoteric ingredients on your wood-fired pizza, visit Woodshed Pizza. The Indian Bistro Royal Aroma as well as the Fresh Tandoori Flavour Indian Bistro can satisfy your tastes for dishes from the subcontinent. The waterfront former-pub-like Beacon Landing Restaurant recently reintroduced itself as Riva, an Italian and Mediterranean-themed restaurant. The Kleins recommend The Farmer's Daughter, a new store that pairs farm and artisan cheeses with wines; they also prepare lunch boxes for boaters seeking a break from cooking. The Sidney Bakery is extremely popular—count on standing in line to get your cinnamon buns and whole-grain bread. Another new bakery, called the Fickle Fig, has just opened on Beacon Avenue.  
There's something intimate in a Sidney visit. First, it's a convenient place to moor your vessel. Everything in the small town is easy to peruse on foot. If your feet ache a bit after walking the seaside sculpture promenade and peering into endless shops, benches are strategically located for a rest. You can even sit down and have a chat with some of Nathan Scott's sculptures already lounging on the benches. They're always ready to welcome company.  
When you go 
portsidneymarina.com 
sidney.ca 
salishseacentre.org