With travel still uncertain due to COVID-19, and overseas vacations out of the question, "staycations" within BC have regained importance. The whole idea is to getaway without going far, and SeaSuites on Vancouver Island's southern shoreline has nailed it.
Mark Philbrook designed the 26-foot aluminum houseboat that is now docked at Port Sidney Marina. Its "fixed base bareboat charter" concept allows people, however novice, to experience life on the water by chartering a boat that stays tied to the dock—where it's earned sweeping five-star reviews on Airbnb since its launch in April, 2019.
"Though originally designed with short term vacation rental in mind, the SeaSuite could be an extra guest house on your dock, a weekend in your favourite bay, or with some customization, a great floating office. Want to try somewhere new? With a beam of 11 feet, six inches it can be easily trailered long distances with just a wide-load permit," SeaSuites Canada writes on its website.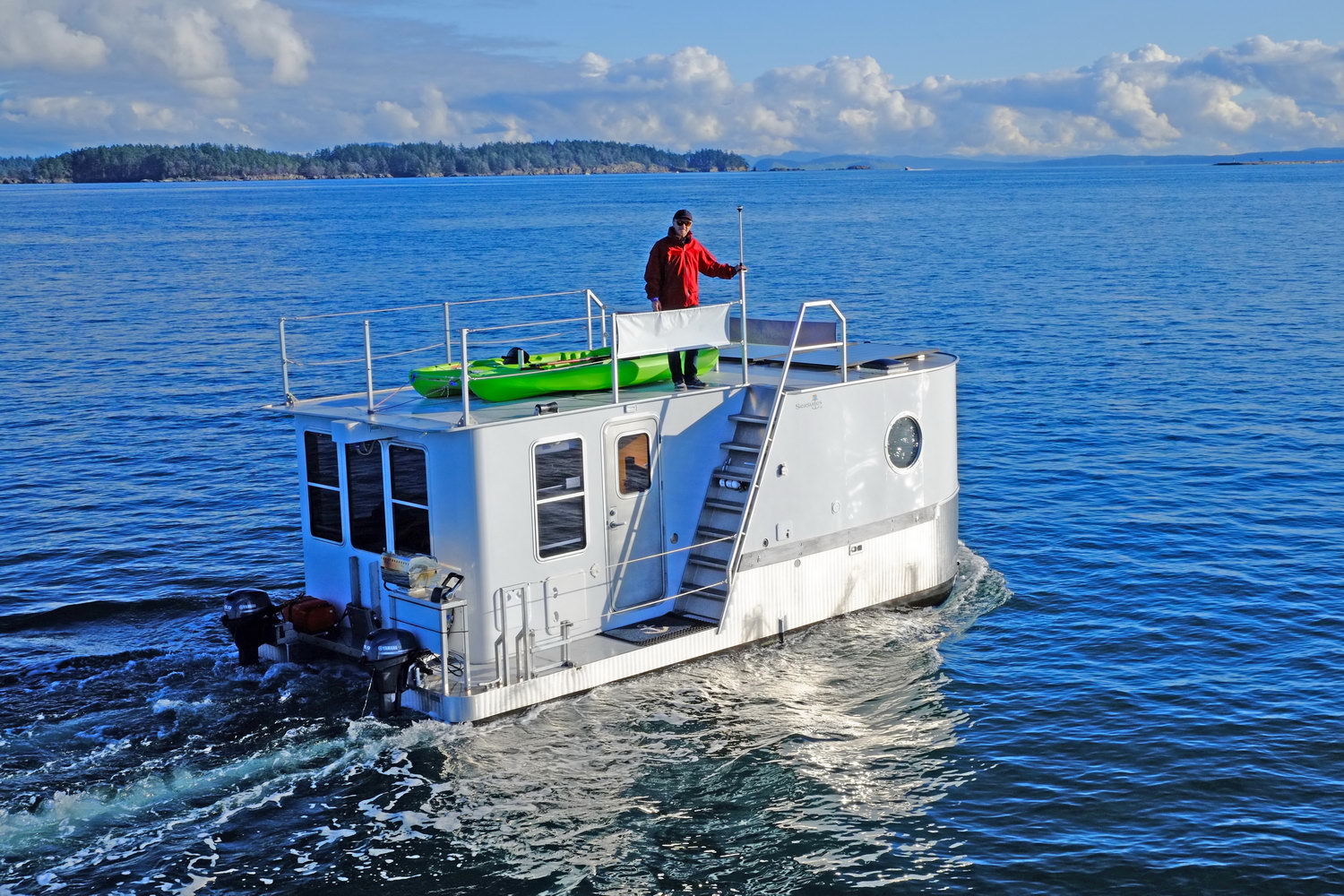 The SeaSuite is built by Pronautic in Sidney, BC, and meets ABYC and Transport Canada standards. With the choice between Bayside and Dockside models, it's perfect for dockside living or cruising the inland waters of the Salish Sea. Its sustainable design features include dimmable LED lighting, a waterless toilet and low-emission outboards.
Inside, seven feet of headroom and a clever layout give the houseboat a spacious feel, while the picture windows that encase the dinette, and line the galley and queen-sized bed, soak the interior in light. In the head, guests are treated to a full-size shower with a porthole and vanity. Meals are easily prepared in the galley, which includes a small fridge/freezer, stainless sink and two-burner cook top, with a barbecue just outside on the starboard aft deck.
I visited the Sidney SeaSuite, just minutes away from the Swartz Bay ferry terminal, and was impressed by the quality fit and finish throughout the boat. I also appreciated the well-thought-out design: little cubbies in the drawers to keep dinnerware from clinking; fully adjustable reading lights mounted at the dinette and on the headboard; ample storage in the hanging locker and under-bed drawers; and a built-in wine rack!
A quick read of the suite's guestbook revealed that the top deck and accompanying gravity chairs are a crowd favourite—not surprising considering the incredible view of the Gulf and San Juan islands with Mount Baker in the distance. Wildlife watching, taking the complimentary kayaks for a coastline stroll and morning coffee on the foredeck are also popular pastimes among guests.
Although my weekend aboard was a tad rainy, I could've spent days in those 26 feet; turning pages, lazing in the oh-so-cosy Egyptian-cotton-covered bed and playing dominos at the dinette. Watching the surrounding wildlife can fill days on its own. We were visited by seals and herons, spotted jellyfish off the dock and watched hidden clams shoot streams of water into the air.
There is no shortage of things to do in Sidney either. Perfect to explore on foot, its streets are lined with eateries, boutiques, bookstores and antiques. Right at the top of Port Sidney Marina's docks are the delicious Surly Mermaid restaurant; Victoria Distillers (I recommend the amber Oaken Gin); and the Shaw Centre for the Salish Sea, showcasing the wonderfully diverse marine life present right here in our waters.
To find out more about SeaSuites and to book a stay, visit seasuites.ca.
This article was featured in Pacific Yachting's August 2020 issue. Order it from our Shopify store now (while supplies last) or subscribe to our Digital or Print & Digital editions to gain access to over 15 years of archives!