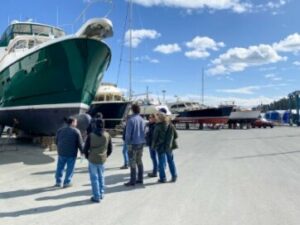 Many young people find themselves in a quandary trying to decide whether to study at a college or university or pursue an apprenticeship in the trades. Their high schools usually offer career counselling, and many include some introductory courses in such trades as woodworking, automotive repair, hair styling, health care or cooking.  
To see if marine-related careers are part of the trade curricula in high schools, I searched the websites of several school districts and schools in Victoria, Vancouver and Prince Rupert—all port cities. Each school offers some trade/career courses, but none mentioned careers in the marine industry, although some include electrician and plumbing courses that may translate to working on boats. One exception is Sidney's Parkland High School and its Marine Academy. Their website points out that scientific marine centres, marinas and 60-plus marine employers operate on Vancouver Island alone. They introduce teenagers to such courses as marine sciences (with experience on the water) and marine trades. Students can gain work experience credits by working locally at a marine service company.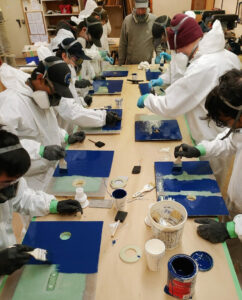 There is great demand for people proficient in marine service technologies and those earning, or having earned, Marine Service Technician (MST) certification during a four-year apprenticeship. In our province, Quadrant Marine Institute is the Skilled BC-designated trainer for MSTs. Many graduates later specialize in certain areas of marine service, like rigging, metal fabrication or electronics. There are jobs waiting to be filled. 
In 2018, I spoke with Vector Marine's Willi Fahning, one of the most accomplished propellor specialists in British Columbia. At the time, he was 77 and almost desperate to find someone who wanted to learn his craft of giving props a complete makeover. No one was applying for this marine apprenticeship, which pays well and offers a rewarding career.  
In August 2023, I asked Todd Koroll, Vector's general manager, if the propellor specialty job had ever been filled. "No," he said, "and we have searched internationally. Willi will be retiring soon. No one is interested in this specialty despite our offering enticements, good wages and benefits. So, our company won't be able to offer this special prop service in the future."  
It's likely young people aren't aware of the many marine-related job opportunities ranging from boat detailer to ship's master, but there are numerous ways to build a career in this wide-ranging industry. Besides specializing in yacht and small boat building and repairs—the careers this article focuses on—you can work in shipbuilding and repair. You can earn certifications and mariner tickets that lead to working on ferries, fishboats, tugs, coastal freighters and cargo ships. You can learn marina and yacht club management. Both the Royal Canadian Navy and the Canadian Coast Guard offer a variety of career-building training programs and the Coast Guard is looking for deckhands right now. For these mariner careers, the website program listings at BCIT, Camosun College, North Island College, Western Maritime Institute, and a Transport Canada list of Recognized Institutions and Approved Training Courses can steer you on your way.   
The jobs in the small boat/yacht building and repair industry require broad knowledge as well as highly specialized skills. You can learn to apply paints and gelcoats, work in metal fabrication and welding, develop skills in electronics and their integration, design, electrical, plumbing, fibreglass layup and repair, rigging, woodworking, engine installation and repair, travelift operation, detailing—the list goes on. As boats can be floating homes with engines, toilets, fridges, instruments, furniture and canvas, they provide an array of diverse tasks requiring skills that never get boring. Troubleshooting and problem solving also become intrinsic parts of working on boats. Marine industry employment can get you out of the gig economy and into full-time, rewarding work. And although automation and AI will increase, it's unlikely you'll be replaced by a robot climbing a mast or squeezing into an engine compartment—at least not any time soon. 
A couple of full-time job descriptions offer an idea of what marine companies are looking for. Titan Boats in Sidney provides this partial task list for a marine systems technician: "Installing engines, windows, bilges, arches, fuel systems, decks, T-tops, batteries, pumps, tubes, safety gear, and other components; troubleshooting issues and solving problems; and preparing vessels for sea trials and deliveries. Salary: $25.00-$34.00 per hour/plus dental care, disability insurance, extended health care, life insurance, on-site parking, tuition reimbursement and vision care." Titan requires the applicant to have gained certification including a minimum two years of recent experience in marine systems/electrical systems.  
Loki Boats in Gibsons is looking for a fibreglass composites technician. This custom boat builder designs, builds and markets adventure boats and touts "a relaxed production schedule allow[ing] us to focus on fun, quality, innovative construction techniques and the further refinement of our product." They are seeking "experience building components with fibreglass and composites." 
These and other online job offerings all state that works starts "ASAP," "tomorrow," and "immediately." 
Like any profession, marine service jobs require both theory and hands-on practice. But you don't have to have experience messing about in boats to get started. You may have a mechanical bent tinkering with engines, maybe you like wood working, or know how different kinds of software can communicate—talents that can help you to become a certified marine service technician. If you've sailed, fished, kayaked or paddle-boarded with family or friends you may have developed a feel for water and weather conditions.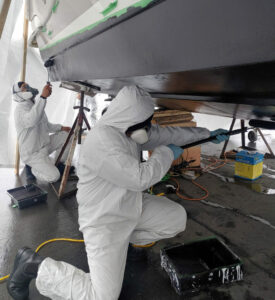 Quadrant Marine Institute operates a four-year MST certification program with courses and hands-on-work in the small craft/recreational marine industry. Hundreds of industry partners on Vancouver Island, around Greater Vancouver and across Canada participate in the program. It's an "earn while you learn" program. To enroll you must be employed by a marine service company. 
The certification program began in the mid-90s when Campbell Black of Canoe Cove-based Blackline Marine banded together with other marine service companies and launched what would eventually become Quadrant. The goal was to develop an MST certification program that would fill the need of employers for competent staff and employees with a good, steady career. An apprentice program was born, where employers provide the hands-on work experience, while students also study theory through Quadrant's curriculum. "We wanted to develop and deliver training in the recreational marine industry and provide pathways for employers to find, train and keep good employees," Black told me. "They, in turn, found a long-term, full-time, varied career." MSTs receive a Provincial Certificate of Qualification, also called a journeyperson credential or ticket. 
Quadrant, with its slogan "We Float Boats" and its mantra "It's all about boats from stem to stern," was soon recognized as one of the most innovative apprenticeship programs in BC. "We work closely with employers who are also our teachers," Black continued. "The training is broad in scope. Marine tech is a relatively small market, but it's very diverse in its skill building."  
The program has been highly successful and has spread. Starting on Vancouver Island and then expanding to Vancouver, the concept and curriculum have been licensed to the Nova Scotia Boatbuilders' Association and to the Working Waterfront Coalition of Whatcom County, in Bellingham, Washington, thus making it an international program. 
The Covid-19 pandemic increased Quadrant's scope dramatically. Managing Director Shelley McIvor said the apprenticeship has expanded to include all of Canada through online courses. "We didn't want the pandemic to shut us down," she said. "So, we are now using Zoom to offer live classes and anyone who qualifies can enroll. Students don't have to move. We have students as far away as Quebec. And it's good for our students who don't have to drive out to a classroom after a full day's work. Our instructors, who have many thousands of hours of experience, can teach from anywhere and with closeup cameras, can show in detail how to tackle a repair or troubleshoot a problem. For example, we just focused on a sampling of repairs at the Heiltsuk-operated Shearwater Marina on the central BC coast." 
"The MST program is specialized and like the other trades must meet industry standards for quality, timeline and budget," said Campbell Black. "And of course, safety standards. Customers must be happy with their work. By the time graduation rolls around, our apprentices are fully qualified—they're shipwrights in the modern world." 
Four MTS Career Tales 
Quadrant grad Keith Hicke first worked as a roofer, then found a job at Philbrooks in Sidney, where his dad works in the canvas department. "I was 18 and started scraping hulls, detailing boats and working in the paint and finishing department," he said. "After a while, though, I knew working in these three departments alone wouldn't advance my career. I had to get my Marine Service Technician certification." Keith enrolled at Quadrant, where, over his four-year apprenticeship, he "learned about everything above and below the waterline."  
Having earned his "well-rounded" MST, his confidence has soared. "I know how to solve most boat problems," he said. "I now understand the whole vessel." He also believes the training has translated into "outside life." The 30-year-old is married and has a three-year old daughter. "The analysis and problem-solving skills I've developed through work make me a better husband and father," he said.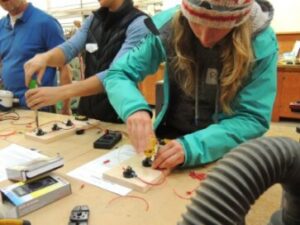 Sarah White worked as the service manager for Specialty Yacht Sales on Granville Island when she decided to enrol in the MST program. "I completed the four-year apprenticeship along with the crew working for me," she told me. "Quadrant gave me a holistic overview of boats and their intricacies. I also spent 14 years rebuilding a classic wooden boat and thus I gained expertise in wood, metal and fibreglass vessels." That experience, along with her offshore voyages and a master's degree in surveying, led her to open her own company surveying yachts up to 150 feet. She's also skilled in the use of non-destructive testing equipment for small craft inspections, such as thermographic imaging techniques. Along with her active surveying work, she teaches new Quadrant apprentices marine business practices and marine electrical. 
Another MST earned at Quadrant, Gavin Johnstone, has turned his training to entrepreneurship with his company Ocean Performance Technologies, which specializes in high-end marine electronics and electric refits. As a kid, he spent much time boating on a northern BC lake and liked mending outboard engines. But while majoring in psychology at UVic, he took a summer job at then charter company Cooper Yachts. "I loved being outside and on the water," he said. "I started with boat cleaning, but it was boring. I wanted to do mechanical work and with mentors, I started to check in and check out the charter boats' engines." 
After graduation, he joined Raven Marine in Sidney and gained more mechanical and electronic skills. "At first I resisted enrolling at Quadrant and found the first year too elementary," he recalls. "I thought it wasn't very relevant but the next three years showed me the holistic picture." He also worked on electronic problem solving. "Everything is integrated on boats today," Gavin continued. "Even when you install a new electronic system, you may have to bore holes, install custom panels and then paint. You must be inherently knowledgeable and understand all the risks of the tasks, like installing a transducer." Gavin enjoys being in the driver's seat of his own company. He now teaches for Quadrant. "Covid forced the organization to adopt new ways," he said. "It's easy to enroll and stay the course." 
Eric Pearson, also a Philbrooks staff member, has spent the last nine years in "The Bottom End Department." "Is that a nickname," I asked. "No," said Eric, "it's what we really call it. It's everything below the waterline. I'm part of the haul-out crew. We clean hulls, remove barnacles, apply bottom paint, inspect and repair thru-hulls, wax and polish. Soon Eric enrolled in the apprentice program. "I never pictured myself in the marine business," he said. "Quadrant taught me to get my hands and brain about the whole vessel and all the systems," he said. "I got a feel for everything and gained confidence. And I liked having teachers who work in the trade. They tell the stories not in the books. I say, 'give the marine industry a chance.'"