The glass calm waters of Grenville Channel ripped apart like a zipper as our boat cruised Southbound at a steady 40 knots. An otherworldly sunset played out astern. It was as good as it gets. Wind light. Seas flat. No traffic. Stunning end-of-day light. I was in a hurry to beat nightfall to Hartley Bay, a 75-mile run south from Prince Rupert, with the sun dropping at a rapid rate and my throttle dutifully engaged.
Half a day earlier I had checked the latest marine forecast for the north coast and spied a big change coming. We'd been enjoying high pressure and drenched in sunshine for the better part of a week in Prince Rupert, which is almost unheard of. But the winds were coming about to 30-knot southerlies overnight and I didn't want to take a bow beating the next day.
We made the call on a late departure of around 19:00 for Hartley Bay while conditions were supreme. The only challenge was making port before dark, which was the sole reason for running at 40 and pumping up fuel burn in excess of 25 gallons per hour.
My cruising cohort and cameraman, Chris Wheeler, snapped photos while we rallied south. Darkness fell just as we exited the Grenville, a long and straight 40-mile shot from Rupert, and we crawled into Hartley Bay under the shroud of nightfall. Luckily, a thermal cam and some advanced electronics on the 2725 Kingfisher Offshore made for easy nocturnal navigation.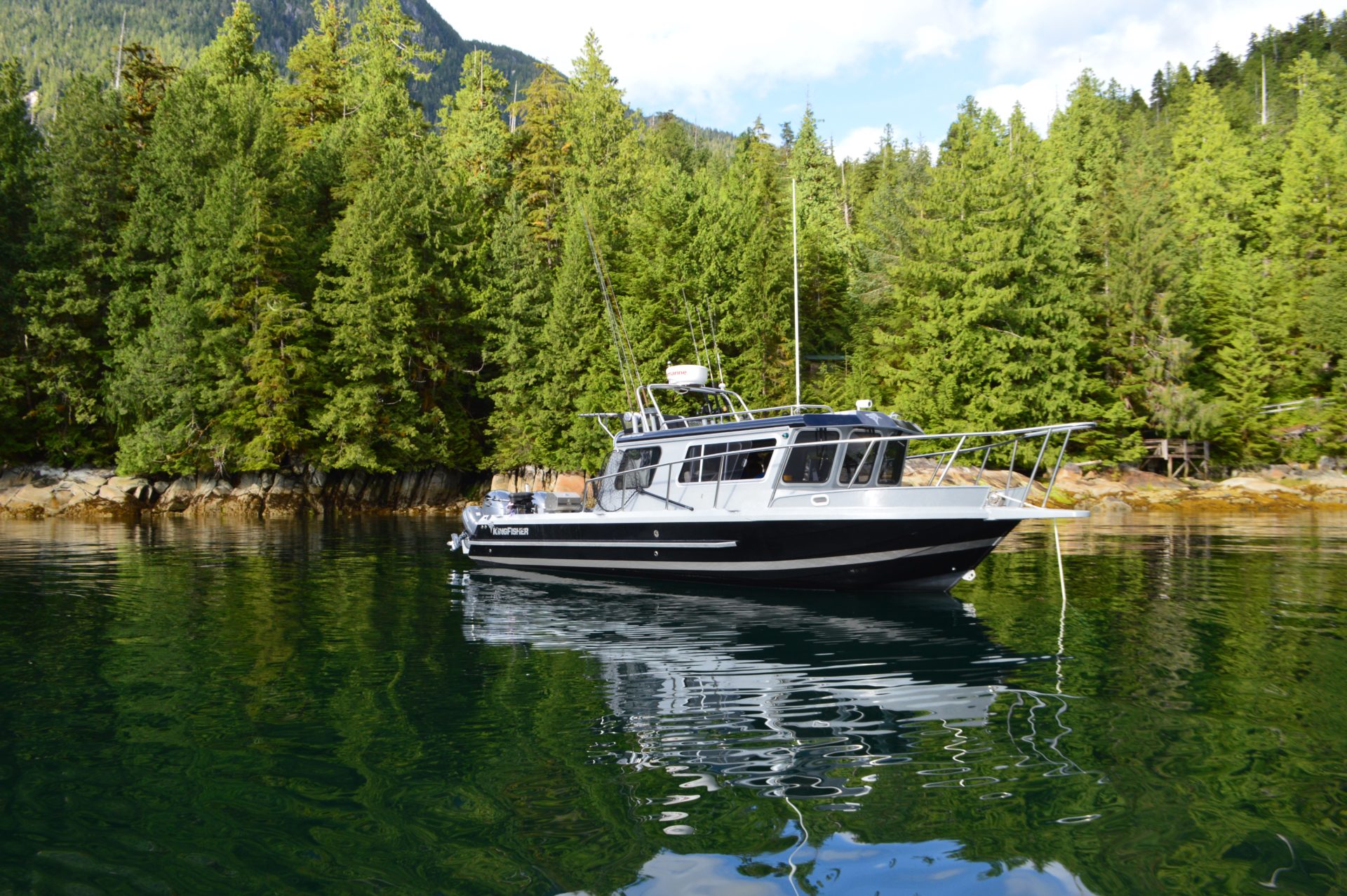 Boating the coast can be anywhere from blissful to demoralizing to downright demonic, so a run like this was the cruising stuff of dreams. Even cloaked in darkness. In the world of running British Columbia's Inside Passage and Great Bear Rainforest, twisted tales, cruising side trips and unplanned adventure quickly become the norm.
I've been incredibly fortunate the past decade to cruise and fish BC's West Coast as part of filming our Big Coast television series. Each spring I run the 27-foot Kingfisher with twin Yamaha 150 outboards from Port Hardy to Prince Rupert. It's a run of about 275 miles, one we once completed in a 17-hour straight shot at 35 knots over glass calm waters.
In Prince Rupert we typically spend a week or two fishing and cruising the north coast before kicking off a six to eight-week voyage south, visiting various destinations, historical outposts, First Nations communities and fishing hotspots. Over the years it's made for an incredible journey and represents true frontier in British Columbia.
In that true spirit of frontier, here's an adventurous six-act primer on running BC's Inside Passage and Great Bear Rainforest on a long, strange southbound tack.
Opening Stage: Prince Rupert
Here's a simple fact: Prince Rupert is the booming metropolis of BC's Inside Passage and there isn't much between Port Hardy and Rupert.
The beauty of the Inside Passage and Great Bear Rainforest is the fact it still exists as a relatively untouched ecosystem while boasting wildlife on par with Tanzania's Serengeti and Ngorongoro Crater. Killer and humpback whales, grizzly bears, bald eagles and a variety of mammals from harbour seals to stellar sea lions bring major life to the landscape. It's a land of apex predators but also home to a fragile and pristine ecosystem.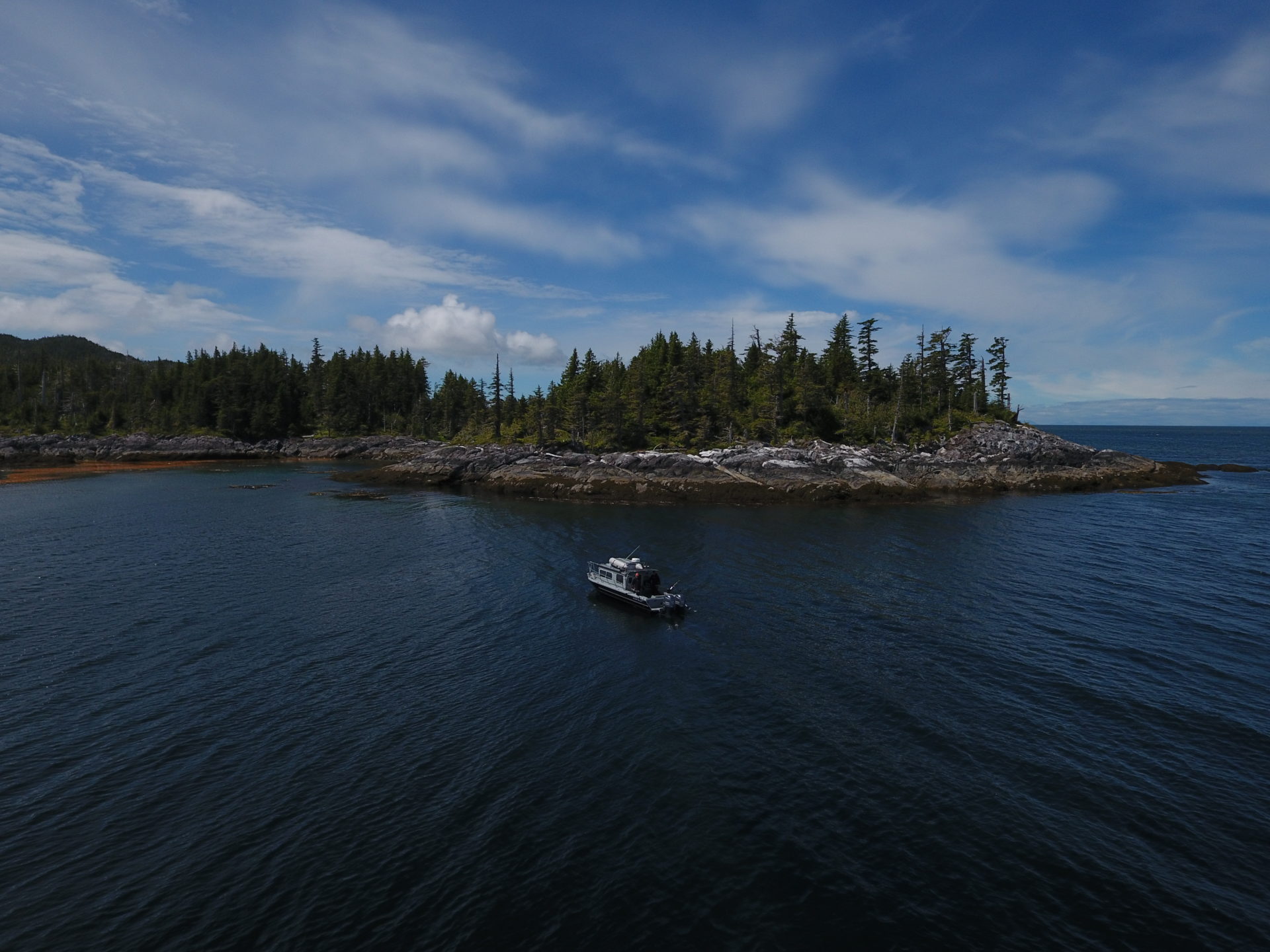 Nested in the heart of Tsimshian traditional territory with a hardy population of 12,000, Prince Rupert has all amenities to load up before venturing south. Great restaurants, hotels, tourism opportunities and historic Cow Bay make Rupert a fantastic launching pad for cruising trips. Boating in the area is stunning and rugged, with big trips available in every direction. These include the Portland Canal to Stewart/Hyder and Northern Terminus of Great Bear, the Khutzeymateen Grizzly Sanctuary, the Hecate Strait and Haida Gwaii.
It's all big water, and from a marine perspective one has to keep a close eye on wind, water and tides before casting off. I make sure to check Environment Canada's marine forecast and use the Windy app for most current information. Conditions can blow up nasty in the Hecate in a hurry and the Haida Gwaii run is far beyond novice-level. Rupert does benefit from reduced swell due to the big Haida Gwaii breakwater to the west but wind remains the area's biggest foe.
Stage Two: Prince Rupert to Hartley Bay
Distance: 75 miles
Defining Feature: Grenville Channel
Key Wildlife: Whales and grizzly bears to north
Traditional Territory: Gitga'at Nation
It's always nice to have the wind and current at your back so check closely before making a Prince Rupert departure. I've done this run a bunch and haven't had the same conditions twice. Water can get sloppy running from Rupert to Grenville Channel but it's a fine cruise in good conditions. The 40 miles that comprise the Grenville are best navigated by autopilot, if you're lucky enough to have one. It's a super cool piece of water, deep and steep with mountains rising all around.
With its many islands, channels and stunning geography, Hartley Bay is one of my favourite places on the BC coast and a stellar first stop. The Gitga'at live in true harmony with their home, welcome a smorgasbord of visitors and remain great stewards of their territory. In addition to occupying a primetime oceanfront address at the confluence of Grenville and Douglas Channels, the Gitga'at are a nation of mariners and fishermen. Gitga'at were the first responders the night BC Ferries' Queen of The North struck nearby Gil Island and sank and are, as a nation, genetically seaworthy.
Hartley Bay is a go-to fuel stop on the southbound run through Great Bear. The marina is busy and room sometimes scarce for an overnight tie-up. There are, however, plenty of good anchorages and cool places to visit. Bishop Bay Hot Springs is a 15-mile run from Hartley Bay while numerous anchorages can be found to the west near Aristazabal, Gil and Campania Islands.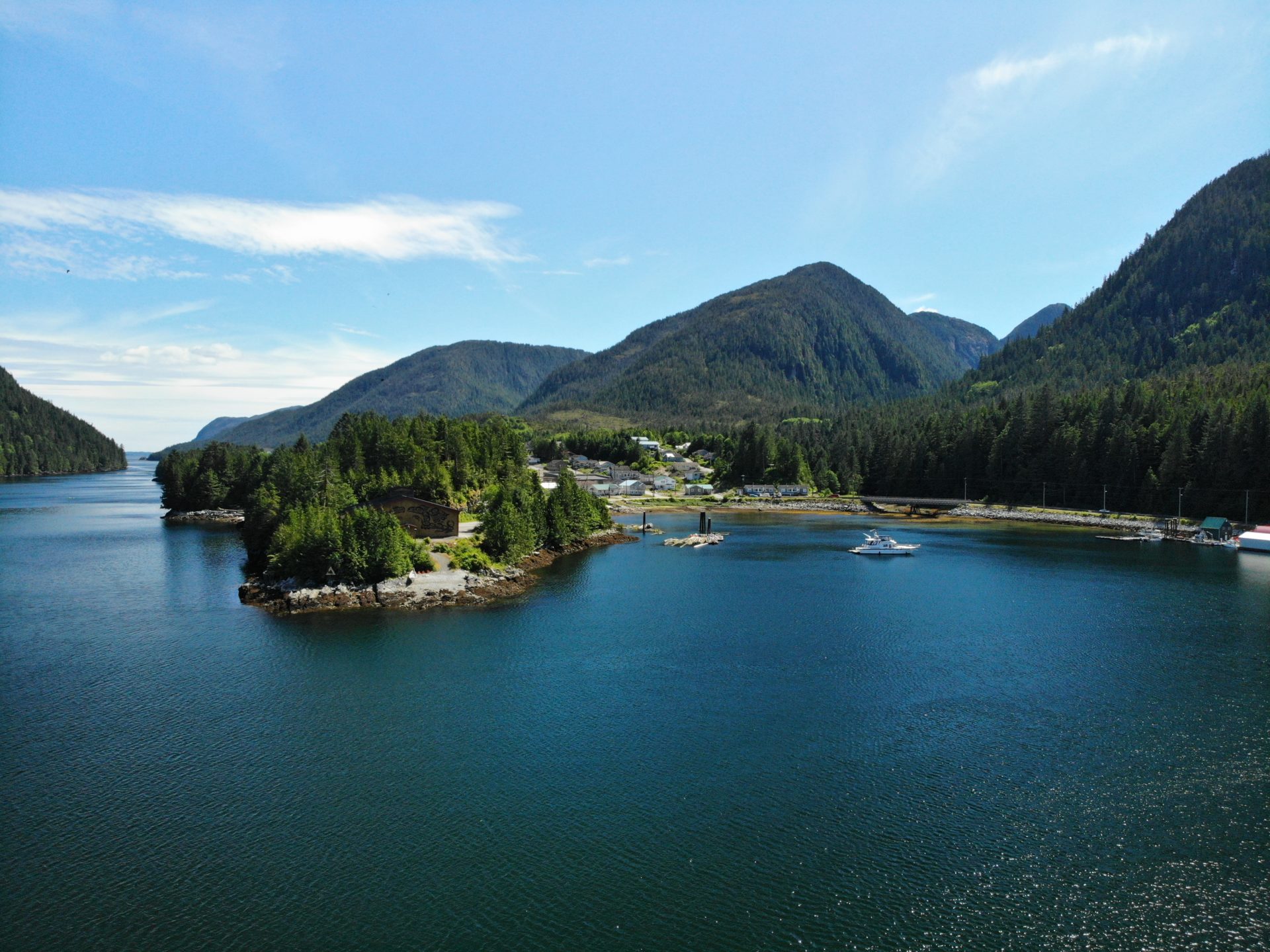 Stage Three: Hartley Bay to Klemtu
Distance: 70 miles
Defining Feature: Whale Channel/Princess Royal Island
Key Wildlife: Killer, humpback and fin whales, spirit and grizzly bears
Traditional Territory: Kitasoo/XaiX'ais Nation
Hartley Bay is located just north of Princess Royal Island, which along with nearby Gribbell Island, comprises prime Spirit Bear territory in Great Bear Rainforest. Departing Hartley Bay, boaters tend to head southeast around Princess Royal but the run outside around Campania and Aristazabal can be absolutely mind-blowing in calm seas. A quick stop in historic Butedale and appointment waterfall viewing along Eastern Princess Royal Island comprise primetime adventure on the Great Bear Rainforest frontier. If lucky, you may even spy a Kermode bear.
The Princess Royal Channel is a long skinny body of water winding Southbound along eastern Princess Royal Island. A few hours of steady cruising in good seas (and an array of waterfalls later) lands you in Klemtu, traditional territory of the Kitasoo/XaiX'ais Nation. Klemtu is home to Spirit Bear Lodge and was a pioneer in bear viewing and conservation on the BC coast. Kermode bears dot this landscape and nearby Mussel Inlet, managed by Coastal Guardian Watchmen, provides prime grizzly bear viewing.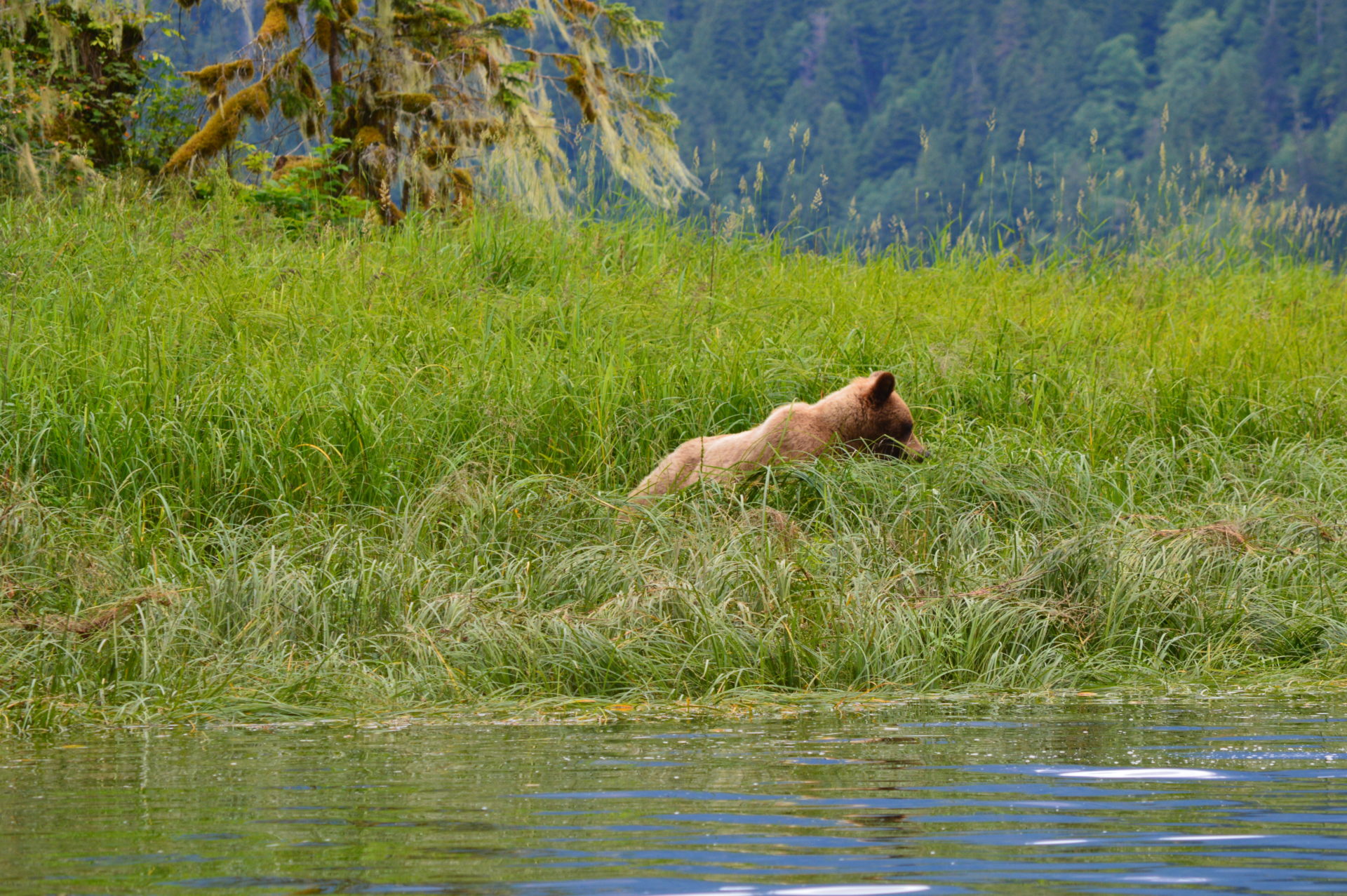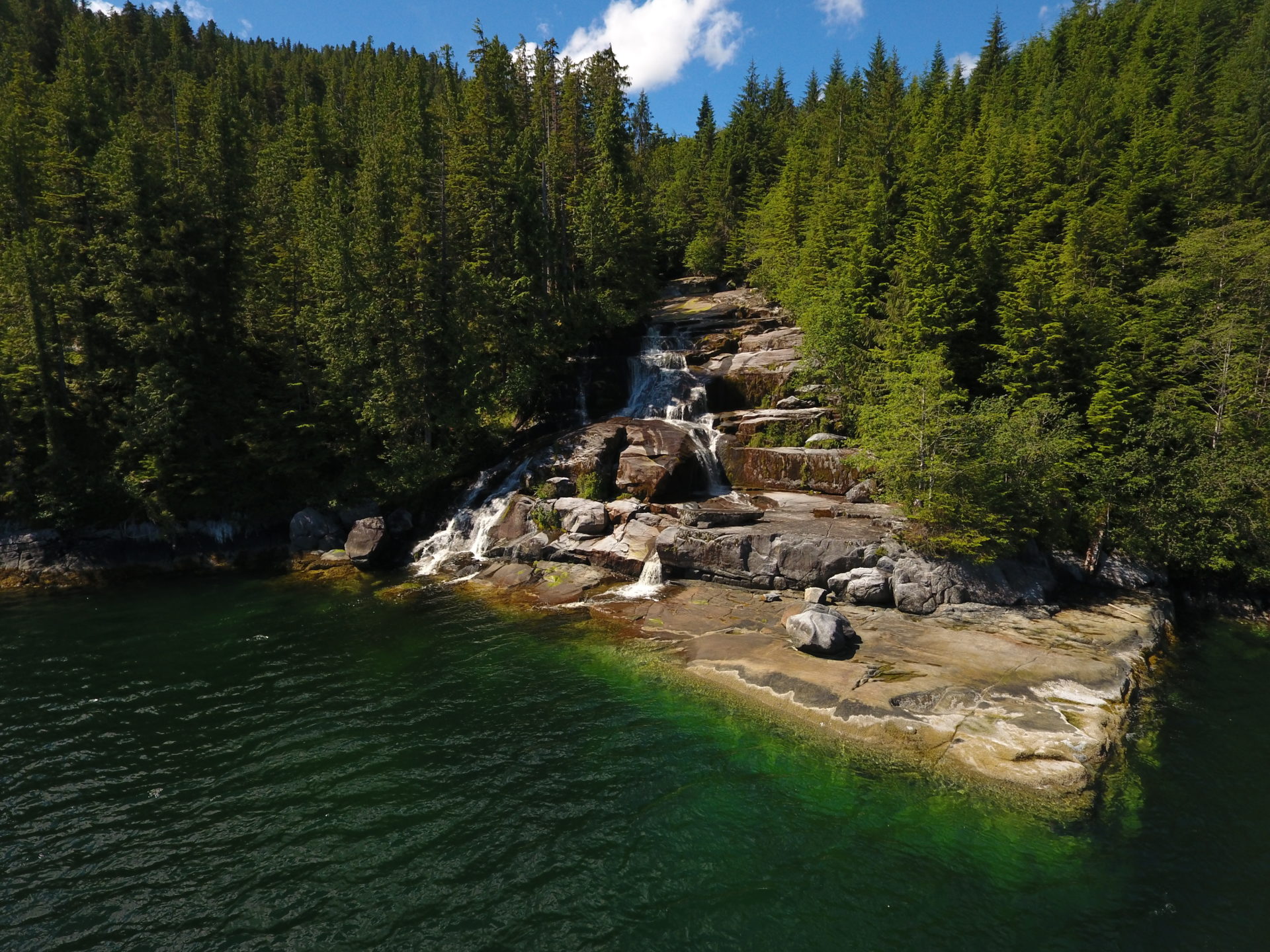 Situated just North of Milbanke Sound, Klemtu and area comprise some of the most visually stunning territory in the Great Bear. There are solid anchorages nearby like No Wish Cove and fantastic inside and outside cruising, depending on prevailing wind and weather. Klemtu is also a key fuel stop on Inside Passage and has a small store for provisions and restaurant.
Stage Four: Klemtu to Shearwater/Bella Bella
Distance: 45 miles
Defining Feature: Crossing Milbanke Sound
Key Wildlife: Everything
Traditional Territory: Heiltsuk Nation
Like most of the Inside Passage, departing Klemtu for Shearwater is a weather game and almost always better made early morning. Crossing Milbanke Sound is the first crux manoeuvre on a southbound run and it's a critical wind, weather and tide call. Shortly after departing Klemtu, boaters leave the Finlayson Channel for a 10-mile crossing of Milbanke into Seaforth Channel. For some crazy reason, I have bad luck on Milbanke. I've had a few smooth runs but usually get my butt kicked. It's a broadside bash across the sound and a steady stern surf into Seaforth. There's a backdoor route for the cunning but good planning and water will make for a safe trip to Shearwater and Bella Bella.
Through the Seaforth, Shearwater is the primetime stopover on the Inside Passage run. The area has long been a top sport fishing destination but recently the Heiltsuk Nation and local businesses have started the move to eco-tourism, wildlife and bear viewing. Legendary angling in Milbanke, Seaforth, Bella Bella, Spider and Hakai make this a fine place to catch (and hopefully release) a big tyee salmon (chinook salmon over 30 pounds).
Shearwater has a full-service marina and moorage for some serious yachts in summer season. The restaurant is good and the bar can be a weekend adventure, but Shearwater remains situated in the heart of Great Bear Rainforest and the biggest thing between Hardy and Rupert. The fuel dock is a must-visit at Shearwater, as well as grocery and liquor/beer store.
Many local fishing outfits employ local Heiltsuk guides and the move to eco and wildlife tourism is definitely kicking off in this area.
I'm not sure why, but I always tend to see the most varied and strange wildlife in this area of Great Bear. Whether it's marauding killer whales, bubble-feeding humpbacks, dolphin pods, bears, wolves… you name it, traditional Heiltsuk territory has it all. Come to think of it, you also see the strangest wildlife in the pub at Shearwater… especially on a weekend when the band is in town!
Stage Five: Bella Bella to Rivers Inlet
Distance: 60 miles
Defining Feature: Fitz Hugh Sound
Key Wildlife: Whales and chinook salmon. black and grizzly bears
Traditional Territory: Wuikinuxv Nation
Usually by this stage of the trip, I'm about four weeks deep, crusty and salty. And soggy. You spend enough time on the West Coast and good rubber rain gear becomes a necessity. But the past couple years have featured some serious summer high pressure and mega stretches of sunshine. For whatever reason, this area of BC Central Coast waterfront has turned into a summer sizzler, which is bad for salmon but good for your tan and disposition.
An easy run out from Bella Bella and it's southbound down Fitz Hugh Channel and a cruise into Rivers Inlet. The Fitz Hugh and Queen Charlotte Strait can blow up but, as always, good planning and an eye on weather, wind and tides is key.
Humpback whale sightings down Fitz Hugh and into Rivers have been on the rise the past few years, and a full slate of marine wildlife seems steadily on display. Dawsons Landing has moorage, fuel, a general store and supplies while private lodges dot the 25 NM long fjord. With mountains rising all-around, Rivers Inlet remains a majestic locale. The Wuikinuxv Nation, located at the inlet's head on the Wannock River, maintain strong ties with traditional territory that stretches out to Calvert Island.
The Percy Walkus Hatchery helps support the Wannock chinook stock, the largest chinook salmon left on Earth. These monster fish nourish an entire ecosystem in the Great Bear, and the hatchery helps ensure chinook will be here for generations. And where there's plentiful salmon you usually find bears. Wuikinuxv is grizzly country and partners in many university-based research programs to help understand bears better.
Anchorages are at a premium in Rivers Inlet so check your charts and plan ahead. Be aware afternoon outflow winds are the inlet norm and generally start brewing early afternoon.
Stage Six: Rivers Inlet to Port Hardy
Distance: 50 miles
Defining Feature: Rivers Inlet and Cape Caution
Key Wildlife: Whales
Traditional Territory: Wuikinuxv and Kwakiutl Nation
There's nothing like a home stretch, and after weeks of serious boating, wildlife viewing, eco-touring, trolling, anchoring, hiking, drone-flying and the occasional frosty cold one… the final southbound leg is always a welcome one.
The last tactical crux move on a southbound Inside Passage run is Cape Caution. It's a beacon of big winds and currents and bad weather. And it's almost always better run early morning. Unless it's not, of course. After cruising around Rivers Inlet, respect should always be given to crossing Queen Charlotte Strait and rounding Cape Caution should. If the forecast features swell more than two metres and wind and tides look daunting, it's always smart to spend an extra day in Hardy or Rivers. Exercising caution around Cape Caution is always smart.
The final run down into Port Hardy is relatively straightforward, although often plagued by fog in the summer. Be ready to run on radar, and utilizing an autopilot can always help when fog is thick. One final hazard is the area south of Cape Caution around Slingsby Channel, which sports some of the fastest currents in the world. On an ebb tide the Slingsby dumps a ton of water into Queen Charlotte Strait and the water can stack up nasty.
I've seen a lot of sea otters and fish farms just north of Hardy the past few years. I've also had some of my finest fishing and boating days. Hardy is chock full of maritime variety and a great curtain call on your run down the Inside Passage.
From incredible cruising to occasional fishing, viewing wildlife to living the wild life, the Great Bear Rainforest is a boating trip like nothing else. Traditional territory of BC Coastal First Nations and a pristine West Coast ecosystem… it's far from cliche branding it a "trip of a lifetime."
A SIX PACK OF INSIDE PASSAGE TIPS
Always check tides, swell, winds and weather for good planning and to understand the body of water that lays ahead.
Plan for appropriate fuel, monitor consumption and don't EVER pass a fuel stop.
Pack backup paper charts, compass and GPS in addition to boat electronics.
Stay focused. Hitting logs or debris on a trip of magnitude can be a game-ender.
Ensure mechanical and electronic health of your vessel and test radios/communication.
Take what the ocean gives you.