Starlink is a satellite internet constellation that is revolutionizing the way boaters can access the internet. A division of Elon Musk's SpaceX, Starlink is the world's largest satellite constellation. It incorporates more than 4,000 low Earth orbit satellites (and eventually 40,000) to deliver broadband internet capable of supporting streaming, online gaming, video calls, real-time weather updates and more.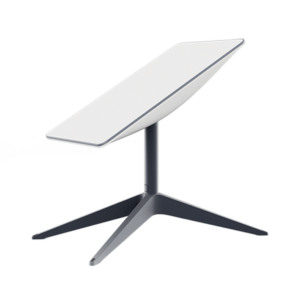 Download speeds for the Maritime Mobile plan are advertised at between 25 and 220 mbps with most users experiencing speeds of more than 100 mbps and upload speeds typically between five and 20 mbps. These internet speeds are much higher than traditional maritime satellite services.  
Global coverage is another plus. While traditional satellite networks have limited reach in remote areas of the ocean, Starlink offers almost complete coverage of all the world's oceans.    
Most satellite internet services come from single geostationary satellites that orbit the planet at more than 35,000 kilometres. As a result, the round-trip data time between the user and satellite—also known as latency—is about 0.6 seconds. In contrast, Starlink's constellation of satellites orbit the planet much closer to Earth, at about 550 kilometres. Because of this, latency is significantly lower—around 0.025 seconds.  
Starlink's satellite constellation ensures redundancy and reliability. Should one satellite experience an issue or failure, others can seamlessly take over, minimizing service disruptions.  
Starlink satellites can autonomously manoeuvre to avoid collisions with orbital debris and other spacecraft. They do so by utilizing Ion thrusters powered by krypton—the first krypton propelled spacecraft ever flown. These thrusters enable Starlink satellites to orbit, raise, manoeuvre in space and deorbit at the end of their useful life.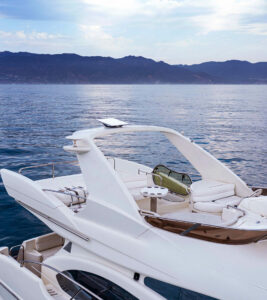 When ordering the Maritime antenna system directly from Starlink, the kit comes with the Starlink antenna and base, wifi router/power supply, six-foot power cable and 75-foot Starlink cable. The system is said to be relatively easy to install and uses about 100 watts. The downloadable Starlink app helps owners position the antenna, customize settings, receive updates and see real time performance data such as download speed, latency, and uptime. It should be noted that the Starlink antenna must have a clear view of the sky and as such, mountains, masts, booms, mast towers and such can cause intermittent internet loss, and the system won't work if the antenna is on the same horizontal plane as the vessel's active radar beam. We were unable to find data on the maximum speed of a vessel before the system won't work. We've heard less than nine knots. 
While the technology offers numerous benefits, it also has some downsides. First is the expense. With a cost of about $2,500 to purchase the hardware (most other satellite providers lease their hardware), and a monthly rate starting at $329/month for 50 gb of data, the Mobile Priority plan isn't cheap, though rates are constantly changing. Fortunately, service can be stopped and started as needed and more gigabytes of data can be added if required. As Starlink gains popularity, the increasing number of users can lead to network congestion, particularly in highly trafficked maritime areas. This saturation may result in reduced speeds or service interruptions. Adverse weather such as rain and snow can also cause service interruptions. Customer service is reportedly very poor with no technical phone support, just email. For more information, visit starlink.com/maritime.   
—Peter A. Robson