Boating season may be gearing down for cruisers as temperatures cool, but according to police, winter is when marine-inclined thieves ramp up their nautical crimes. However, there are ways to keep your boat, marine accessories and electronics safe in the off-season and make your property less attractive to thieves. From securing your vessel, to making regular monitoring a routine and keeping stock of all your belongings, police and experts weigh in on how to beat the thieves this winter.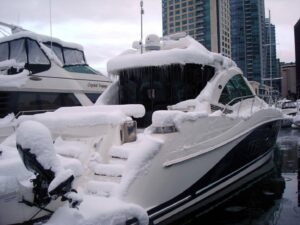 Winterize and Prioritize Taking the time to properly decommission your boat before winter should include security measures, as well as routine procedures such as draining your systems, making sure your dock lines are in good condition and winterizing your engines. Expensive items like electronics and outboards should be removed from the boat to keep them in good condition and maximize security, but even less expensive items should be removed as well.
"Take the perishables out of the freezer, remove the $200 dollar bottle of scotch you've been working on all summer. If thieves find something on one boat, that will encourage them to break into the next vessel," advises Steve Varley, general manager of Coal Harbour Marina. "Once you've taken away personal property, if they don't find anything it's discouraging."
For boats that are staying in the water, Varley recommends buying an inexpensive key lock box, available at chandleries, which have a four-digit code to access your key, and to install an ignition kill switch.
"Most vessel ignition keys are plastic," he said. "Then you've got a $600,000 boat and a plastic key ignition you could put a screwdriver into and start the boat."
Varley suggests taking tenders and smaller vessels with outboards out of the water, because those are the most vulnerable to theft.
"Tenders should come out, be cleaned and maintained as necessary, and the outboard winterized, drained of fuel and that outboard should be locked and secured on the tender," he said.
Varley said thieves will find a tender that hasn't been secured properly, steal it, drive it to the next marina and load it up with more stolen goods. Smaller speedboats with big outboards are also a prime target.
Haul it Out and Lock it Up If possible, taking your boat out of the water and storing it in a locked facility during the off-season has a number of advantages and may deter thieves. Many dry storage facilities have security features that floating marinas don't, such as controlled access to the grounds.
Craig McKeen, owner of Lions Gate Marina in North Vancouver, explains that his dry storage yard is fully equipped with security, motion-censored cameras, alarms and staff that monitor activity and marina visitors.
Because many thieves travel by boat and marina hop, searching for unsecured items, having your vessel on land may provide more security.
McKeen points out, however, since winter is a popular time to repair and revamp your vessel, being careful who you hire to work on your boat is key.
"We had one incident where the owner bought a new plotter and gave it to these guys to install and they just disappeared," McKeen said. "The owner was an older gentleman who was thinking he was helping somebody in need and they took total advantage. That goes to the due diligence, knowing who you're going to have working on your boat and if you have a visceral feeling something is not right there's a reason for it."
McKeen emphasizes that doing your research and asking other boaters for recommendations will help to make sure the trades people you hire are reputable.
"We have a trades list of workers who our customers have been very satisfied with, that's where it's triggered—customers and their experience—and we have a couple trades on site that we're excited about and proud of," McKeen said.
McKeen said marina staff are trained to approach visitors and question everyone who arrives on site, noting that thieves are less likely to stick around if they've been identified. He suggests boaters do the same at their own marinas.
"You can see the signs, they're asking way too many questions, walking around and looking at everything," he said.
Communicating with your marina about who you've hired to work on your boat and when they're scheduled will keep staff informed of visitors and help them spot any suspicious activity that happens outside that time frame.
Label and Disable Vancouver Police Const. Jamie Gibson, who is also director of Stolen Boats Canada, said the number one way to prevent theft over the wintertime is to remove items from your vessel and store them in a secure location. However, items that can't be removed and stored should be marked with a vehicle driver's licence number.
Gibson explained police can't track hull identification numbers or serial numbers directly to the owner. So, if police find an item they suspect is stolen, or spot a tender being driven with no lights or with numbers scratched off, it often leads to a dead end if they can't track the original owner.
If a driver's licence number is written under a cowling, or on the outboard or electronic device, police can easily locate and contact the owner to return the stolen item, and thieves will be less likely to take something that is clearly identified because it could be harder to re-sell.
Gibson said having a driver's licence number on an item doesn't compromise the integrity of a product, or decrease its re-sell value. If you do want to sell an outboard that you've marked, the best thing to do is cross out the old number and ask the new buyer to write their licence number on it. That helps police see that someone isn't trying to cover up or scratch out an old number, as thieves often do.
When buying used goods, especially online, Gibson warns to watch for stolen items that are often priced to sell and may have serial numbers or identification markers scratched out.
Over the summer, Gibson said police saw an increase in kayak and paddleboard thefts. Because they are increasing in popularity, they're easy for thieves to sell online. They are
also hard items to secure and lock up, making them simple to steal. Gibson recommends clearly labelling your kayak, paddleboard and other boating toys and making sure they are locked in a secure place over the winter. If they're being stored at a sailing club or similar facility, he said staff should keep an up-to-date list of kayaks and paddleboards in order to keep track of any that go missing.
"Especially through the winter, no one is checking their kayak because it's on a rack," Gibson said. "This summer we've lost about 10. They're high-end $5,000 kayaks or paddle boards, they're easy to carry and they're getting resold quickly through social media."
Boaters should also make documenting their belongings with a smartphone or camera a routine.
"Take a camera and photograph your boat, the hull number, the nav equipment, your outboards, you don't even need to record the serial numbers anymore. Take your phone, take a few pictures of your boat and then file it away in a good place," Varley said.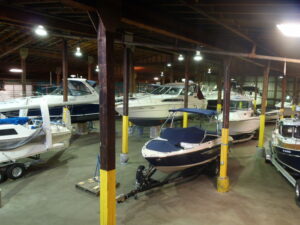 Walk the Docks Checking on your boat regularly will not only keep your vessel more secure, but if something does happen it guarantees police and marina staff will have a time frame of when it happened, increasing your chances of recovering stolen property and catching the thieves.
If you travel during the winter or aren't able to check on your boat as much as you'd like, many marine companies and boat washers will do it for you as a winter service.
"In the wintertime people aren't really checking on their boats, so it's hard to say at what point they went missing," Gibson said. "But also, when boats are sitting and not being monitored when you're not checking on it, [thieves] that are opportunists looking to grab a boat can tell who's been looking after a boat and who hasn't."
This means thieves have more time to strip a stolen boat and sell off parts before the owners even realize it went missing.
Varley said although marina staff monitor the docks every day, it's imperative to check on your vessel regularly and to communicate with the marina office and also show some neighbourly camaraderie.
"Another really good thing to do is get to know your neighbours," Varley advises. "Get their phone numbers, come to the marina office and then communicate with your neighbours. Every time you go down to the boat, or your neighbour goes down, look at the other boats."
Varley said the same goes for neighbouring marinas. "We also initiated a Coal Harbour Basin alert," he said. "We communicate with the other marinas and it's expanded to False Creek as well. If someone is breaking in to my neighbouring marina, I know I'm next, so we share information. We really do strive to improve our security whether it's new cameras, new gate systems, we post information and we have nothing to hide here."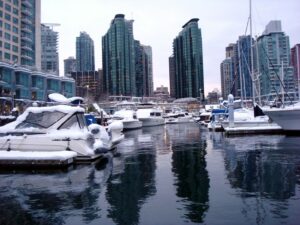 If Your Boat Is Stolen If your boat, tender, outboard or electronics are stolen there are several things you can do to help police in the search and increase your chance of getting your belongings back.
When Arthur and Jessica Vickers' boat was stolen from the Cowichan Shipyard last June, the couple jumped into action to find it and credit the police, social media and Stolen Boats Canada for its safe return.
When the 20-foot Rendova rigid hull inflatable was taken from the docks, in addition to contacting the police, the Vickers quickly spread word of the theft through social media,
email and word of mouth. They shared photos online, contacted various media outlets and as a result the boating community responded. Vickers said everyone pitched in to look for the boat, including tugboat operators, the Coast Guard and whale watching boats.
Three days later, their efforts paid off and the boat was located at the boat launch in Crofton. Although it was clear that it had been used, it didn't appear to be damaged.
Vickers' advice for other victims of boat theft is to do everything they can to let people know they want the boat back. Like many, the Vickers consider their boat as a part of the family.
"We all love our boats," Jessica Vickers said. "They hold special meaning. We harnessed that and said please help tell people it's been taken. Ask them to tell two friends."
The website for Stolen Boats Canada, www.stolenboats.ca, is also a great resource for victims of boat theft. Gibson catalogues all stolen vessels, boat trailers, kayaks, engines and marine equipment reported by police in difference jurisdictions, most in B.C., and keeps an up-to-date list, with photos on the site. When a boat is found, it's put on a found list.
Boaters can do their part by browsing the website for stolen vessels and keeping an eye out for anything suspicious while boating in B.C.
Gibson said there are certain signs to look for that can indicate a boat has been stolen. Scratched out serial numbers are a good indicator, but the way a boat is stored can be a good tip-off as well. If a boat has been stolen, thieves most often will move it, strip it and leave it somewhere uncovered. Gibson said a neglected boat, especially during the winter, can indicate something suspicious.
Keeping an eye out for disturbed covers on your and your neighbours' boats in your marina is a good indicator somebody has been fishing around or attempting to enter the vessels. Varley said if you notice your canvas or boat cover has been moved and it appears someone has entered your boat, even if nothing is stolen, it's a good idea to contact the marina office and police. That way, if marina staff have also noticed anything out of the ordinary, they can begin to piece together what may have happened, who may have been involved and contact the proper authorities.
*****
Marine theft is a reality in the Pacific Northwest, but there are ways to reduce your chances of being targeted. This winter, by including some security measures in your winterizing routine, you can do your part to deter thieves from not only your boat, but your neighbour's boat as well.