We all live the boating lifestyle and cruising around on a 25-footer is awesome. But imagine owning a 250-footer! The ultra rich take yachting to a whole different level and it is hard not to get lost day dreaming about what they must be like.
To help plant some seeds in your imagination, I've rounded up some of the world's most outrageous yachts.  Enjoy!
Motor Yacht A
Value: $317 million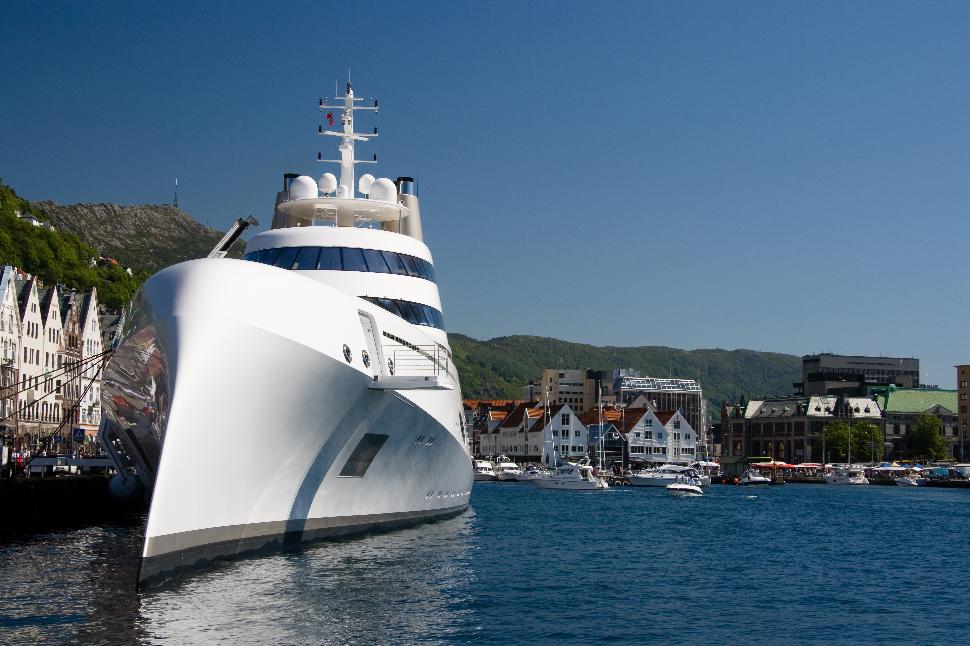 A, launched in 2008 and resembles a massive naval destroyer with its shark-like, slick upside-down hull in the water. At 390 feet long, hosting a crew of 42 and the latest navigation and entertainment technology, Melnichenko should be more than comfortable aboard either of his mega yachts. This one features extensive engineering, including three pools which create their own currents to swim against. Built by Blohm + Voss at their deepwater facility in Kiel, this one is currently enroute to the Port of Gustavia in France.
Guilty
Value: According to owner, Dakis Joannou, priceless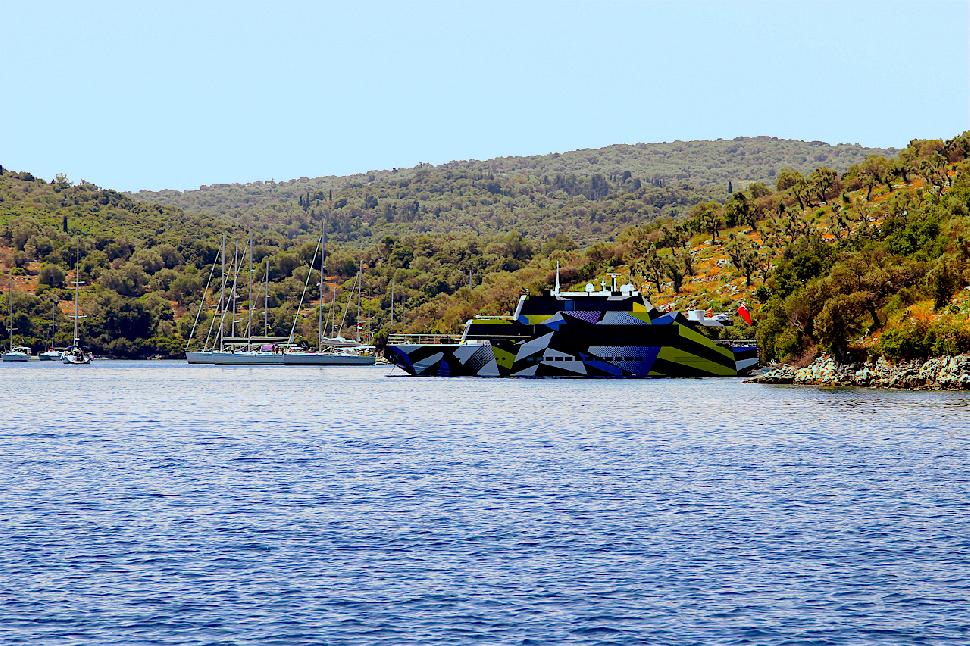 Greek billionaire Dakis Joannou is the proud owner of the flashy, extravagant Guilty. Designed by Italian yacht builder Ivana Porfiri, this is truly a one-of-a-kind—especially considering its intricate wraparound patterned-skin. Using a WWI-style camouflage pattern in yellow, purple, blue, white and black, designer Jeff Koons wants this to be the yacht you won't forget seeing. Guilty is just as lavish inside, featuring original art of various forms, which is amazing to believe considering that this is a 115-foot boat. Right now you can find it at port in Palermo, Italy.
Dubai
Value: $350 million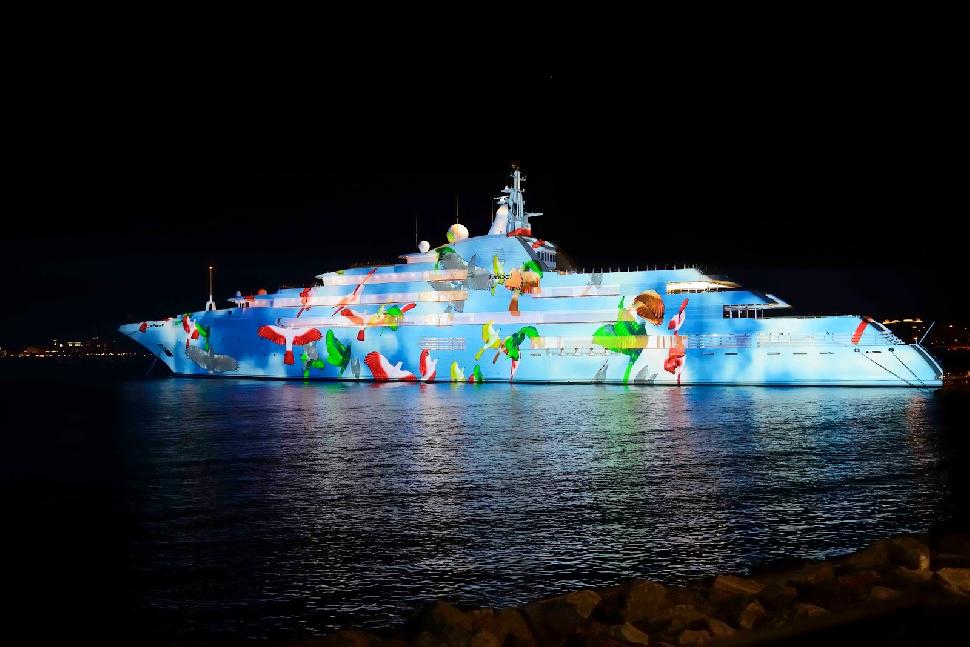 Owned by Sheikh Mohammed, the Prime Minister of the UAE and Ruler of Dubai, the Dubai is 532 feet long, can host 72 guests with 44 cabins, and is maintained by a crew of 88. This yacht was designed by Platinum Yachts and released in 2006, after over 10 years of stalls, halts and trading between not only owners, but builders. Featuring multiple Jacuzzis, a mosaic swimming pool, helicopter pad and seven decks, this yacht can still reach up to 26 knots at maximum speed. Presently found in the Dubai area.
Maltese Falcon
Value: $150-$300 million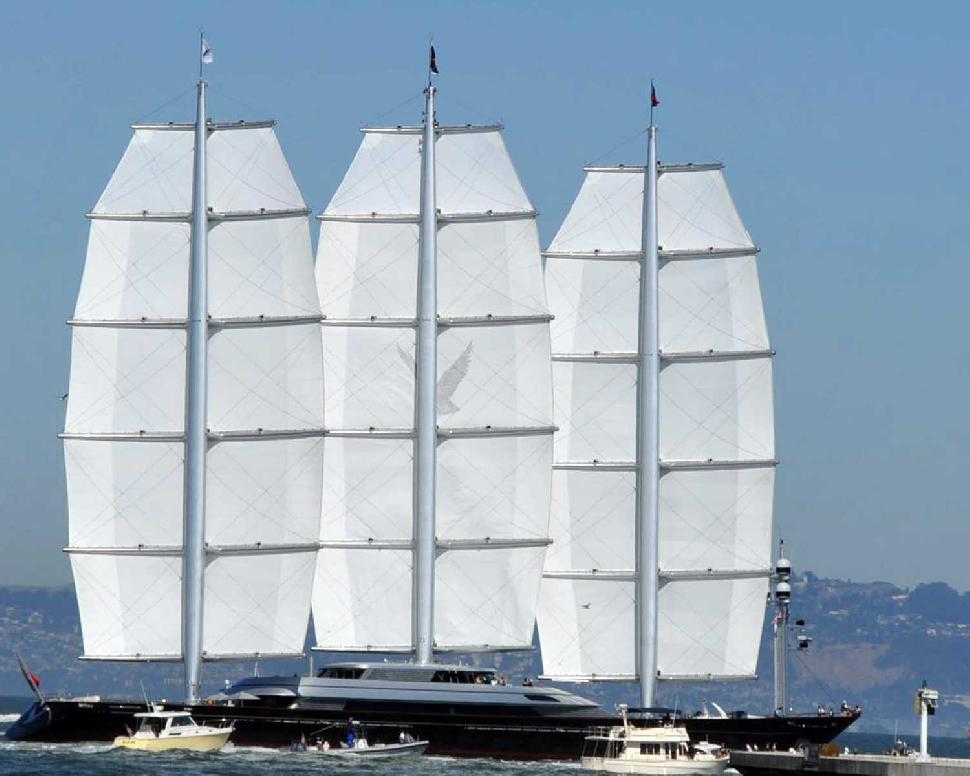 Currently owned by the founder of IKOS Ltd., Elena Ambrosiadou, the Maltese Falcon is one of the largest privately owned sailing yachts in the world. But it's not the overall length that impresses; it's the three uniquely stunning DynaRig masts. When the 15 sails are deployed each freestanding mast acts as a single sail giving the Maltese Falcon a look unlike any other sailing yacht in the world. This 290-foot boat can be chartered for the mere cost of $500,000 per week. It can currently be found in the Aegean Sea.
Octopus
Value: $200 million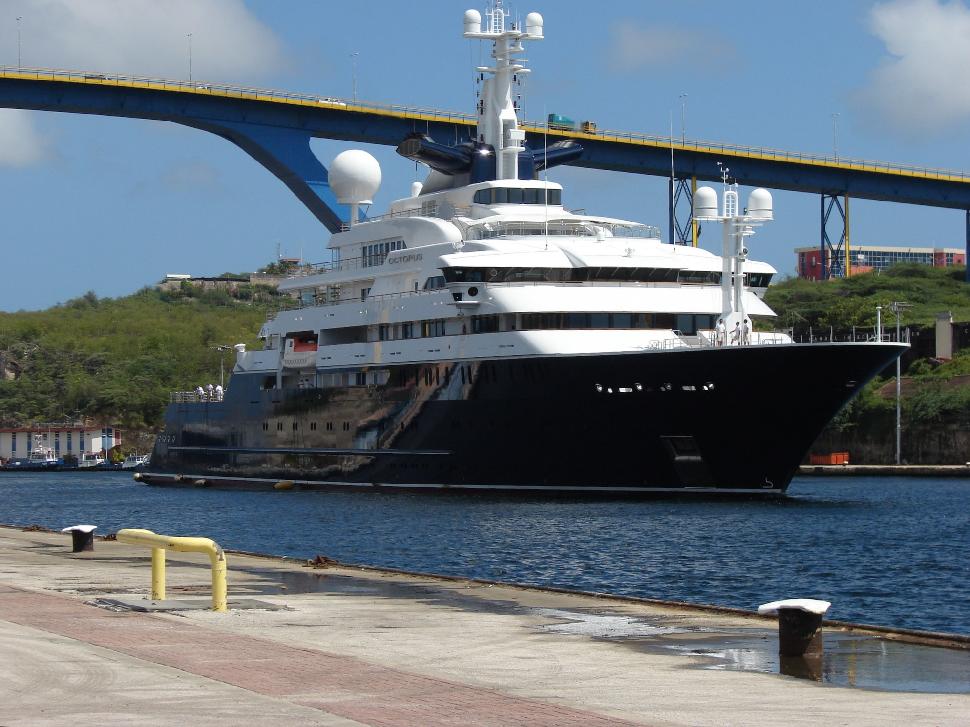 Owned by Microsoft co-founder Paul Allen, this humongous 414-foot yacht has seen and done it all. From hosting star-studded Cannes Film Festival after-parties to searching for lost WWII-era Japanese battleships, Allen has seemingly never strayed from keeping Octopus out and busy on the water. Weighing in at 9,000 tons, this heavyweight not only has two helicopter pads, but also two submarines for deep sea research and a recording studio that Mick Jagger has used. Employing a permanent staff of 60, and costing $384,000 a week to operate, you can only imagine how awesome, and expensive, those Cannes after-parties must be. Currently residing in port at Kusadasi, in the Aegean Sea.
Eclipse
Value: $500 million (Though rumoured to be $1.5 billion with security & luxury features)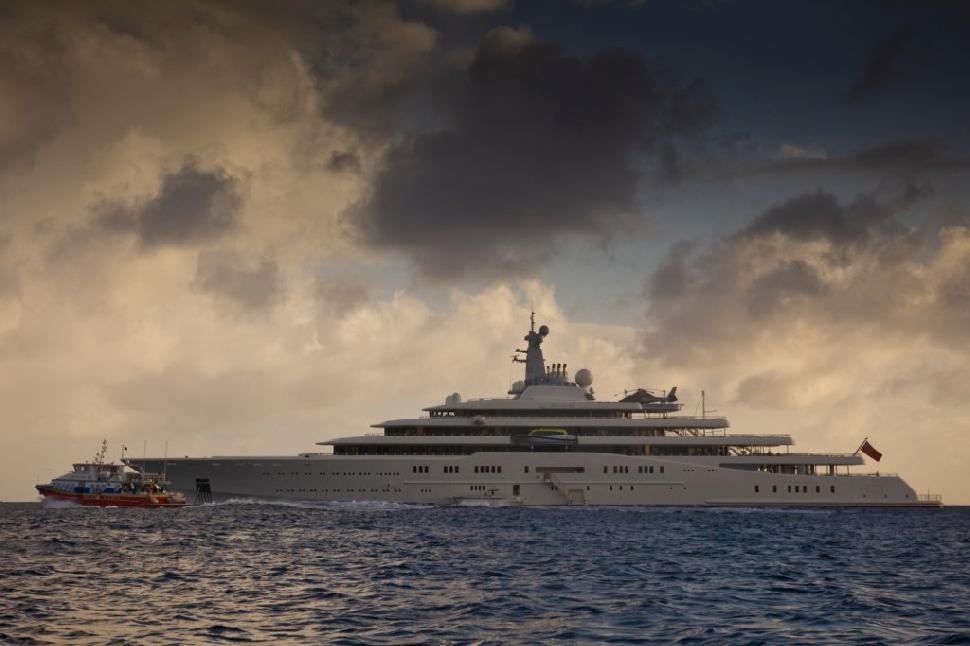 Built for Russian businessman Roman Abramovich, this massive 533-foot monster is the world's second largest private yacht. Hosting 70 crew members, 18 cabins, two helicopter pads and a submarine, Eclipse first launched in 2010 out of the Blohm + Voss Shipyards in Hamburg, Germany. Outfitted with bulletproof glass on the bedroom suite windows and German missile defense system, the Chelsea Football Club owner has taken no risks when it comes to protection. Presently found in port at Gibraltar.
Seven Seas
Value: $184 million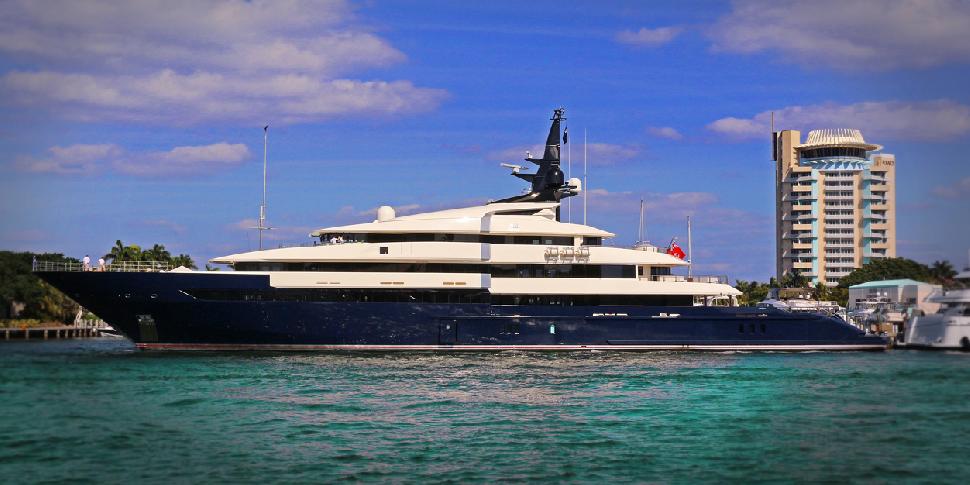 This 281-foot motoryacht was built by Oceanco in 2010 for none other than legendary film director Steven Spielberg. Seven Seas has taken Spielberg, plus his wife, seven children, and whichever celebrities he invites, all around the world from Shanghai, to Hawaii and Sri Lanka. The boat features a stabilization system, seven suites, six double cabins and one owner's cabin, with room for a 23-person crew, plus an infinity pool, 15-foot wall for projecting movies onto, and private owner's level. Though apparently Spielberg is going to need a bigger boat, as he's having a 300-foot yacht built. Currently found in Genova, Italy.
Ice
Value: A lot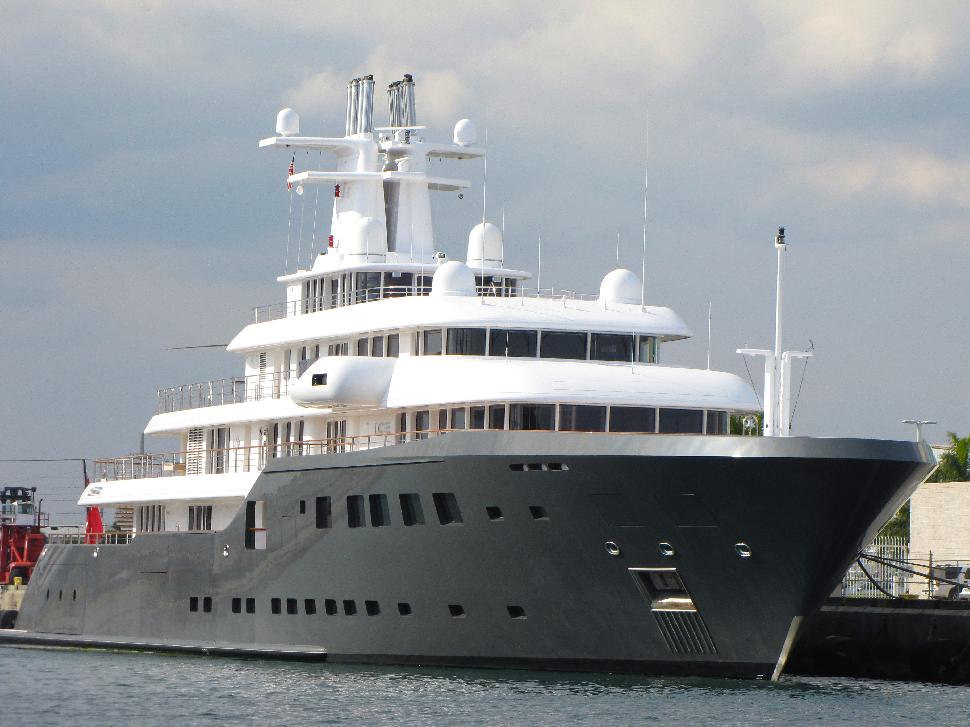 Originally commissioned by Italian billionaire heir, Augusto Perfetti, co-owner with his brother of Perfetti Van Melle, the brand behind Mentos, he was offered an undisclosed offer by Russian businessman Suleiman Kerimov to buy the yacht before it were finished. He accepted, and Kerimov changed the name from Air to Ice. It would go on to be Superyacht of the Year at the World Superyacht Awards upon its completion by the German shipbuilders Lürssen in 2006. It is presently at port in Antigua.
M5
Value: $50 million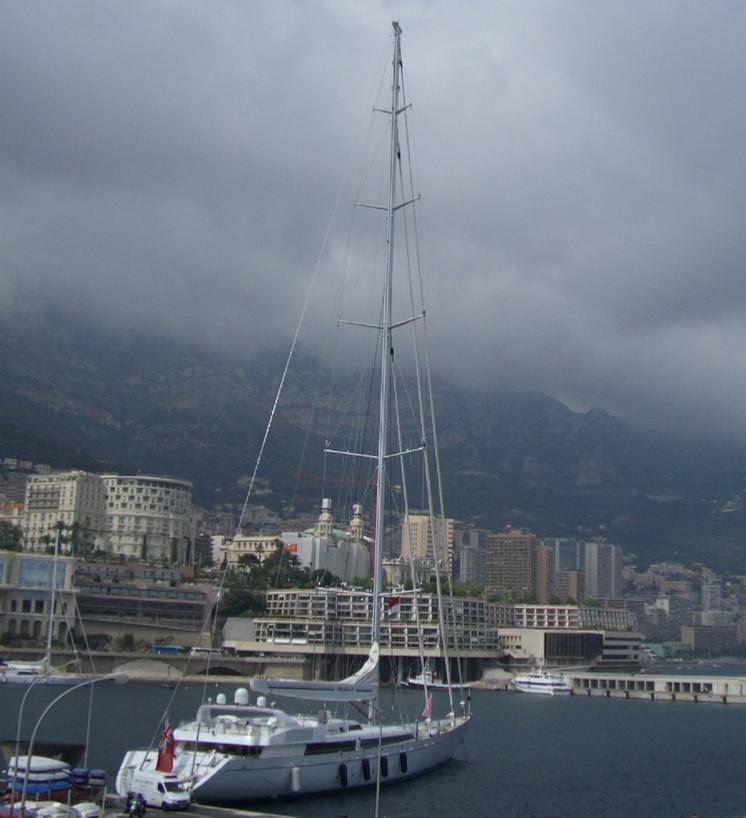 Previously known as the Mirabelle V, the M5 has the distinction of being the world's largest single-masted yacht. With its mast a massive 289 feet tall, and with 39,000-square-feet of sail area, of course this one has all the trimmings, from pools to a movie theatre and a gym. The previous president of Avis car rental company, Joseph Vittoria, had this ship built and received it in 2004. Rodney Lewis, the founder and CEO of Lewis Energy, is now the owner and currently has it moored in Westhaven, New Zealand.
Venus
Value: $120 million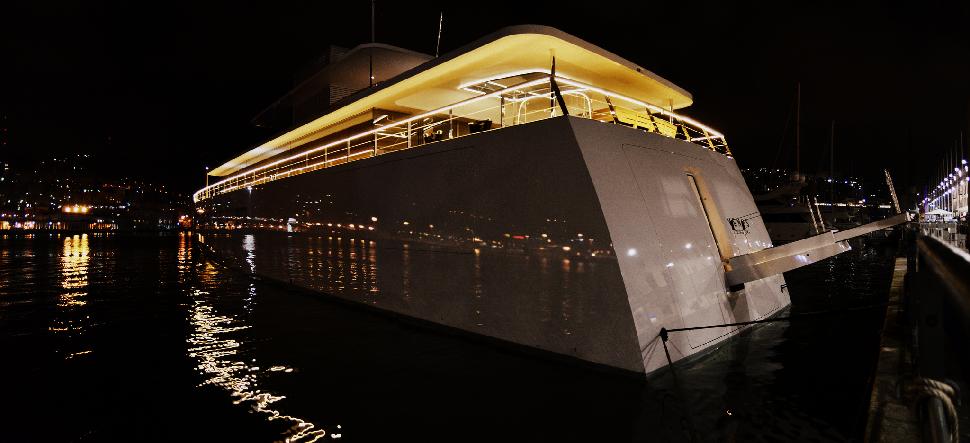 Built for Steve Jobs, unfortunately he did not live long enough to see the project finished. But he would have loved it no doubt, as he and famous yacht designer Philippe Starck worked on it together. It's 260 feet long and styled somewhat similar to older Apple products, with it's sleek white and silver hues, plus its rigid shape. It is  now owned by Jobs' widow, Laurene Powell Jobs, and is currently in the Panama Canal.
Topaz
Value: $615 million

Another one built by Lürssen, this luxury yacht first launched in 2012 and features eight floors, aluminum superstructure and a steel displacement hull. With a theatre, gym, Jacuzzi, two helicopter pads, and many other lavish features, this one is owned by a UAE Deputy Prime Minister Sheik Mansour, and chartered out on very select occasions. And of course, to only the wealthiest of the wealthy. In 2014, Leonardo DiCaprio reportedly chartered the Topaz to throw an 80s-themed party in New York, inviting 100 of his friends and hiring a crew of more than 80 people. Right now, the 483-foot-long Topaz is in port at Abu Dhabi.
Sailing Yacht A
Value: $380 million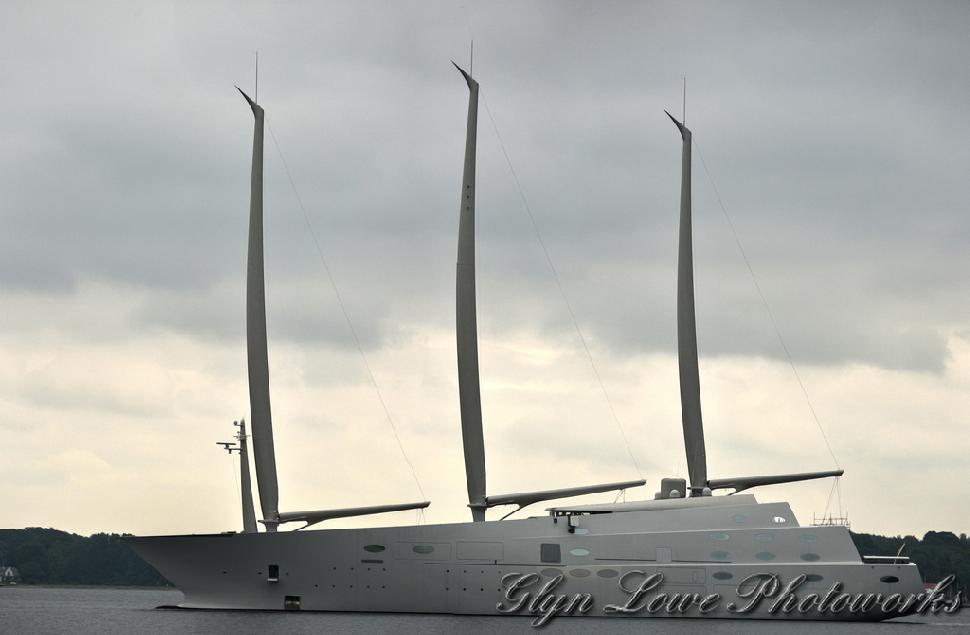 The stunningly sleek sailing yacht A is just one of Russian businessman Andrey Melnichenko's twin yachts, and is set to be delivered to him this year. Measuring in as the world's largest sailing yacht, completely dwarfing the Maltese Falcon, this yacht is 468 feet long, 330 feet tall and weighs 12,700 tons. With state of the art bridge controls—a touch sensitive sheet of black glass—a 193-square-foot underwater observation pod, bomb proof glass and 40 CCTV cameras onboard, this is one high tech yacht. At the moment, Nobiskrug, a German shipbuilding company, still has it.
Azzam
Value: $599 million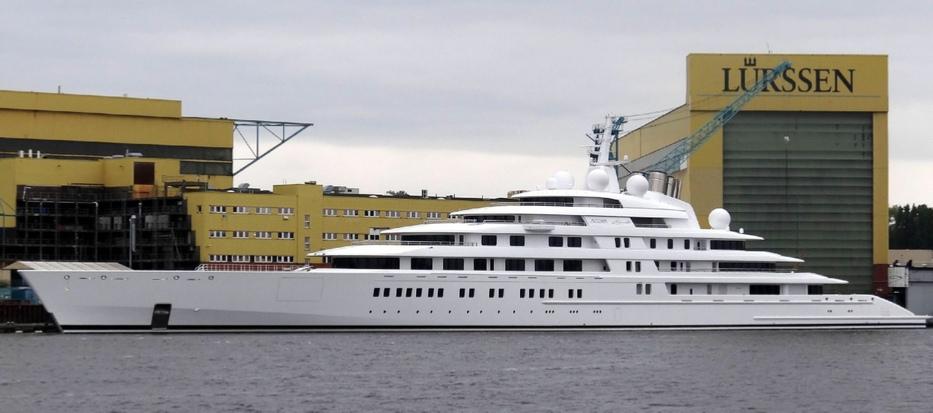 Currently the actual largest megayacht on the planet, the Azzam is a 590-foot long wonder. Launched in 2013, it's not only the world's biggest yacht, but Lürssen also holds the record for the building time of a ship this size: the engineering and planning took a year and the building of it took three years. Commissioned and owned by Sheikh Khalifa, the UAE president, it features a mini-submarine and its own missile defense system because, you know, why not? Currently moored in Abu Dhabi.
Triple Deuce
Estimated Value: $1.1 – 1.2 billion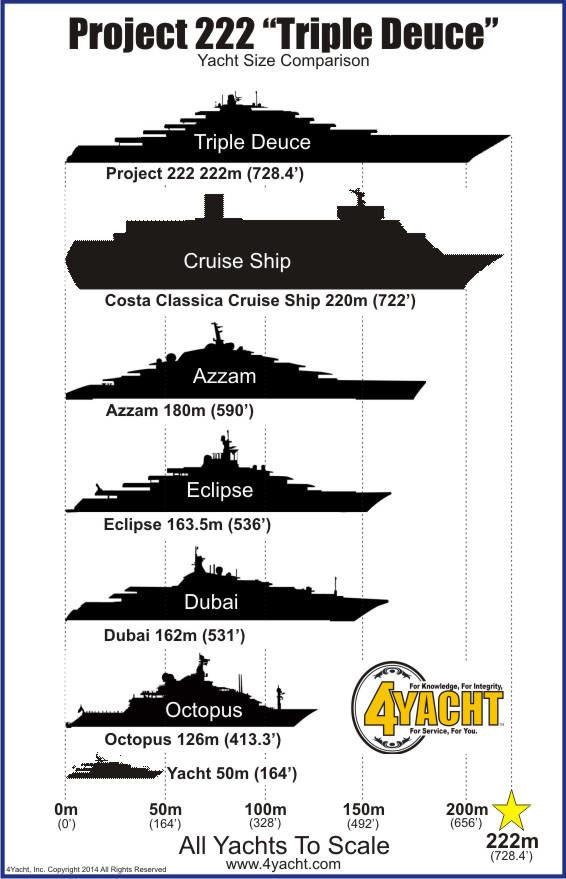 Though it's still a few years out, Triple Deuce is looking to make waves. Set for a spring 2018 release, this megayacht will be the world's first billion-dollar yacht, with it's owner and the builders hoping to make it near impossible for any other yacht to reach this size. At 728 feet, this yacht is longer than some cruise ships, but remains cloaked in much secrecy. Though not out of the norm for megayacht builders, there's much speculation that construction hasn't started on Triple Deuce, especially considering a shipyard seemingly hasn't been chosen yet.