We're on what is clearly becoming an annual pilgrimage at the start of every sailing season—our retreat down Saanich Inlet to the placid anchorage of Tod Inlet in Gowlland Tod Provincial Park, where history, nature and hiking combine with secure anchorage and good access to shops, to Butchart Gardens and to buses, providing us with the ideal cruising getaway.
But it's more than that. Although much of the inlet's history is grim and tainted with discrimination, human rights violations, despoliation and contamination, there's an energy here that's positive and uplifting. Why is that? I think we can thank Tsartlip First Nations, SeaChange and groups like Friends of Tod Creek Watershed for transforming what could have been nothing but a polluted wasteland rife with rampant non-native vegetation, construction debris and garbage into a restored ecosystem. As a result, Gowlland Tod is a destination that is constantly undergoing change, wearing a different face whenever we come, but always a smiling one.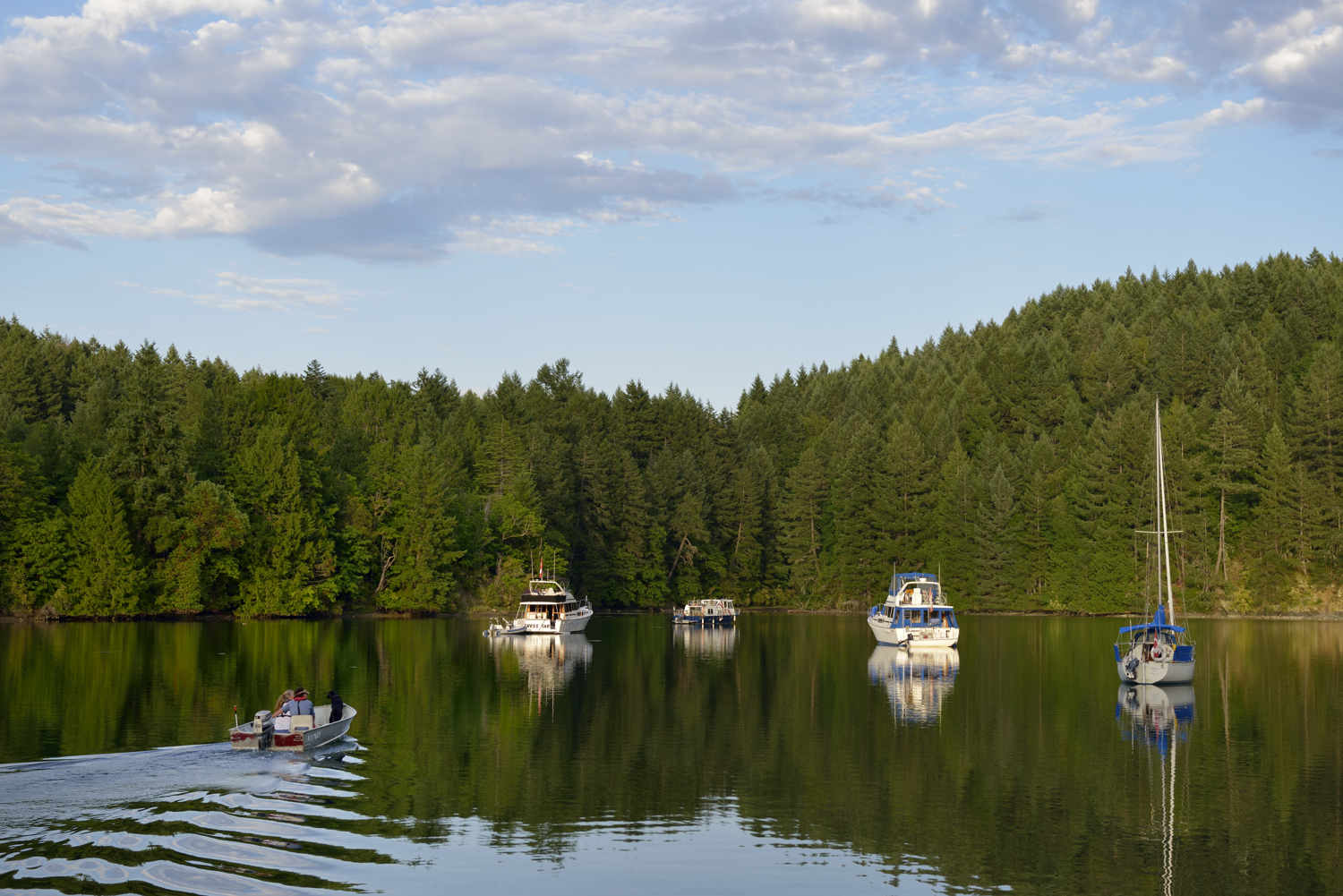 Getting There
Accessed by a narrow cut through the flanks of Saanich Inlet's east side, just south of Brentwood Bay, Tod Inlet reaches back beyond the Butchart Gardens into Gowlland Park Provincial Park. The entrance can hardly be seen until we are nearly upon it. Just outside the mouth of the inlet on the port side is Butchart Cove, where boaters can use one of five mooring buoys if planning to visit the gardens. Use the eyes set into the rock wall for stern ties. A dinghy dock is available for tenders.
We leave the green can buoy, which marks a rock, to port. Permanent boats lie at anchor here, some in various stages of disrepair, but fortunately the Central Saanich municipality has made it a top priority to work with the Federal Government in making this a managed area and continuing the removal of some of the derelicts. It will be a long process but they are definitely on it. Skippers deciding to anchor in the bend ahead will need a stern line to be out of the way of passing boat traffic. This is a good position, however, in which to see the Butchart Gardens' fireworks on a summer's Saturday night. After the bend the inlet opens up, revealing the head of the inlet and the spacious anchorage with ample room. The mud holding ground is so good here that the Capital City Yacht Club park host once told us he had never heard of anyone dragging anchor. It has the feeling of a lake here. Canoes, paddleboards and kayaks glide through the waters, along with the regular Butchart Gardens' boats quietly circling with their electric engines. And then there's the low-key chatter from the locals, whose homes have been secured on the pilings from the old cement factory's wharf.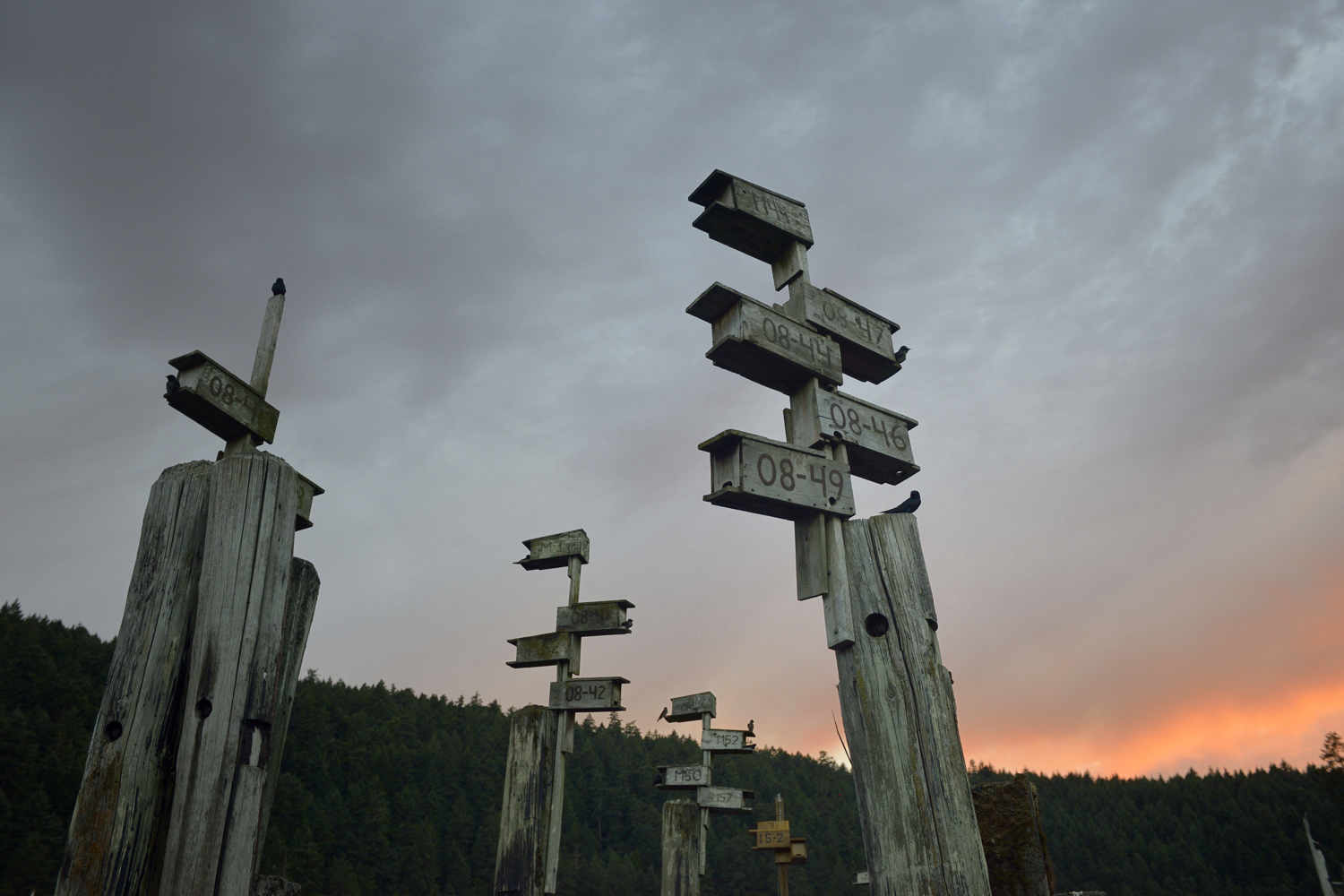 "The Purple Martin boxes are maintained by John Creviston and SeaChange staff. The initiative to bring back their dwindling numbers began with a campaign started in 2002 by the Georgia Basin Ecological Assessment and Restoration Society," SeaChange executive director, Nikki Wright tells me. It seems it has been highly successful. First thing in the morning the lively birds love to spin on our wind vane. It's fun to watch them shove each other off and then twirl in gay abandon, chattering their delight at full decibel. Not fun, though, when they start muting in my coffee.
Yes, it can be busy, especially as the shoreline is also popular with canines and their companions, but it's busy in an upbeat, pleasant way that makes us feel privileged to be a guest here and happy that we don't have to leave at the end of the day when everything stills.
Park Amenities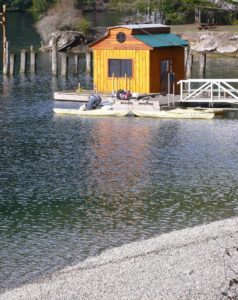 A well-used dinghy dock hugs the nature house, which is currently being restored. "We have replaced it with a newly constructed teaching house," says Wright. "The outside is completed but we need to increase the floatation to accommodate the added weight of yellow cedar used for the exterior. If anyone knows of a good small barge available, about 20 feet by 25 feet, please contact us! (See sidebar for contact info).
The 1200-hectare provincial park, established in 1995, also offers hiking trails, picnic tables, pit toilets, warm water for swimming, and now a beach restored to its original pristine glory, with many of the original and toxic hazards from the earlier gravel quarry days recently removed. Last year saw a huge combined effort at the Inlet. (See sidebar for groups involved with SeaChange). In the meantime, while onshore developments continue, visitors should prepare themselves for the possibility of some disruptions and remember that while the dug-up vegetation around the inlet may look like a bomb blast, nature will soon recover. "The last site that we are reclaiming for native plants is by the yellow gate at the bottom of Benvenuto Road. It has been chock full of English Ivy for many years and thus growth for other plants more adapted to local soils and climate has been discouraged," says Wright. "We make choices of native plants to install in consultation with local First Nations Elders who use these plants for medicine, food and tools." Some of the vegetation she's referring to are red alder, red osier dogwood, Douglas fir, western redcedar, black cottonwood and bigleaf maple. From here it's a short stroll to Butchart Gardens beyond the yellow gate and a slightly longer one uphill to the bus stops to either Victoria or Brentwood Bay. After several days of lazing on our 25-foot sailboat, we are happy to stretch our legs and walk the three kilometres along Wallace Drive into Brentwood Bay, about a half hour's walk. Our destination is JJ's Coffee House on West Saanich Road. Across the street is a handy Fairways Market and nearby are thrift stores, handy for picking up that reading material so essential when lying at anchor, and for replacing the cup that went overboard when we had to tack in a hurry. A nearby library provides wifi and some computers if we forget our iPhones.
For those wondering where the usual park host dock has gone, Capital City Yacht Club director, Gary Strickland, has confirmed that this year the dock will not be in place as the old dock has deteriorated and can no longer be used. "Until funding is available to replace it, we won't be able to offer the park host programme."
Needless to say the inlet is a no discharge area, even for grey water. Holding tanks must be used. "Since the beach has been restored, we now have hundreds of children and their families now using the waterfront for swimming," reminds Wright. "Sewage and gray water do not mix with swimming children." Or adults either! While the original Pumpty Dumpty has been retired in its old age, Butchart Gardens has generously taken the lead and now offers a pumpout service.
My partner, David Dossor, and I also enjoy exploring the shore by dinghy, just floating with the ducks. They honk for bread and we honk for wine. Boaters with powered dinghies can always search out their wine and spirits further asea, by heading out of the inlet and over to the Brentwood Bay Inn, my "special occasion" favourite summer treat.
History
A colourful park sign on the trail above the beach welcomes visitors to SṈIDȻEȽ (meaning 'Place of the Blue Grouse'). To the Saanich First Nation the Blue Grouse signified that the land was a place of plenty. They gathered edible and medicinal plants here as well as shellfish. Along the trail leading out to Wallace road we see many western redcedars with their bark stripped in small patches. This was a practice of indigenous peoples, usually the women, who would use the bark in a myriad of ways: threads for mats, clothing, blankets and hats, rope, fishing nets and for drying for fires as the bark burned slowly. The bark was harvested in such a way that the trees could survive, and still do.
A small dam, built below at Tod Creek, speaks of industries that came much more recently, in the 1900s. When the Butchart family, lured by the limestone-rich land, bought the land near the inlet's shores, it established Vancouver Portland Cement Company in 1904—the first such company west of the Great Lakes.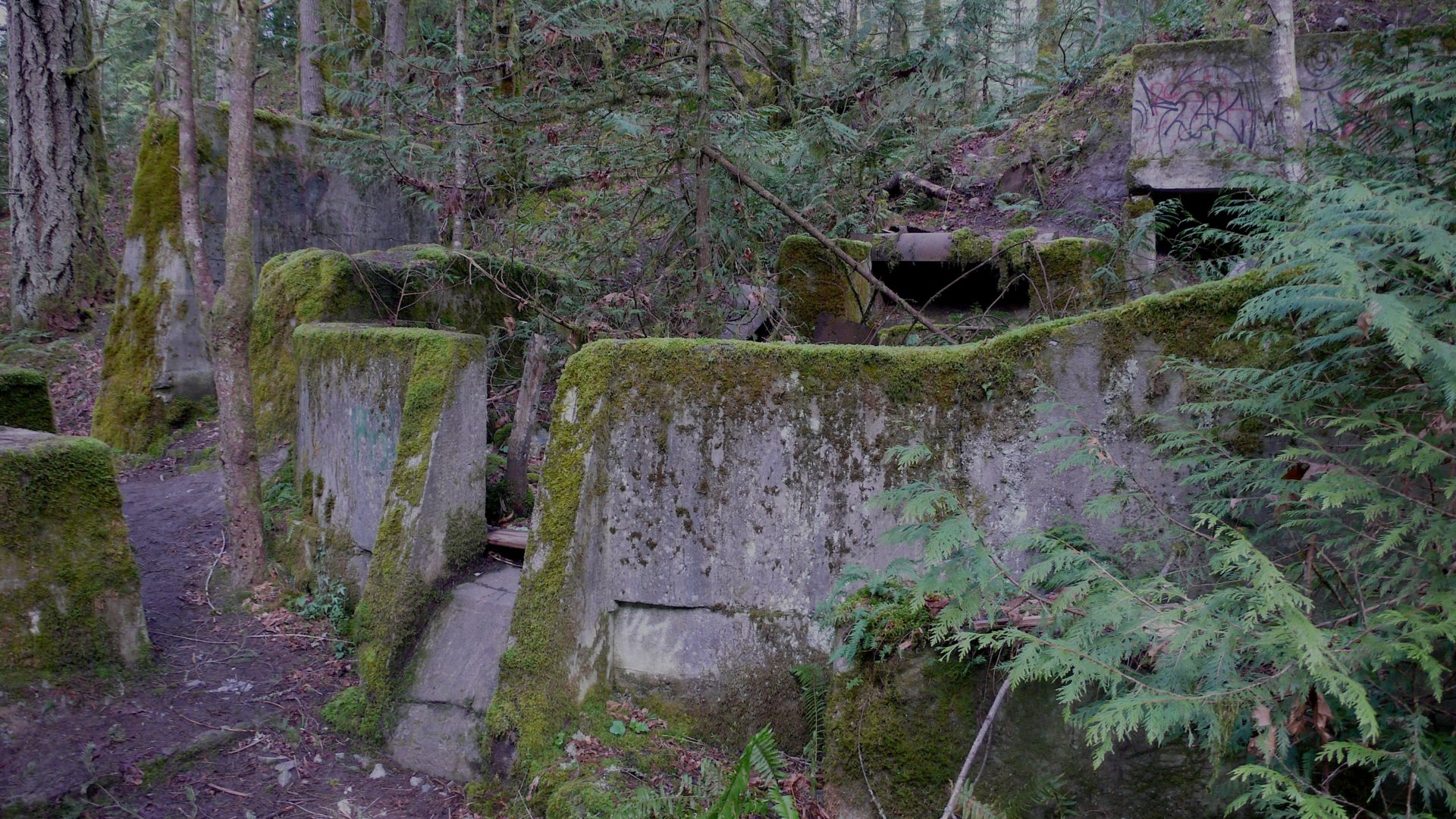 Quarrying stopped in 1912 when the soil was depleted, and the business moved to Bamberton. It's hard to imagine that during its time of operation, this area was home to over 200 workers, many Chinese but later East Indian labourers as well. Fragments of their lives can still be found in the area. Cement foundations, discarded bricks, bottles, tins, and other waste. European settlers and other Canadians also were employed in the brickworks, but mostly they were given housing upon employment while those living in Tod Inlet were left to their own devices. They were paid less, and as they were subject to a head tax they could not afford to bring their families over. Many traces of the village still remain off the trail: rebar, shards of pottery, mesh wire, corrugated metal roofing, bricks, and glass. Once, when hauling our anchor up, David was delighted to find a perfectly preserved ceramic ginger beer bottle hunkering comfortably between its flukes. When does garbage become treasure, I wonder? After huddling in mud for possibly a century, it now proudly gleams on our shelf. Gwen Curry, who wrote Tod Inlet: A Healing Place in 2015, wrote in the Victoria Times Colonist the same year about Yat Tong, a Chinese worker who arrived in Canada in 1912 and spent 50 years at Tod Inlet, first working for the cement company and then for Butchart Gardens. He could well have been one of the Chinese village's last occupants, living there in an old cabin right up until the '60s in an area above the creek where four cabins, a cook shack and a large dormitory were built to house the occupants and where, according to Curry, a small concrete structure still stands. Due to the crowded conditions tuberculosis and other diseases were common.
After the quarry was abandoned it was Jennie Butchart's time to make her mark and she began by planting her Sunken Garden in the quarry remains, later expanding with more themed gardens and employing some of the displaced quarry workers. The gardens became a National Historic Site in 2004.
Tod Inlet was named after an early Hudson Bay Company official, John Tod, who came to Canada in 1811. (Tod Mountain, now the popular Sun Peaks ski area near Kamloops, is also named after him). He was later a Justice of the Peace and named to Vancouver Island's Legislative Council in 1851 and his home in Victoria's Oak Bay is one of the oldest surviving buildings in western Canada.
In addition to the work that SeaChange is doing, the Friends of Tod Creek Watershed initiative is working to restore and preserve areas upstream from Tod Inlet, particularly the Tod Creek Flats. (todcreekwatershed.ca)
SeaChange
Formed in 2001, SeaChange is intent on righting the historical wrongs in the estuary. "It will take time and funds," says Wright, "but we intend to bring back the rich biodiversity of this very special place. The seabed is devoid of life. This is due to the historical impacts of industrial activities that still leave their mark today. Native plant restoration is well on its way to recovering the land, but the health of the estuary itself will take more time and many more resources. The next project in this long-range plan is to continue restoring the shoreline to remediate the dumping from the cement factory days and to adapt to rising sea levels. We are undertaking what we call a 100-Year Plan to restore the Tod Creek estuary."
Ever wonder why the inlet has so many jellyfish? I had thought they liked the warm water but it turns out they thrive on low oxygen levels and shade. Not only do 'jellies' discourage swimmers, they also discourage the feed fish that salmon depend on because the jellies are eating all the plankton the tiny fish rely on.
Wright's final word is to ask boaters to: "Please practice green boating techniques. Georgia Strait Alliance has information on that. If a boater has a mooring buoy, be sure that it is located deep enough that the anchor does not scour eelgrass, or investigate a mooring that does not drag chain at all. The bottom dwelling invertebrate species are destroyed along with any eelgrass."
Let's hope that Tod Inlet, like the Purple Martins, will return to its glory days, with a lot of help from its friends.