Whidbey Island Race Week has announced Point Roberts as the new venue for Race Week beginning in 2020. The event will be renamed Point Roberts Race Week and the 2020 dates will be July 13 to 17. Point Roberts Race Week will continue to be a five-day race event, Monday through Friday, which allows for boat deliveries on the weekends before and after the event.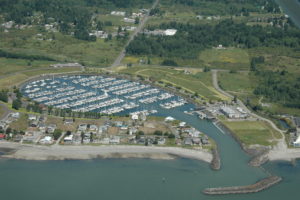 The move is great news for Canadian racers, who will have drastically shortened delivery times from Vancouver and Victoria. The facilities are an upgrade as well, with two hoists for sport boats, nearby camping and several hotels just across the border in Tsawwassen. The new facilities will also allow for the inclusion of dinghy racing, and a shorter distance from dock to race course will be appreciated by all racers. Plans have already commenced to have Point Roberts Race Week be included in the VARC (Vancouver Area Racing Circuit) in an effort to build participation from Canada.
For more information, visit Point Roberts Race Week online. Registration opens January 1, 2020.