Where would you rather be right now? I've been walking up and down our home dock in Friday Harbor, asking this question. Out of 13 respondents so far, three prefer to stay where they are, snuggled up to the fire, working their way through stacks of books they've been waiting to read, a cup of mulled wine beside them. Two would rather be in Fairbanks, Alaska, bundled up in parkas and snow pants, hoping to catch some spectacular displays of the aurora borealis. The rest, eight in all, would prefer to be exploring or lounging about in a warmer, sunnier clime. Florida, Costa Rica, Panama, Mexico and Portugal all sounded good to them.
The desire to migrate south is nothing new. The Hapsburg family, who ruled Austria and dominated most of Central Europe for five or six centuries prior to the First World War, didn't appreciate the cold, short days of winter any more than many of us. When a railroad line south from Vienna opened in the late 1800s, they flocked to the Adriatic coast and built a string of luxury hotels and villas along the waterfront. Quiet little Opatija, Croatia became an upscale seaside resort, and Emperor Franz Joseph I spent several months there every year.
Today, this picturesque city feels friendly, gracious and elegant. Stately mansions have been converted to apartments or inns, and many of the hotels built to accommodate Europe's upper classes still welcome visitors. Elegant red-tile-roofed buildings nestle between green hills and the clear turquoise sea, and a long promenade shaded by graceful palms skirts the shimmering blue water.
One morning a few years ago, my husband and I strolled along this walkway. Boaters to the core, we stopped to look at the vessels moored along the way. We dreamed of buying one and spending winters there. Then, on a spacious terrace, we settled in for lunch with friends who had driven over from the island of Krk, about an hour away.
From the menu, we learned that seasonal dishes begin with asparagus in April, shrimp in May, cherries in the summer, chestnuts in autumn and truffles at the end of the year. From our friends, we learned that fresh seafood is always available and generally prepared with minimal seasonings so that you taste the fish itself. Since the Adriatic has a rocky bottom, they said, the local catch has a clean, slightly mineral quality.
We shared a mixed platter of shrimp, octopus, a couple of firm whitefish and lobster tails served with a chilled white wine from a local vineyard. The seafood was all grilled, dressed with lemon, parsley and melted butter, and although I can't say my palate is sophisticated enough to taste minerality, they were delicious.
For dessert, I succumbed to a slice of linzertorte, a remnant of the Hapsburg Empire. It reminded me of my Austrian grandmother's house. Often, there was a dozen of us seated at her Sunday table, and usually she had a torte of some sort in her pantry. Because this one starts with a rich dough, then is filled with raspberry jam and topped with a dollop of whipped cream, a small wedge is plenty. A 23-centimetre (nine-inch) torte serves 12.
This is a good make-ahead recipe, as it improves with a night in the refrigerator. Traditionally, it's made with almonds, either blanched or with skin on. My grandmother preferred hazelnuts, and some folks think they pair better with raspberries, although hazelnuts have a bitter skin that should be removed.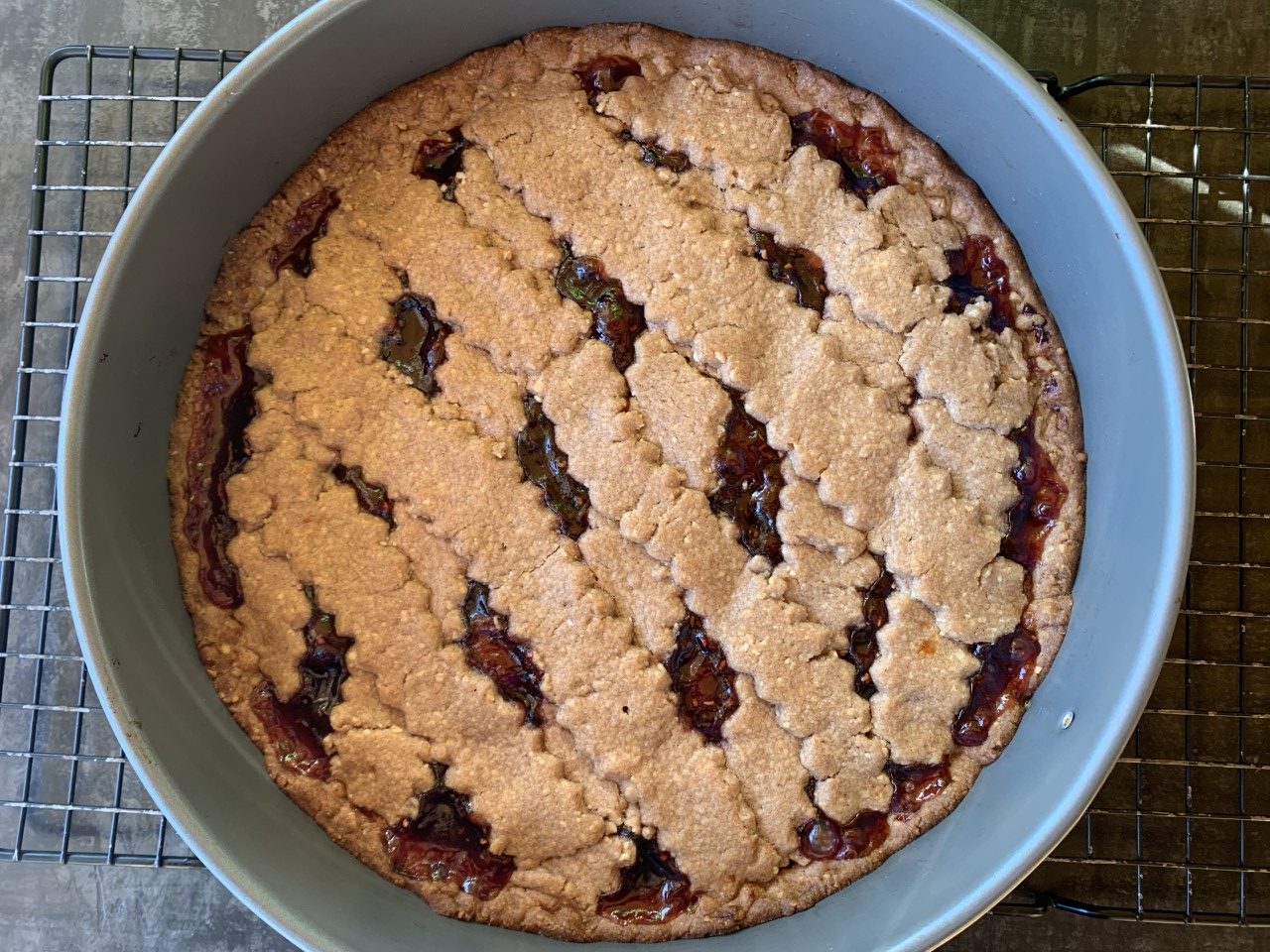 Linzertorte
Note: Unless it's chilled and stays chilled while you work with it, this dough is a sticky mess. On a warm day, after rolling it, I put it (on the pastry mat) in the refrigerator to chill again before proceeding.
Special equipment

23-centimetre (nine-inch) tart pan with removable sides or spring form pan.
Food processor. Alternatively, you can purchase almond flour and mix the dough by hand.
Ingredients
1 cup hazelnuts or almonds or almond flour
1/2 cup sugar
2 1/2 cups flour
1 teaspoon cinnamon
1/4 teaspoon cloves or allspice
1 tablespoon cocoa
1/2 teaspoon salt
1 cup cold butter, preferably unsalted
2 eggs
1 teaspoon vanilla
2 teaspoons lemon zest, separated (1 for the crust, 1 for the jam)
1–1 1/2 cups raspberry jam
2 teaspoons fresh lemon juice
Method
If using hazelnuts, spread on a baking sheet in 175°C or 350°F oven for 10 to 12 minutes. Cool, then rub the skins off.
Process nuts in a food processor until very finely chopped.
Add all dry ingredients and pulse to blend.
Cut cold butter into chunks. Add and pulse until mixture looks like fine bread crumbs OR if making by hand, cut butter in with a pastry blender or two knives.
Whisk eggs with vanilla and add, then add one teaspoon lemon zest. Pulse just until combined, OR stir, tossing with a fork.
Chill at least 30 minutes.
Turn dough out onto floured pastry board or mat, knead or pat together with scraper, and shape into two discs, one slightly larger. Wrap each disc in plastic wrap and refrigerate for 1.5 to two hours or up to two days.
Preheat the oven to 175°C or 350°F degrees.
Roll out or (with wet fingers) pat the larger disc into bottom of buttered pan, and up the side to about two centimetres (3/4-inch). Crust should be about 1/2 a centimetre (1/8-inch) thick.
Mix jam with lemon juice and one teaspoon lemon zest and spread over the crust.
Roll out the remaining disc. Using a pastry wheel, pizza cutter or knife, cut dough into strips.
If dough has softened, chill until firm.
Weave or crisscross the strips as desired for a pretty lattice top.
Brush with milk and sprinkle with sugar.
Bake 35 to 45 minutes.
Enjoy this old-fashioned treat!