It was all Catherine's fault really. She is a British chick with a backpack and a surfboard. I've never met her. She was 29 when she met my friends, Rae and Sharon, on their sailboat the Mustang Sally in Panama. She didn't know the first thing about sailing but she saw their advertisement in a Marina looking for crew and she thought,  "Why not?" Catherine rocked up with her surfboard, hopped on board and became their newest crew member. 3 years later, with two Swiftsures, two Southern Straits and one Van Isle under my belt I found myself turning 29 and thinking of Catherine. If she can see the world by sailboat so can I. South Pacific here I come!
"I'm quitting to sail the South Pacific," I told my HR manager.  There was a long pause and then she high-fived me. I'm not sure if she was happy to see me go.  She would frequently see me staring out my cubicle window, watching the wind rustle in the trees and day-dreaming of a life at sea. Or maybe she was just excited by me following my dreams. Either way…. Phew! Step one complete. Job done, in more ways than one.
Now what to do about my boyfriend, Adrian? We met racing on the sailboat Raven. We were neighbours and became regatta car-pool buddies. Somewhere along the way the lines got blurred and we ended up being very good buddies. I told him about my dream and how I planned to leave in early Spring. We decided we'd make the best of the time we had. After going our separate ways for the holidays, I knew saying goodbye was going to be hard, so hard that Adrian decided to quit his job and come too. Phew! Another problem solved and there was another bonus. My Mom's worrying is dissipating by the minute now she knows I am not going alone. In fairness to her, for my last birthday she bought me a book Sailing a Serious Ocean…. What did she expect?
We signed up for many cruising websites such as crewbay.com, oceancrewlink.com and the countless Facebook pages set up up for both boat and crew to find a sailing love match on the high seas. Ocean cruising opportunities worldwide was a personal favourite of mine. After reading many posts looking for crew we found that flexibility was the key to this adventure. This meant no time limit, no set destination and basically no concrete plan. For two meticulous project managers, which we were in our now-jettisoned jobs,  this was going to be a lesson in letting go. Sifting through all the different boats and finding one that wanted to connect  with us became our new full time job. On the recommendation of our friend, Tara, from Blue Water Cruising we tried the website www.latitude38.com. We found it to be user friendly and discovered it had over 16 boats advertising for crew positions cruising to the South Pacific. Some skippers wanted contributions to food, fuel and moorage, others wanted to make a profit from us. One man made us fill in an intense personal questionnaire that I gave up halfway through on page 12. Another was a novice sailor who wanted us to train him as we sailed the open ocean together.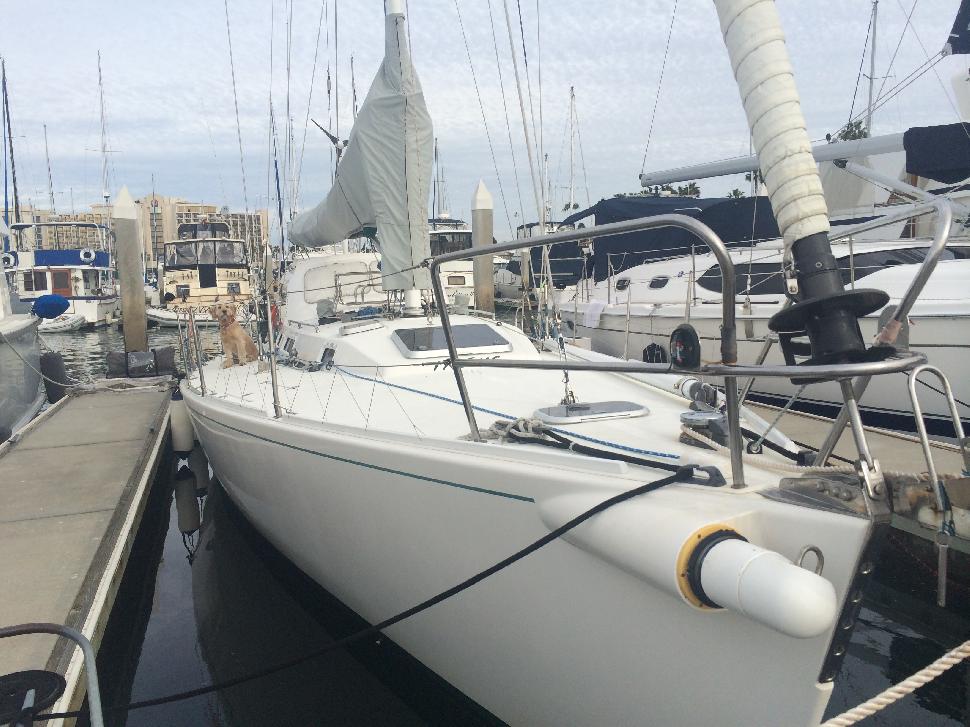 Luckily we found Alan. He just wanted to talk. One email was sent to him and he called Adrian straight away. He owned a J130 sailboat called Itajime which is based in San Diego. He and his partner, Kate, wanted extra bodies on board to help with watches as they did their first "puddle jump". We sent references from our skippers and discussed all the safety gear and procedures on board, a must for anyone looking to sail on another's boat. After a two hour long Skype session with Alan and Kate, we decided they were the ones for us. Internet dating for sailors had a successful match. We booked our flights to San Diego and got ready to go.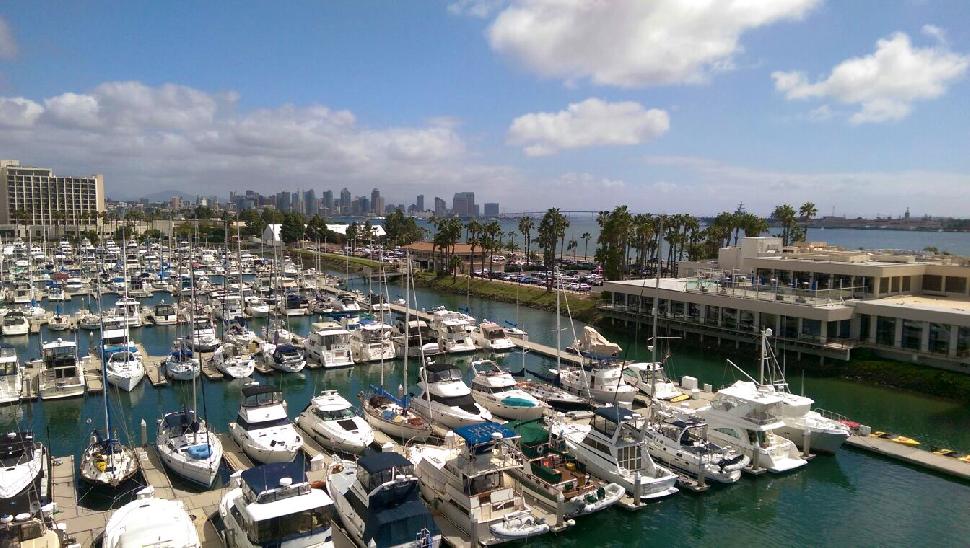 I discovered a bonus for sailing daughters everywhere – the DeLorme inReach SE, a two-way satellite text-messaging kit. Much to my delight, and Adrian's disdain, I can stay in contact with the outside world even from thousands of miles out at sea. Before leaving, I rang my mother and told her the news: we wouldn't be disconnected after all. I think that piece of news was the best present I have ever given her. Although with that goes all my excuses for not wishing my loved ones' happy birthday. Did the world just get bigger or smaller? Either way my Mom is happy and so am I.
In the rush of selling, packing and moving, our insurance had slipped through the net. Pacific Blue Cross  gave us a year's coverage which can be canceled at anytime on our return with money back, a useful feature for those adventurous travellers who can't decide if its 3 months or 3 years they'll be away. Zach, from Clement Property Insurance, saved us at the 11th hour. Clement offers insurance on all goods for professionals travelling abroad. As I am Irish, living in Canada, we were able to insure my backpack for $5000 and, separately, insure my camera and computer equipment for just under $3000. It even covers me if I'm clumsy and drop my camera in the open ocean. After spending the morning in tears onto travel insurance companies who would only insure my bag for $1000 – $3000, Zach became my saviour. Property Insurance for Travellers seems to be the way to go.
Then the adventure began. Two unemployed project managers with backpacks full of UV clothing, PFDs, and tethers stood at the arrival gate of San Diego airport waiting for our new skipper. On Day One Alan explained to us his latest dilemma. While we were busy packing up our lives, he had found another crew member, Ben. Ben was a friend of Kate's and had recently become available to crew. Alan warned us that he might not be able to bring us all on the passage across the Pacific and that time would tell how life onboard his boat, Itajime, would feel with a crew of five.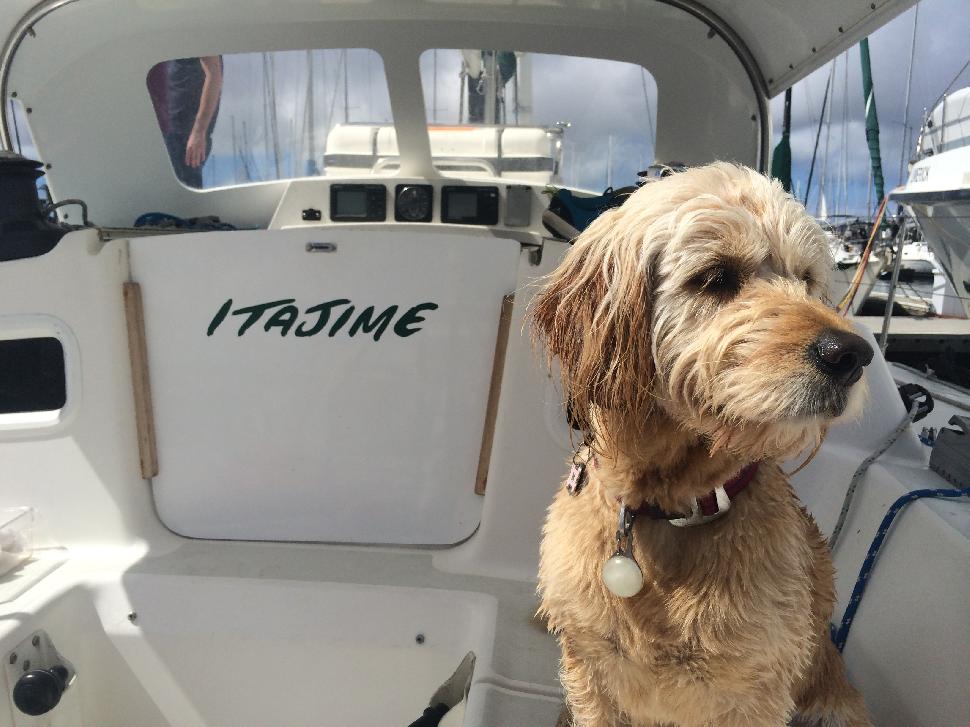 Eager to show our commitment to his venture, we got to work. In Vancouver I had always been part of the cleaning crew of the boats I raced on, but getting a boat ready to cross the South Pacific required much boat maintenance from everyone on board. I jumped at the chance to learn as much as I could about anything I thought I could help with. I began with checking all the lifeline screws and, before I knew it, I was in charge of all the screws, nuts and bolts on the boat. I also claimed the ditch bag, first aid and inventorying as my responsibilities. I became a regular at the array of marine stores in San Diego. It is a boat owners' paradise with a store for just about everything related to sailing. It helped that Alan had a cute golden doodle puppy that myself and Kate would take shopping with us and get first star service. Milly, the pup, was our secret shopping weapon to get all the help we could.
While I was on screw patrol, Adrian was helping by inspecting the rig. Alan and Adrain sat the crew down one night and explained what they had discovered. The lifespan of the rod riggings on a J130 sailboat is a recommended 15 years and Itajime was built in 1995. The previous owner had pulled the mast twice during his ownership, every seven years to be exact. 2016 would be another seven years since the rig was last pulled. And we were about to put more than 5,000 miles on her. The crew discussed two scenarios. One was to pull the rig, service her and spend a week getting the boat ready while playing the role of a tourist in California. The other was to go with the rig as it is. Pulling the rig could cause its own problems. Would we have the parts in time? As the window to sail the South Pacific draws closer due to hurricane season, we would be short on time to test her. The current rig is the devil we currently know and our rig survey hasn't seen any damage to her. We  even emailed the previous owner and asked for his advice. On top of all this, we are a crew of five, a larger number than initially projected. Would we all make the crossing together? Important decisions have to be made. We may now have a boat, but we are not without problems. Watch this space.