Most northwest recreational and commercial boat owners have heard of Philbrook's Boatyard. Over the past 60 years the company, one of the few full-service boatyards operating in the region, has built an outstanding reputation for doing excellent work at a fair price.
That reputation coupled with the fact that the Sidney, B.C. boatyard can handle any job big or small—from new boat construction to any form of service including machine, paint, metal, fibreglass, electrical, engineering, joinery, finishing, and upholstery—has seen the company continue through different owners and economic times.
Before delving into the company's early years, we will start with Philbrook's Boatyard under the direction of the father and son team of Hal and Drew Irwin, who have owned and operated the company since 1987. 
Philbrook's Today I first met Drew Irwin at the 2006 Victoria Floating Boat Show where he was manning the Philbrook's booth. We had a 10-minute chat about the boatyard business and agreed that we should tell its story in an article for Pacific Yachting. Ten years later, in the company's busiest season, we manage to continue our chat followed by a meandering tour of the buildings, shops and yard led by Hal Irwin.
Located alongside Sidney's Van Isle Marina, Philbrook's Boatyard Ltd. occupies two buildings fed by two marine railways that can handle up to four yachts of varying lengths, up to a maximum of 125 feet. Offices and shops for woodworking, electrical, engineering, paint, fibreglass, upholstery, and machining surround the ways.
On my recent visit there are two motor yachts on the ground at the rear of the buildings getting canvas work done, a 126-foot yacht having its interior completely rebuilt in the main building, several large motoryachts receiving maintenance on the service dock, another having final paint details completed in a Quonset-shaped building at Van Isle Marina, and two more yachts coming off the ways while others are waiting their turn.
Did we mention that it was busy season?
As such, we feel fortunate having both Hal and Drew in the same room for our visit. This is the Irwins' story.
Hal was a Chartered Accountant working in Edmonton when he discovered Vancouver Island and decided that the "island lifestyle" was in his future. Drew was living in Toronto and living life as a Formula racecar driver and, as Hal says with a fatherly smile, "Not fully engaged in a career, yet." As the two became interested in the marine industry, they started looking to buy a boatyard on Vancouver Island.
They settled on Philbrook's, whose owner Ted Hopkins wanted to retire, and in 1987 they bought the business because of its excellent reputation and Sidney location. Hal took over as CFO, and Drew headed operations by putting great trust in the skills and leadership of its employees and learning the boatyard business as quickly as possible.
With the Irwins at the helm for almost 30 years, Philbrook's is doing well. At 83, Hal still works five days a week and occasionally hints he would like to retire to which Drew adds, "He's been saying that for years."
Today, during busy season, Philbrook's employs between 60 to 65 employees—40 to 50 full-time—and continues as a full service boatyard. When asked what the major part of the business is, Drew says, "It shifts. During the winter it's paint and in the spring and summer it's mechanical. We always need more mechanics in the summer."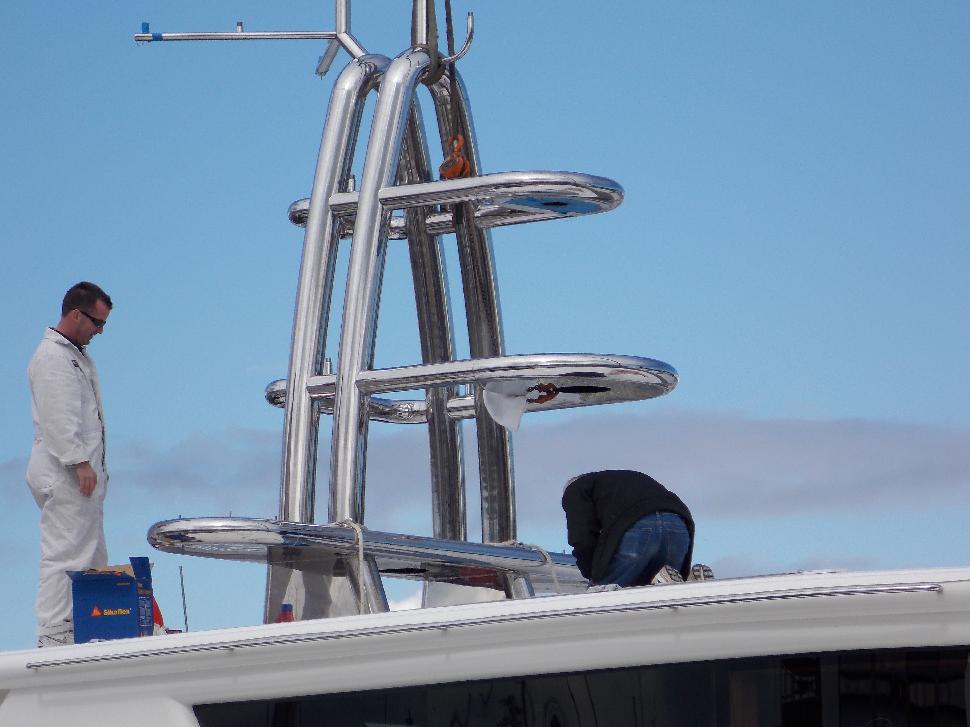 Much business comes from the U.S. "It varies a little but the average is around 60 percent. We have a major rebuild going on right now for an Alberta owner that is reducing the percentage somewhat but we have a steady American clientele, who return year after year," says Drew.
In the boatyard's early days, commercial business was big but Drew points out that by the time they bought Philbrook's, Ted Hopkins had recognized that the future was in recreational yacht business.
"Today, 10 percent of our business comes from commercial contracts. Lately, it has been RCMP boats and research vessels for institutions like the University of Victoria that comprise our commercial side."
Full-service yards are becoming scarce on the coast and being able to assist boat owners in all their needs is a real bonus for the owners and, at the same time, a challenge for the business.
"Our main challenge is the seasonality of the business," says Drew. "We strive to provide continuous work flow over the year and to keep a work force of people with the right skills to meet the season's demands."
Biggest Changes As to the changes they have seen in the 29 years in the boatyard business, and yachts in general, father and son agree that the biggest changes have come in communications technology. Even smaller yachts now have an amazing array of complex computer systems. "On some, even the black water system is computerized," says Drew.
Overall, yachts of all sizes have become more luxurious, with more amenities than ever before. Navigation systems are more sophisticated, and yachts have increased in size. Advancements in technology allow owners of even 110-foot yachts to operate them themselves. In 1987, 65-foot yachts were huge; today 110 is the new large.
As to the future of recreational boating, Drew smiles before responding, "I'm hoping to be surprised. The entire industry is puzzling over who are going to be our customers after the baby-boomer generation moves on. We're all waiting for the answer to that one."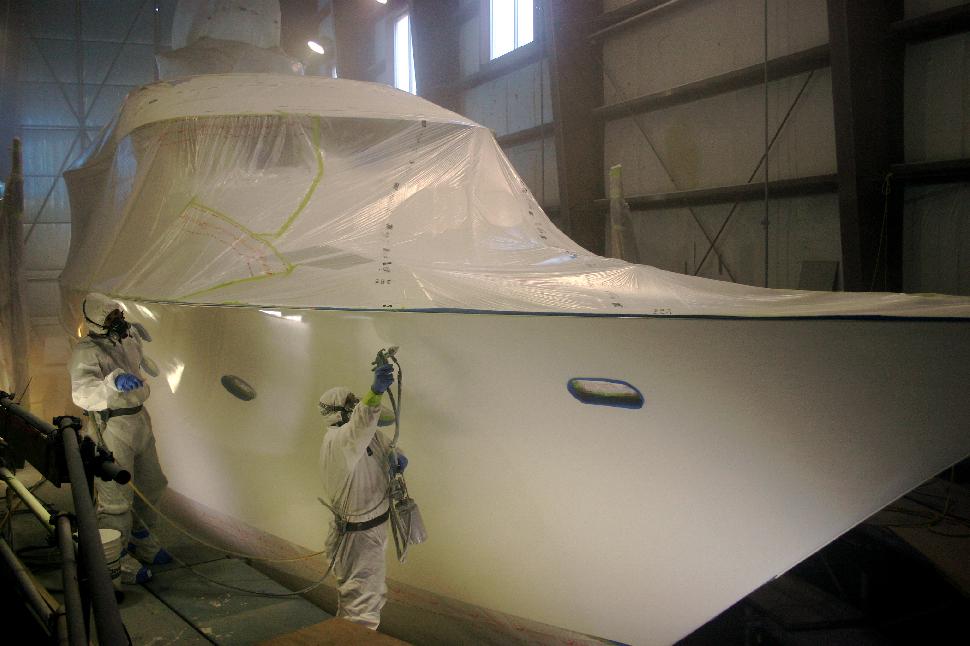 Marine Trades Philbrook's has had a role in establishing Quadrant Marine Institute—a training program for marine trades, located at nearby Canoe Cove, which has proven helpful in finding skilled workers. "The training program provides a broad knowledge of boats and the industry and helps marine workers find a specialty," says Drew. Recently, Quadrant partnered with Parkland Secondary School in Saanich in an effort to raise awareness of marine industry jobs.
Drew says that technicians are constantly learning to keep up with rapid technological changes in the industry. They are sent to manufacturers for training, workshops and information sessions and most manufacturers have how-to manuals on their websites. All technicians carry smartphones on which they can consult manuals or call manufacturers.
What's in store for Philbrook's future?
"Volatility dictates where we go in this business," Drew says. "Due to our size and land restrictions, we'll stay with large yachts (up to 120 feet) versus going into mega-yachts. We'll keep our focus on doing quality work, no matter what size we're given. That may mean dressing up smaller yachts to suit new owners or doing modifications on older yachts to bring them up to modern specifications. We should mention that we recently bought Roche Harbor Marine Services, a marine service company in Roche Harbor, and we see lots of potential there."
Philbrook's Boatyard—The Early Years
I first saw Philbrook's Boatyard in 1960. My high school pal Rick Todd invited me along for a day trip to Sidney Island where his father Jack had a sheep farm. To get there, we drove to Van Isle Marina and hopped aboard the Ethel M II, the family boat built for Rick's grandfather Ernie in 1927. Between seeing Van Isle Marina, Philbrook's Boatyard and riding onboard a vintage motoryacht powered by a Stutz Bearcat engine … it was a memorable day for this fledgling boater.
The company's roots go back to the 1940s when partners Eric Philbrook and Ernie Butler started making cabinets. When Eric built his first boat, the 31-foot motor cruiser Bonnie Lou in 1947, he found it infinitely more rewarding than cabinet making. He set a course to build boats for a living, and established the company in 1955. Ernie Butler decided that building homes would be more financially rewarding, and the two parted ways.
Through the 1950s, Eric added staff and began servicing and repairing boats while continuing to build new boats including a line of 26-foot Swiftsure wooden motor cruisers. In 1958 Stephen Dickinson, owner of Van Isle Marina, invited Eric to locate next to their marina in Sidney. Eric and son Barry bought a 40-foot strip of land next to the marina and laid the foundation for the full-service boatyard that carries on 61 years later.
Over the decades the boatyard's Sidney location, next to the Gulf and San Juan islands recreational cruising area, has proven highly beneficial for Philbrook's. However, back in the 1960s and '70s, it was commercial boat building, repair and service that carried the day for the company as much as building recreational boats.
According to Barry Philbrook, his father's passion for boatbuilding—mostly Bill Garden-designed yachts—did not fully extend to the business side of the boatyard. Fortunately, businessman and longtime Victoria friend Ted Hopkins joined them to look after the books and manage the company. In 1971, Hopkins secured a contract with the Department of Fisheries to build five 65-foot fiberglass patrol boats. The company increased in size to 140 employees and eventually sported a healthy bottom line and an excellent reputation—time to sell.
Businessmen Bill Fryer and Donald Dobie bought Philbrook's to build the popular production sailboat Fast Passage 39. The company built 36 of the Garden design before selling the mold to Tollycraft in the late '70s. They also built the mold for the Haida 26, a Bob Perry/Stan Huntingford racer-cruiser, along with other new-builds like the 40-foot Pelagic motor cruiser (four) and Warrior 38 sailboats (three). Not enough, apparently, as the company again suffered bottom-line issues and, once again, Ted Hopkins appeared on the scene; this time to buy the company.
Hopkins promptly tied down contracts to build 41-foot patrol boats for the B.C. government and mixed in new-build projects like the Garden-designed motor yachts Ding Ho and Palamar.
Philbrook's also built the 65-foot Peppy San for Chunky Woodward, of the Woodward's department store family. The Monk-design was an exceptional motor cruiser photographed by yours truly for a charter brochure in 1983 (see photo).
In 1987, Hopkins started to think of retirement and sold the boatyard to the father and son team of Hal and Drew Irwin, who recognized Philbrook's for its outstanding reputation, ideal location, and potential in the recreational boating industry.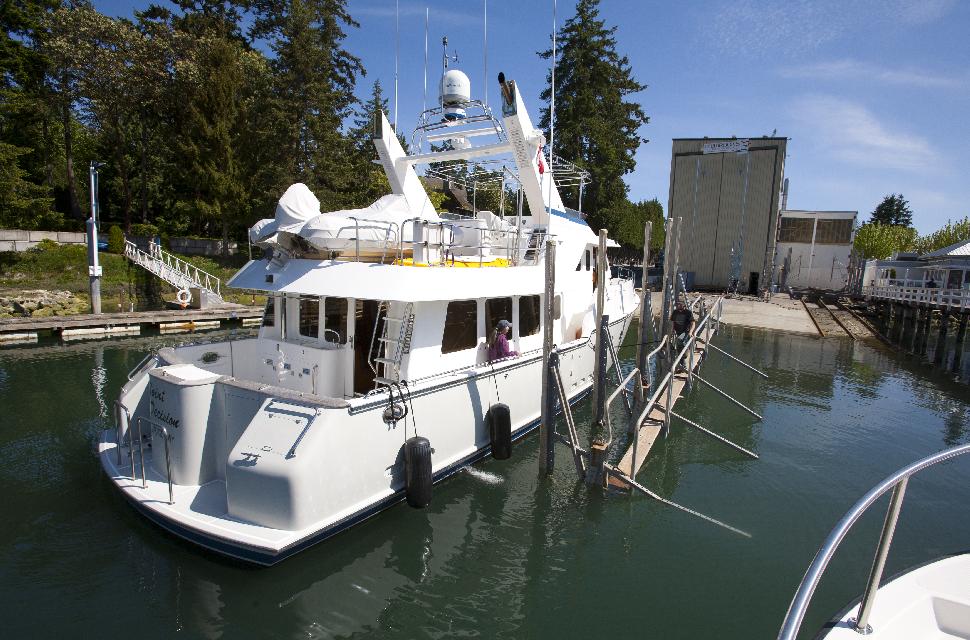 Along the ways—Philbrook's boats, 1987 to present
Since purchasing Philbrook's Boatyard Ltd. in 1987, Hal and Drew Irwin have run an amazing assortment of recreational and commercial vessels down their ways for service, maintenance, refit and new construction. Here are just a few:
New Builds:
Chinook Post A comfortable 65-foot pleasure cruiser built on the hull design used for the original post line of Canadian Fisheries patrol boats.
Tango A 69-foot custom sailboat for coastal cruising, built in 1999. Tango is a modern performance yacht equipped with push button controls.
Lambada A 45-foot high-speed cruiser powered by twin Pratt & Whitney turbines (1,400 horsepower) and jet drives.
Executive Sweet A 65-foot Bill Garden, Brian Holland & Paul Gartside designed motoryacht.
Crystal Sea A 52-foot Bill Garden designed motoryacht.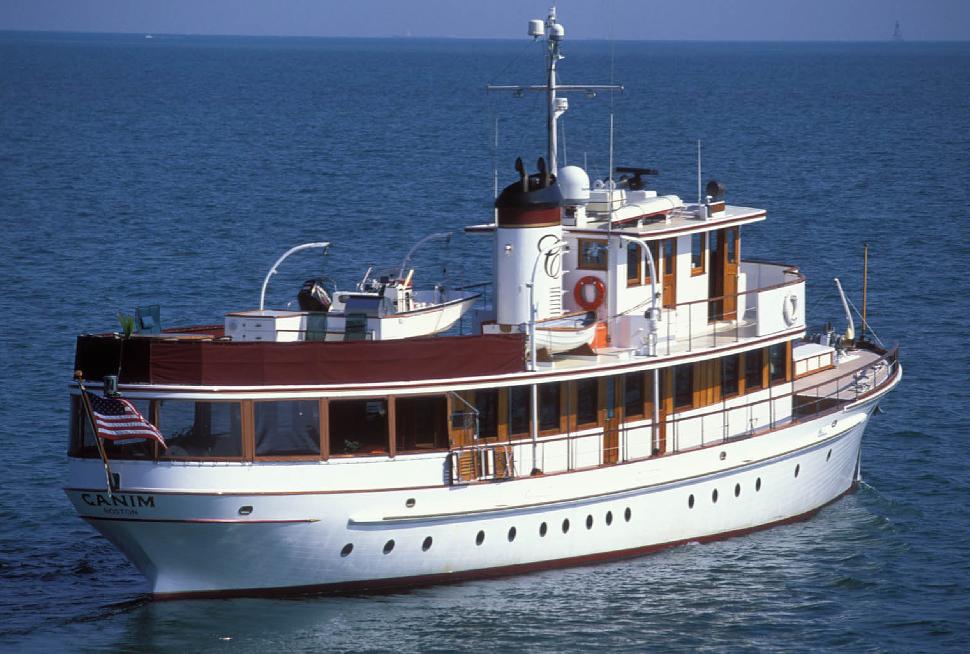 Notable Refits:
Tintagel A 55-foot custom aluminum sailboat refit that included repairs to hull welds and a rebuild of most interior and exterior components.
Canim A 96-foot wooden motoryacht, designed by Ted Geary as one of eight ships in her class in 1928-1930. Built at Lake Union Drydocks in 1930 for Col. A.J. Blethen as a private yacht, Philbrook's restored Canim to her original elegance and equipped her with 21st century technology.
Evergreen/Attessa IV Philbrook's built new stylish upper decks and overhangs as part of owner Dennis Washington's conversion of the 328-foot yacht Evergreen into Attessa IV.
Northern Dream A 126-foot motoryacht undergoing a one and a half year interior rebuild, today.