Participating in a specific regatta is one of the things that I love most about sailboat racing. The planning and coordination amongst the crew, the logistics of getting to and from the venue, the anticipation and realization of making it happen all add to the excitement. This year's SIN Regatta, which included the Martin 242 North Americans, had been on my list since July 2020, when the Nanaimo Yacht Club (NYC) was first awarded the opportunity to host this championship. In this month's article, I'd like to share our crew's full regatta experience competing on the Martin 242, Crantini.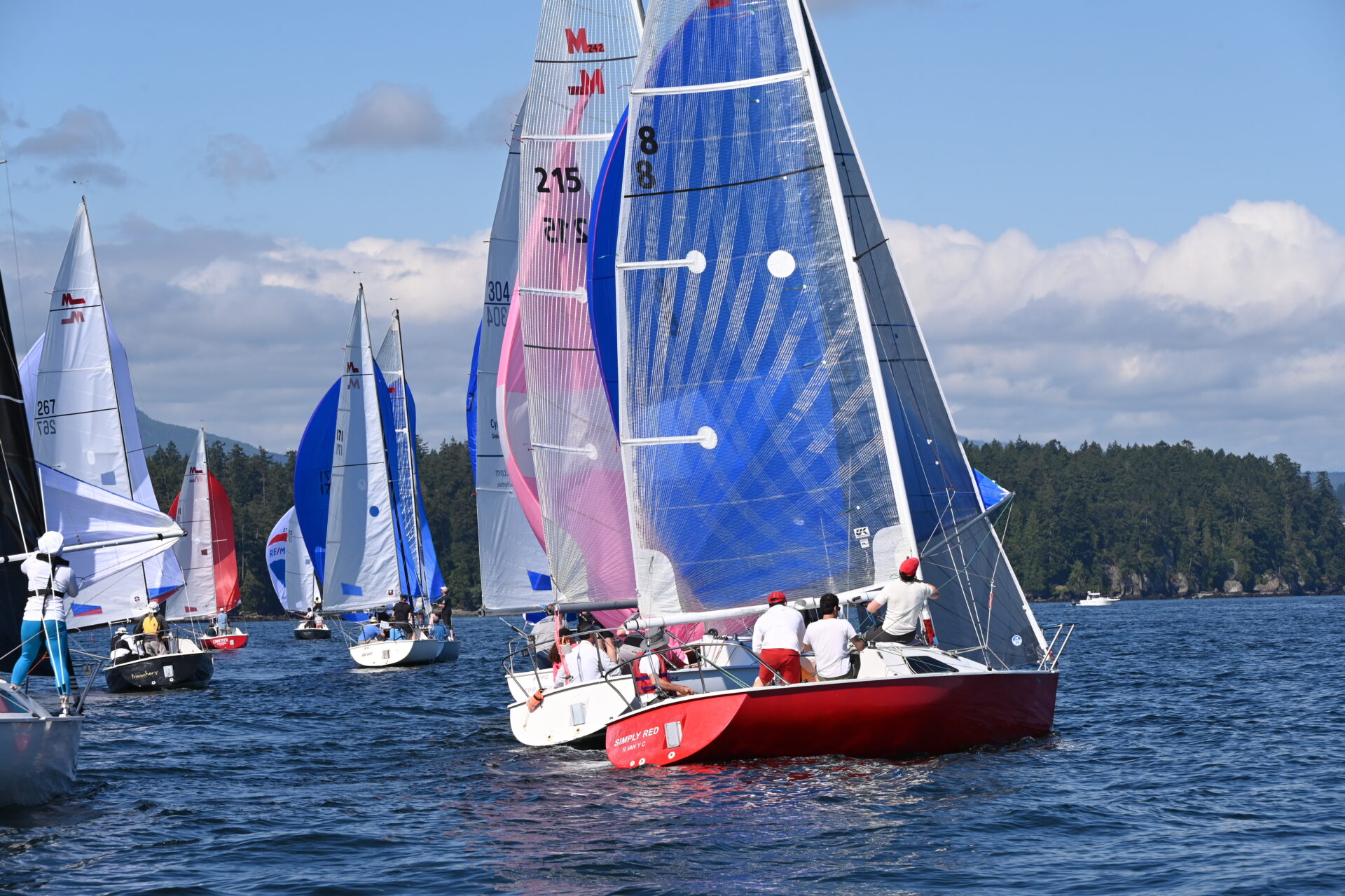 2020 seems like a lifetime ago and in many ways it was. The world has changed so much in the past two years, and I believe most of us have a greater appreciation for connections, friendships and community. For me, that was a big part of committing to this regatta. The list of challenges began with getting Crantini prepared, and included a re-measure for class rules compliance, after some refit and new paint a year ago. Step one was having class measurer Ken Holland spend a day weighing and measuring several of the Victoria boats. That completed, the second step was to haul the rig out and have Jeremy Smith, our other island measurer, confirm the very precise mast measurements were still intact after a repair. Along the way there was also a haul-out for a few days to repair some minor keel damage from a—I'll say minor—grounding that happened last winter. Hey, it happens! Then there was the obligatory wet sanding down to 600 grit, making sure we were competitive with all the full time dry sailed boats in the fleet. No excuses!
Crew preparation for a big championship will always be high on any competitors list. The core crew of Crantini were all very keen to race, but, alas being active racers, they all had other conflicting sailing commitments. Marc would be racing in Pacific Cup, Carl in the Vic-Maui and Suze was participating in the Barefoot Raid on her recently restored Albacore dinghy. I was very excited for everyone of course, but what about the crew for the North Americans? Perhaps the thing I enjoy most about the sport is meeting new people, some experienced and some not. The most important things I always look for in fellow crewmates are enthusiasm, competitive spirit, plus a willingness to learn and have fun. This year's crew came together during casual racing at Royal Victoria Yacht Club over the past few months. Sarah, who recently moved to the island from Vancouver is an experienced boat owner and racer and a bundle of energy. Engineer Isaac (or Liam, because I mistakenly called him that one day) is a transplanted Kiwi and former sailmaker who had never sailed or raced until a couple years ago. Then there was Sarah-Anne (Red) who was new to racing, but, oh yeah, she represented Canada in Rio in the Triathlon. We managed a couple of practice sessions and we also got out for a few Wednesday night races, so it was all systems go for the new Team Crantini!
A big part of any regatta is simply the logistics of getting there. For our team, Victoria to Nanaimo is a 12-hour delivery any way you slice it. I chose to break things up a bit, with a Tuesday night, after work, delivery to Sidney. Stu and Joy from UK Sails, who made Crantini's sails, always offer dock space at their marina. Suze picked me up at the dock and got me home. Thursday after work, Red drove Sarah and I back to the boat for the remaining eight hours left to Nanaimo. We mostly motor-sailed but had a bonus spinnaker run through Cowichan Bay. Timing the tides at Dodd Narrows is something that most cruisers will be familiar with, and our slack water window was around 01:00 hours. We ended up getting there a couple of hours early and with the ebbing current it looked like we'd have to wait a bit. Patience, patience… That's something that I'm always working on. As we hovered just south of the gap, I thought there seemed to be very little adverse current, so we gave it a go. There were a few little whirlpools and we slowed to just over a knot, but we were just able to break through. As the lights of Nanaimo came into view, so did a fireworks show. What a nice welcome to the "City of Sails." Arriving at the dock, I realized that I hadn't fully arranged the details of the mothership, that host 242 sailor, Ken Holland had generously offered up to our crew as homebase. A quick dock walk was unsuccessful in locating the boat, so we had to sleep on the fully stripped out Martin. Sarah had a few spinnakers for cushions down below. I opted for the foam mat comforter on the cockpit seat. Sleep came easily, and as soon as the sun was up we had a nice waterfront walk in search of a breakfast spot. It was all fun and all part of the full regatta experience… Right?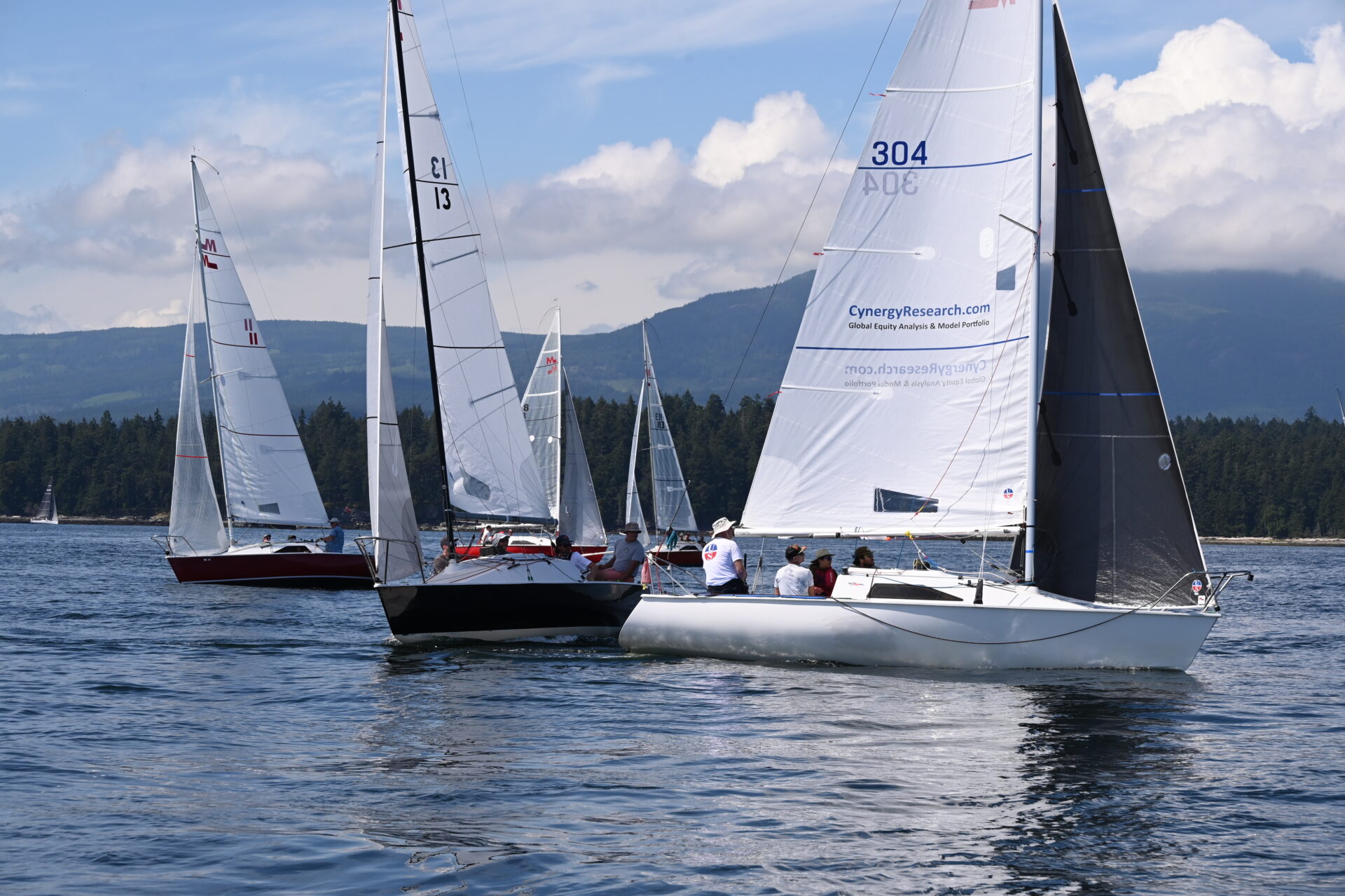 Registration was next up and the Nanaimo Yacht Club manager, Rusty, and the other committee folk were beyond welcoming. Three years of planning and this regatta was really happening! Once our crew was assembled, we met up with our host, Ken, and settled into our accommodation abord a C&C 33. Then it was time to gear up for the practice race. This was all new to Liam and Red as it was their first one-design regatta. Exciting! Eight out of 18 registered boats showed up on the practice race start-line and what followed was a fun windward leeward feel out of the course area and the competition. It's always difficult to judge your relative speed in light shifty conditions, but we sailed near the front of the fleet in a short two lap race, opting to not cross the finish line at the end. It's an old sailor superstition that it's bad luck to win the practice race. Still, it was a great ice breaker and I think everyone was feeling relieved and happy that we seemed competitive. On the sail back to the dock we enjoyed a refreshing Red Racer IPA, Crantini's official regatta beer. Every boat has one of those, right? The SIN Regatta welcome continued under a huge tent set up in the parking lot with more beer, burgers and a live band that included Vice Commodore and Regatta organizer Bill Jones on the drums.
Regatta day dawned hot and sunny and the race committee, headed by Jenn Ross, was all set up and ready to go at 10:00. The breeze was a light but sailable northeasterly, a bit of an unusual direction. First race butterflies were certainly present as we came off the line in a thin lane, just up from the pin. The wind was patchy and we continued left into a bit of texture. Tacking onto port, it looked like we were in pretty good company. There was Back and Black crossing ahead along with Too Wicked both looking fast. A back-and-forth battle was joined by M&M and Dirty Dog as we traded places regularly in the shifty conditions. Down the last run we were in second place coming to the finish. A small opportunity to gybe inside Back in Black saw us edge them by a half boat length for the first race win! What a wonderful moment for our crew and a great way to kick off the regatta. That pattern of tight, position changing racing continued throughout the five races on day one. We sailed consistently and were sitting with a tenuous two-point lead after the first day. I felt very proud of how we'd come together as a team. More Red Racers on the way in, followed by a wonderful dinner under the tent and a catch up with old friends. The atmosphere was fantastic with sailors from the Martin and PHRF fleets sharing in the best of times. It was everything a regatta should be and a reminder of how lucky we are.
The final day dawned rainy and windless. What a contrast. We received a tow out to the course from our good friends Bob and Leslie owners of Duet. The wind eventually filled from the southeast, although quite unstable in velocity and direction. Committee and competitors did their best to adapt. Some made it look easy, but no more so than Mike Clements on Too Wicked. It's a funny thing when you're sailing fast, getting on a roll can sometimes just follow. A series of top three finishes, including two bullets vaulted them to the top. Back and Black was also sailing very well, but for an "on course side" in one race they were fast! I was happy how we handled the tricky conditions with three top fives, but pushing a bit hard and misjudging the last start we not just hit the pin but got it hung up on our keel. Argh! A 10th in the final race was not the plan but as we broke out the Red Racers a little early on the final run, we were pleased to have finished the regatta in third place. My start line antics also earned us the much coveted, Screwdriver Award for biggest screw up. A little humbling and humility is never a bad thing. Sigh. The prize giving was sparsely attended as many were delivering home, but there was still a lively gathering of sailors. Congratulations to all the NYC volunteers, in particular Bill Jones, who had to leave early to catch his ride in the Vic-Maui Race. There you have it, the full regatta experience. OK, not everything… So join in and see it for yourself firsthand. See you on the water sometime soon.