The West Coast is fabulous but forbidding. Massive mountains drop straight into the sea, 400 kilometres of ramparts pierced by a dozen or so inlets of extraordinary interest. Services are basic and far apart, and only a few communities north of Tofino have road access.
An easy two-week cruise from Victoria to Port Hardy set the stage for the experience of Vancouver Island's rugged West Coast. I was single-handing my 40-foot Pacific Trawler, and welcomed a couple of staging days in the marina in Port Hardy to seek advice from those with experience.
Weather and sea conditions are "variable" on the West Coast and I was told that starting a cruise a week earlier or later can make a huge difference. Unfortunately, they also said there's really no way to know which week to choose. As summer begins to wane, the locals reference to the month of "Fog-ust" is no misnomer. The prevailing winds and currents are north-south, and temperatures are about 10 degrees cooler than Vancouver. Afternoon winds often exceed 30 knots with combined waves of more than three metres, but mornings are a boater's best friend because conditions are generally much calmer. Inflow and outflow winds blow hard in the inlets, but have little impact on travel. With a reputation as the Graveyard of the Pacific because of so many shipwrecks, it's easy to become uneasy about making the trip, but by travelling early in the day and stopping before the wind comes up, you can minimize some of the risks and enjoy this wonderful journey with rewards that far outweigh any pre-trip anxiety.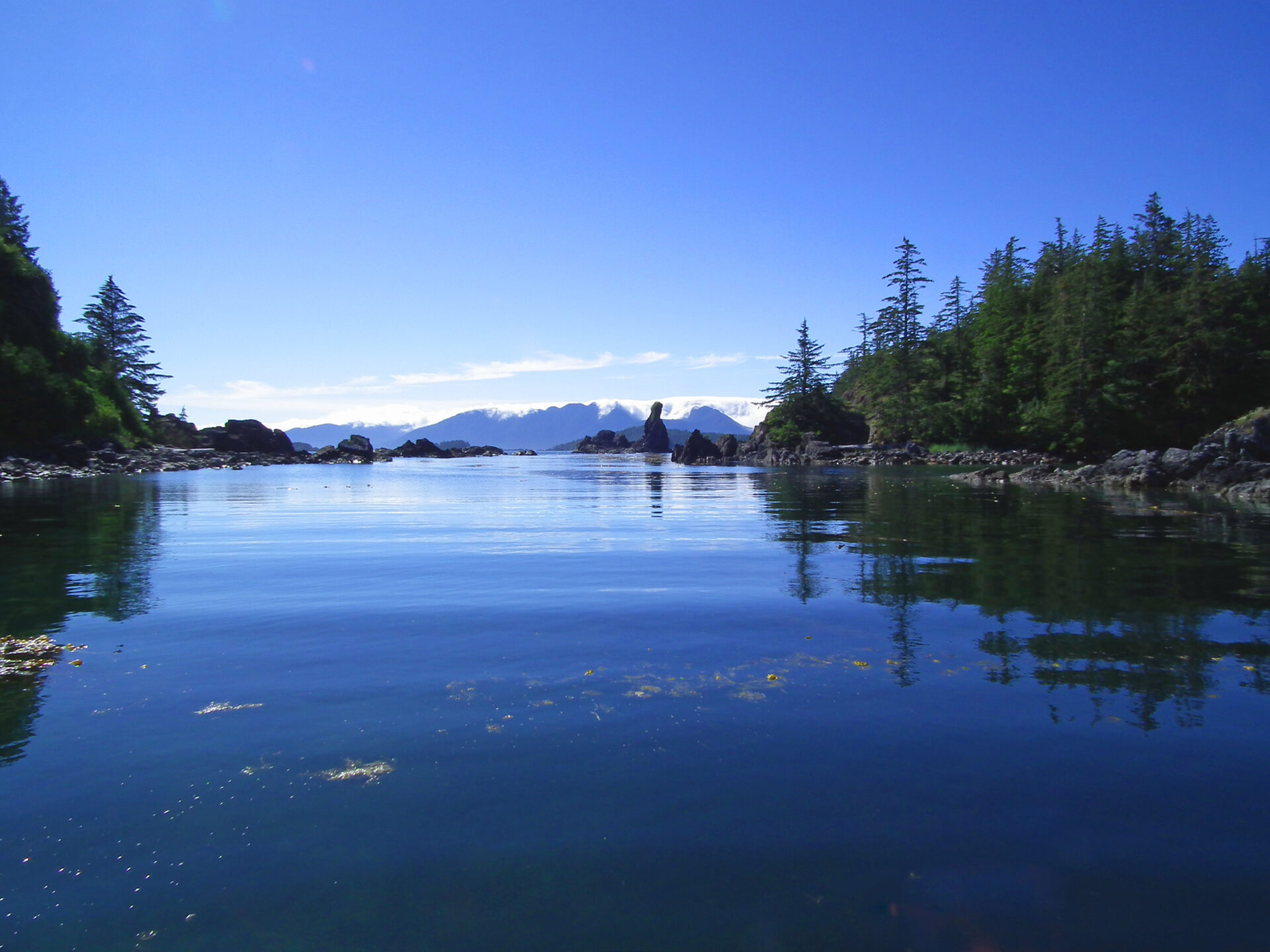 The First Obstacle  From Port Hardy, the first West Coast navigation hazard is the Nahwitti Bar, a great underwater wall that creates violent standing waves in certain tide and wind conditions. Usually, boats anchor in Bull Harbour to wait for a weather window, but the forecast for the next day was better than for the following week, so I made my first night passage in the company of two bigger boats, a Selene and a Nordhavn.
We left Port Hardy at a moonless 02:00 to run up Goletas Channel on instruments, arriving at the Nahwitti Bar at first light. The conditions were as expected with standing waves, so we gave the bar a miss by taking the slightly longer but much calmer detour under the Tatnall Reefs.
Rounding Cape Scott the wind was about 30 knots with waves over two metres. Unfortunately, the angle of attack caused all three boats to pitch and roll, and during one quite misty section I came close to being seasick by forgetting how important it is to not watch the waves. With the alarms set and the autopilot steering, I quickly left the helm to change the view, make some tea, and munch on some dry biscuits. The queasiness soon passed, and now listening to an audiobook, I was careful to not make that mistake again. After a passage of almost 10 hours, the lighthouse marking the entry to Quatsino Sound was a welcome sight.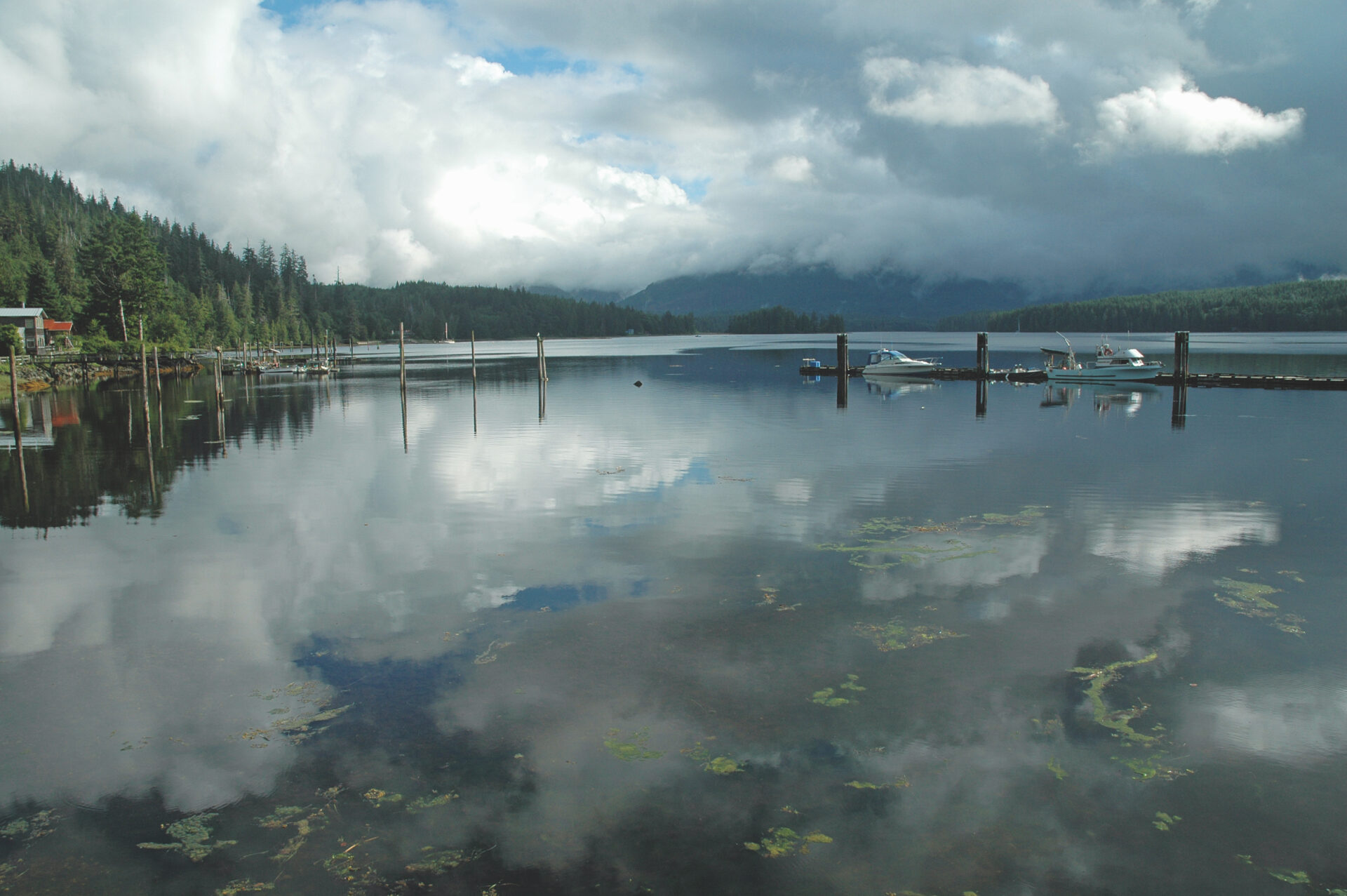 Safe Haven in Quatsino   A few miles more and I was at the Winter Harbour public dock at noon. A small store, part of a large sport fishing and hotel operation in Winter Harbour, sells basic supplies and alcoholic beverages. The tiny community has a long boardwalk for a main street and a pleasant stroll, and the sound offers many comfortable anchorages, the occasional whale and rafts of sea otters. Hard to believe these entertaining animals were once hunted to extinction, but the introduction of Alaskan otters has brought them back and they are now ubiquitous. Quatsino Sound is a welcome, safe and scenic haven.
The following day I travelled to the narrows that access Holberg and Rupert inlets, but the strong tidal currents require the transit to be taken at slack and I didn't want to spend an extra day. Instead, I turned south to visit attractive Port Alice, then back-tracked to spend the night in a quiet anchorage a couple of miles east of the lighthouse on Kains Island, a good place from which to contemplate the massive Brooks Peninsula, probably the most psychologically daunting obstacle of the trip. It juts into the ocean for almost 16 kilometres, a curious and foreboding rectangular block of rock with the Solander Island lighthouse marking the northwest corner. After reviewing the weather forecasts and buoy reports, the Selene and I headed directly to Solander Island at 05:00.
Past Brooks Peninsula   In good conditions, running inside Solander is a viable option, but while the wind wasn't bad, the waves quickly increased to more than four metres and it was rock and roll time again.
Once around Clerke Point and in Brook's lee, everything settled down and the Selene crew decided to anchor in Columbia Cove on the south side of Brooks, but it didn't appeal to me because it was narrow, dreary, and full of logs. Instead, I carried on to the Bunsby Islands, where the heavy overcast dissipated and the sun illuminated a spectacular scene.
The Bunsbys are magical. I had my choice of anchorages and picked Scow Bay, but with difficulty anchoring I had misgivings about staying overnight. I was also tired and hungry, so after lunch and a refreshing nap, I shifted over to an idyllic anchorage in Green Head Cove.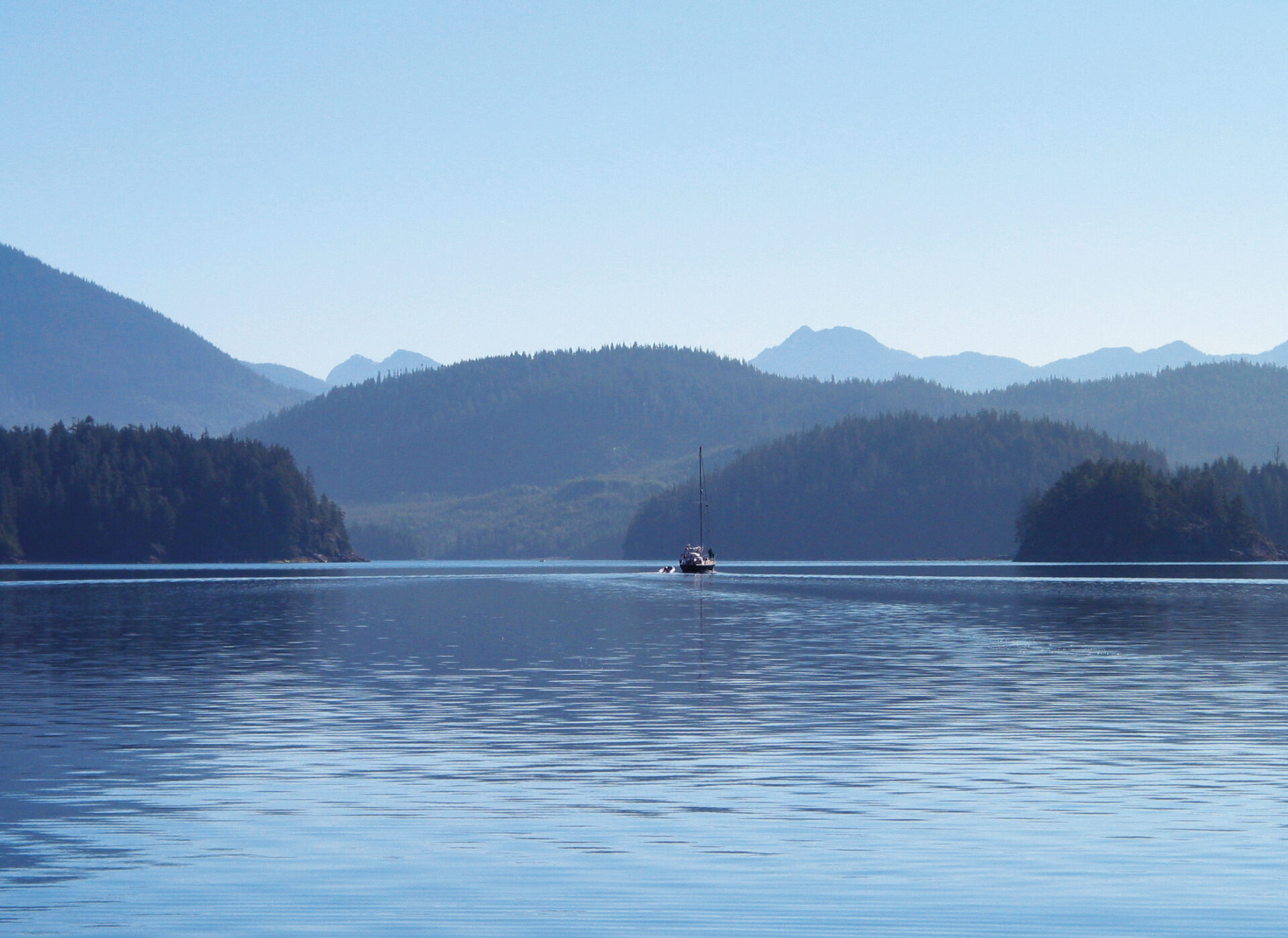 Kyuquot Sound   I had lots to see, so I left alone the next morning, heading southeast to Kyuquot Sound in full sunshine. The ocean is quite shallow for about six miles offshore and littered with rocky islets, but since the wind was light and the swells moderate at about two metres, I chose a straight course about a mile and a half from shore, and had a pleasant 90-minute run past sea otter rafts and seals to Walters Cove. Entry is through very pretty and well-marked narrow passages, and Walters Cove surprises in many ways. First, it's not a cove at all, but an area of calm water surrounded and protected by a series of islands. It's home to the intimate and picturesque community of Kyuquot with a hotel, a store, a "boat-through" java hut, and a medical outpost. It's a funky place to stop for a bit.
The next objective was to travel to the head of Kashutl Inlet. As usual, the wind picked up after lunch, but the day was bright, and it's seldom rough in the inlets. Here, the scenery is surprisingly gentle, the water bounded by lower hills, a nice beach on the north shore (no anchorage), and an interesting river valley to the east.
I considered returning to Walters Cove for the next day's arrival of the MV Uchuck—Upchuck to the locals—which is a little freighter that provides a lifeline to the tiny coastal communities while offering a wonderful experience to a small number of passengers. However, a friend's strong recommendation prevailed, so I turned east into Tahsish-Kwois Provincial Marine Park to one of the most idyllic settings I have ever enjoyed. I glided through a narrow neck into a calm and fairly large cove—complete with otters—and carried on through another constriction into a second, smaller cove, gliding past a grazing buck.
With the hook set, I had both of the coves to myself for a relaxing late afternoon and a very early night. Unfortunately, I awoke the next morning at 04:00 and couldn't get back to sleep. With a thermos of coffee, I left the cove before dawn, greeted by a beautiful sunrise an hour later.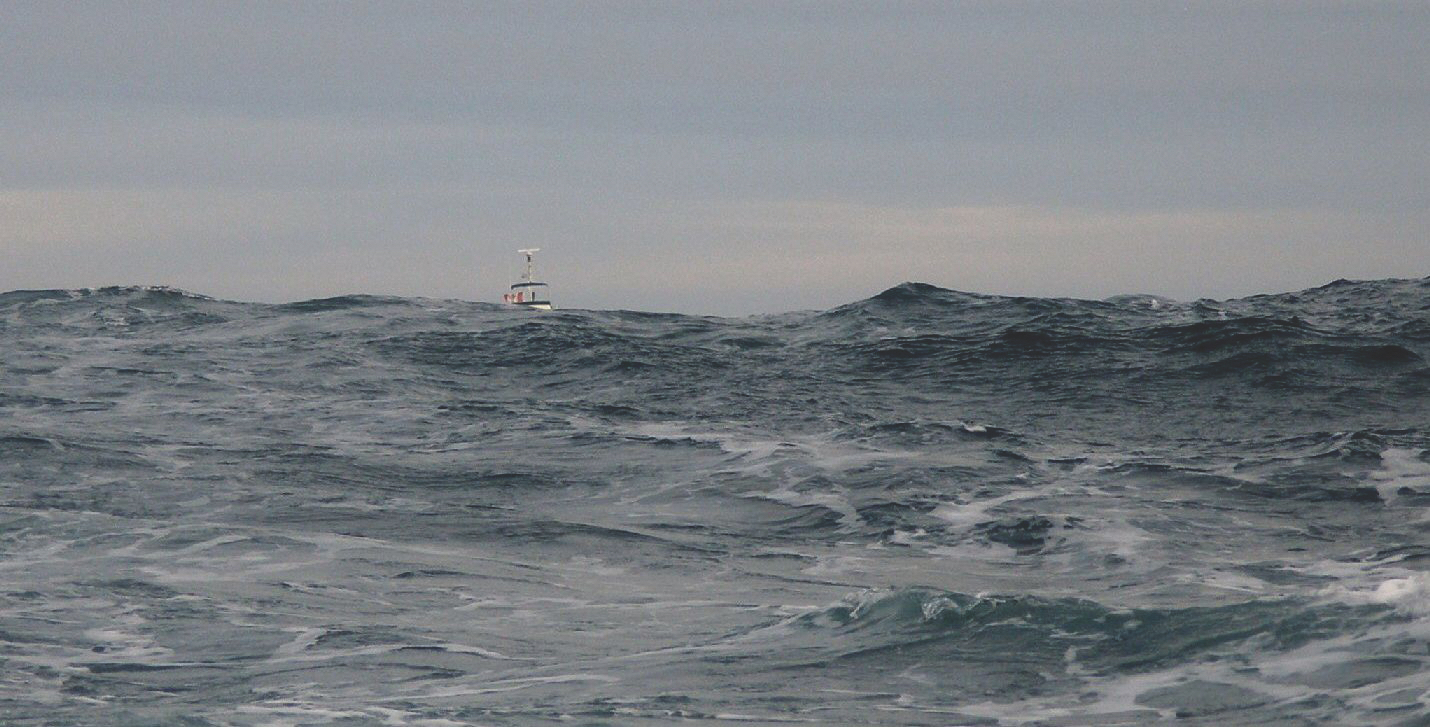 Esperanza Inlet  Coming out of Kyuquot Sound and back into the Pacific the seas were quite rough as the ebbing tide met the ocean swells, but settled down once I rounded Rugged Point. Enough, in fact that I decided again to stay inshore and use Clear Passage behind the next series of rocky islets. However, I should have exited to deeper water sooner, for I found myself in a really shallow cul-de-sac formed by Tatchu Rocks, and had a few scary moments picking my way through the surf between the islets with the sounders displaying two feet under the keel. But no harm done, and without further ado I passed aptly-named Jurassic Point where I saw a grey whale, and then went through Rolling Roadstead to enter Esperanza Inlet at 08:00.
Once I hit smooth water, I made breakfast underway, and wandered through a network of intimate, picturesque fjords, passing the venerable Shantyman Mission tucked into a shallow valley.
A turn north, and I was soon tied up at the public dock in Zeballos at 09:30, but in the shadow of a noisy fish processing plant spewing offal into the inlet. I thought to leave and anchor well away, but then met another single-hander, a friend who'd come up from the south and was also docked. While the local economy is challenging, private money is being invested in two new hotels serving sport fishermen. We had dinner at one of them, and while not haute cuisine, it was good and reasonably priced.
After breakfast, I cast off for the short and very pretty trip to the Tahsis, where the vibrant marina is a stark contrast to the town. I decided to take the "inside route" to Friendly Cove. The name is apt, and although unprepossessing from the anchorage, there is much to see and do. I went ashore and enjoyed visiting Sanford Williams, a talented and well-known carver, the historic church with its stained glass windows commemorating Portuguese explorers, and an evocative graveyard. Friendly Cove is also the jumping off point for rounding the Hesquiat Peninsula and Estevan Point.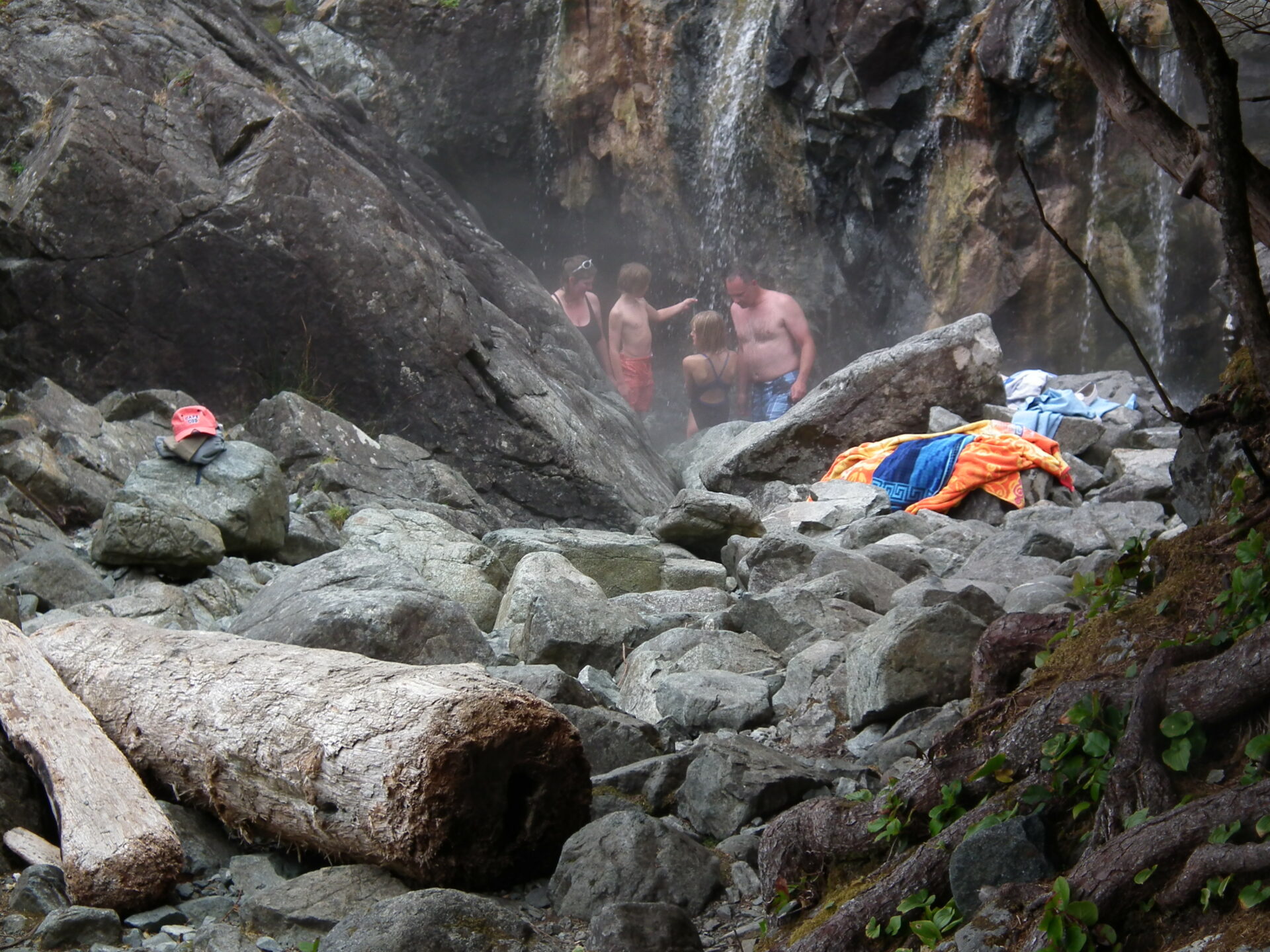 Hop Off at Hot Springs Cove  Although there was zero visibility in dense fog at 06:45, the wind and wave forecast was reasonable, so off I went with another powerboat following. Marine weather reports always warn that "local conditions might vary" and these did, because the swells proved to be more than four metres.
Nevertheless, it wasn't a bad ride, and I arrived without incident at Hot Springs Cove, a small inlet beside the enormous, multi-channelled Clayquot Sound. Hot Springs is a popular destination, not only for boaters, but also tourists who come in on float planes and whale-watching boats.
It's also famous for the forest boardwalk containing the names of boats that have visited.
There were dozens of boats in the anchorage, a good place to "take the waters," meet fellow travellers, and relax for a couple of days. On leaving, it was a matter of making a quick U-turn into the fabulous network of waterways comprising Clayoquot Sound.
Quick trip through Clayoquot  The various inlets and islands of Clayoquot Sound are simply too many to explore in the time I had available, and intending to return, I took advice and focused on a few particularly interesting areas. This was relaxing place to travel with so much to see, and many lovely anchorages from which to choose.
It was a beautiful day and I was having such a wonderful time that I kept running until I found myself in Fortune Channel at the southern-most arm of the sound, and realized I'd run out of all those lovely anchorages. What I did not realize was that I was really tired and not making good decisions because based on information from a guidebook, I anchored in the last possible spot before Tofino, in the aptly named Windy Bay.
Dicey Decisions  Less than an hour later in the middle of supper, I started to drag my anchor. Despite re-setting the anchor with 175 feet of chain out, I was again blown down the bay. It was getting late, and rather than spend the night worrying, I decided to run for Tofino, which was another poor decision.
I knew Tofino's marina would be clogged at this time of year, and the far better choice would have been to backtrack to Mosquito Harbour only five miles behind me. Plus, the route to Tofino is shallow with wind and currents, the channels are narrow and twisting, and with the setting sun in my eyes it was difficult to locate the all-important buoys. Perhaps fortune favours the foolish, but I finally got a cellphone signal and discovered that a helpful wharfinger was still on the job. In the dying light he directed me to a side-tie against a derelict fishboat.
Best Laid Plans  After a walk to the grocery store, a good meal, and an excellent night's sleep, I left Tofino at 06:00, watching the sounders carefully for the first half hour in waters often less than 10 feet deep. Although it was misty, there was no wind at all and the sea was calm except for the sport fishing boats zooming out of the harbour. A couple of hours later, it was heavily overcast but visibility was good. My plan was to spend several days in Barkley Sound, and with a tour of a misty Ucluelet Harbour on the way, I went on to the Broken Islands just as the sun came out.
Effingham Bay is well sheltered with room to spare and wonderful views, but they degraded as a heavy offshore fog started to roll in, and disappointingly, the weather channel predicted more of the same for the next several days. With Bamfield only 90 minutes away, I decided to move despite the dense fog that had enveloped the boat. Entering Bamfield Inlet, however, zero visibility changed to bright sun in a stunning instant, and I found a place at the public dock with the wall of fog in the background.
Locals said this phenomenon is typical. The east side of Bamfield has interesting buildings including the concert hall, plus road access to the rest of the island. The west side is truly charming with a long boardwalk fronting well-maintained cottages as its main street. There is no overland connection between the two. Although I had scoured river basins and shorelines for my entire trip for bears I hadn't seen any until one ambled along the waterfront.
After a truly pleasant afternoon and evening in brilliant sun, I checked the short and longer term marine weather forecasts for Barkley Sound and Juan de Fuca Strait: heavy fog for the next several days. So much for my plans to explore the Broken Islands and Port Alberni. On the other hand, wind and wave conditions in the strait looked good, and knowing I would be back to the West Coast at some point, I decided to take advantage of them.
Strait to Home  It was back into the fog bank at 05:00, around Cape Beal, and down the strait in zero visibility. I stayed midway between the traffic lanes and shore, running, as usual, on autopilot and watching the instruments. There were lots of small boats inshore on the radar and quite a few ships in the traffic lanes on AIS. Thank goodness for audiobooks, because it was nine hours before I came out of the fog at Sheringham Point to fantastic views of the Olympic Mountains and Mount Baker.
Tying up in Cadboro Bay at 18:05 marked an end to yet another great experience. Guidance from generous boaters with life-long knowledge of these waters and buddy-boating on some of the more daunting passages had kept stress levels low. Unnecessarily, however, I had pushed too hard in the final stages when a more measured pace would have avoided mental fatigue and made it even more pleasurable. No matter now, for next summer it's back to the southern inlets to enjoy them at leisure.
The Numbers:
Four weeks
1,600 km
134 hours underway
252.5 US gallons of diesel consumed at 1.88 gph
6.2 knots average speed including idling
One technical failure: a burned out light bulb