It pays to be a skilled eavesdropper. That was the way we discovered Waddington Bay during our first summer exploring the Broughtons. We were at The Port McNeill Fuel Dock and Marina (North Island Marina) and about to head back out into the islands after a day of re-provisioning and laundry when I overheard a couple cruisers discussing their recent visit. The key words that caught my attention were "well-protected anchorage" and "the crabs are huge and plentiful."
It wasn't long before we were casting-off and setting Easy Goin'on a 23-mile course taking us east in Cormorant Channel, across Blackfish Sound, and north up Retreat Passage to the northeast corner of Bonwick Island.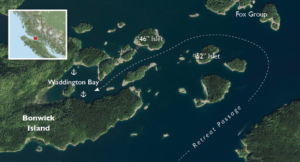 It can be a bit tricky finding and entering the anchorage; it's narrow and there are many rocky islets that will bite you if close attention isn't paid to the chart and electronics. The printed charts are scale 1:40,000 and 1:80,000 making them fairly useless for navigation, but digital charts are perfect when zoomed in. The entrance to Waddington Bay is located south of the southernmost island of the Fox Group, between "46" Islet (to starboard) and "52' Islet (to port). Then follow the fairly straight waterway southwest into the anchorage.
When we arrived in the bay we were pleasantly surprised how large an area it was, with room to accommodate about a dozen boats. This popular anchorage offers beautiful scenery and good protection from the weather. There's a small island that partially hides the head of the shallow mud bay. The bay shoals so take caution.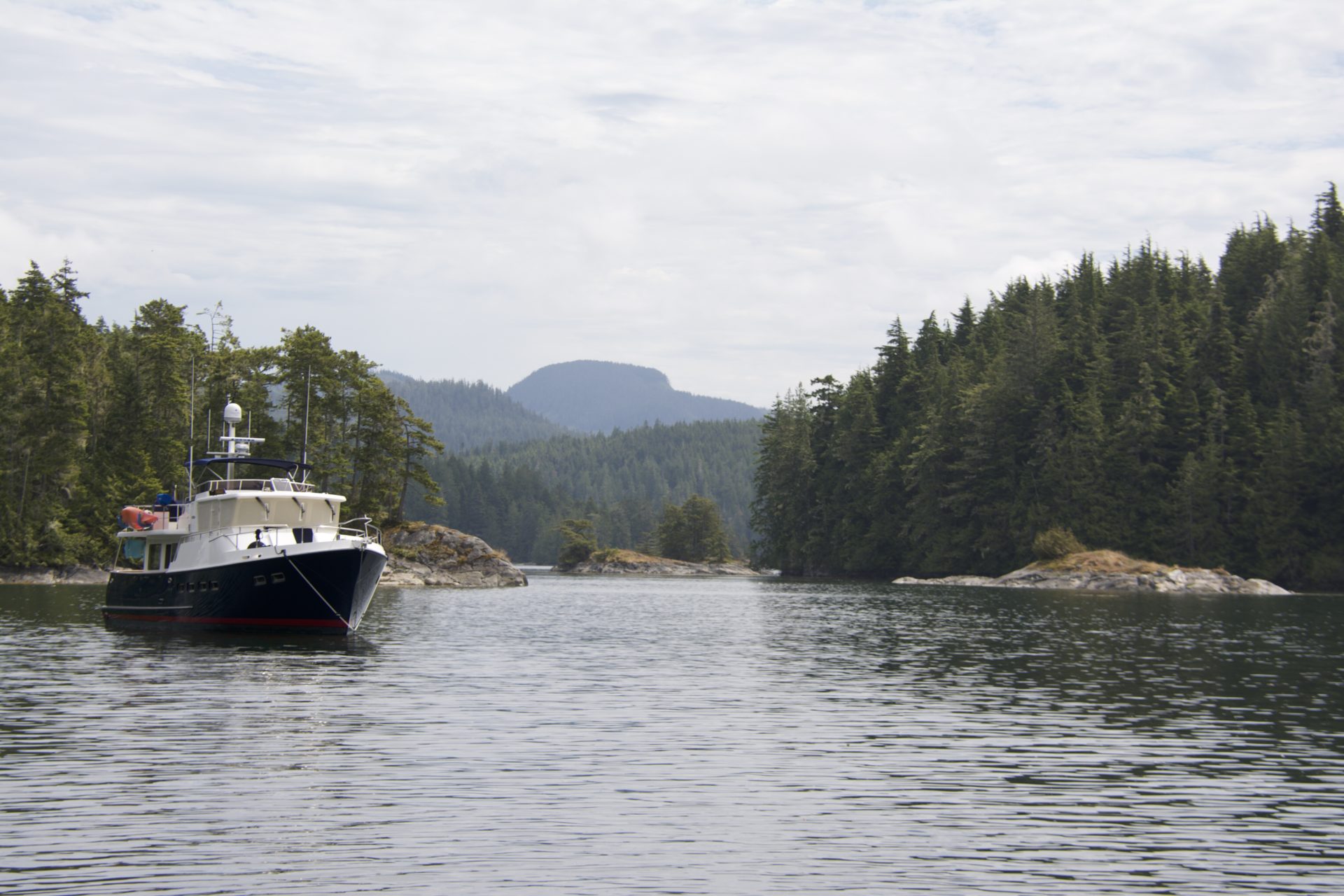 Our favourite anchoring location is on the north side of the bay. It provides a view of the boats coming and going, the Island, the shoaling head of the bay, and provides sun on the boat all day long. We set the hook in 24 feet, over a sticky, flat mud bottom with good holding and ran a stern line ashore.
On the first day, while sitting on Easy Goin's back deck eating lunch, we spotted a mink moving in and out of the rocks and a raccoon turning over small rocks at the waterline in search of a meal. It made for good lunchtime entertainment. The afternoon was spent fishing, setting crab traps and exploring the many islets. We discovered the maze of islets around the entrance, with their fragrance of wild flowers, is perfect for bird watching, picnicking or exploring by tender. Also the views from atop of some of the islets are breathtaking.
While fishing from the dinghy for that night's dinner and crab bait (filets for us and carcasses for the crabs) a pod of dolphins played within 10 feet of us. What an experience, to be so close that every time they surfaced we could see and feel the mist of their exhale.
That evening, northwesterly 15 to 20-knot winds were predicted until midnight. In the protection of the bay we didn't notice them and enjoyed a relaxing night's rest. If a storm is brewing in Queen Charlotte Strait, three miles to the west, this anchorage will serve well in all winds.
After a morning cup of coffee, it was time to down the foul weather gear and check the crab traps. There were 10 dungeness crabs in the two pots, seven of which were keepers.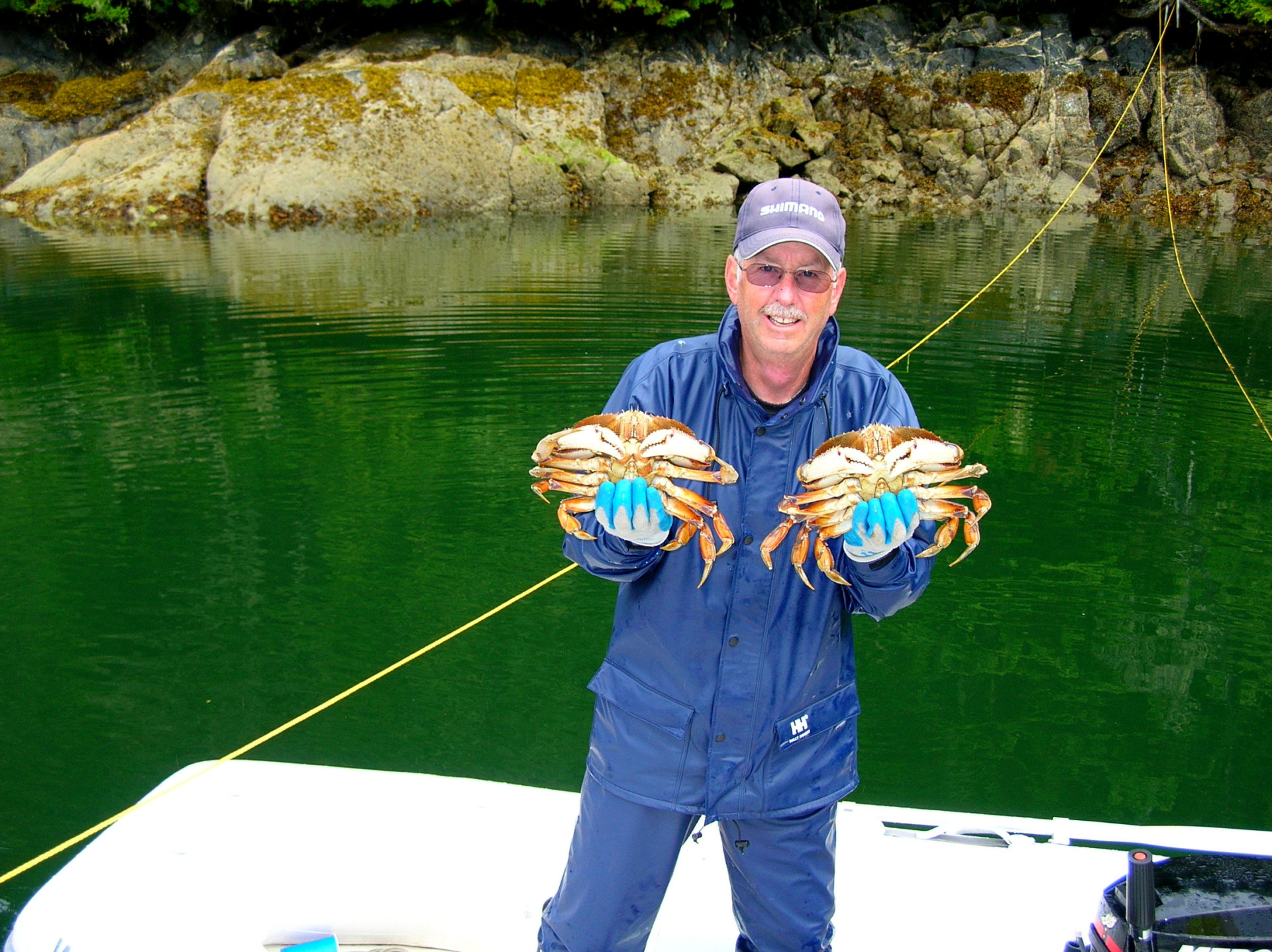 That afternoon as we cleaned and steamed our harvest of dungeness I had the strange feeling that we were being watched. With a quick look around the area, I noticed a bald eagle perched on a large rock watching our every move. We believe he was hoping for an invite to dinner.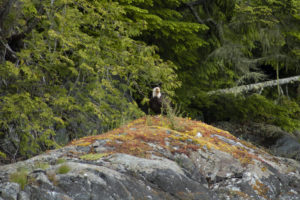 After a feasting on crab cocktails, barbecued salmon, herb and garlic roasted potatoes and green beans, we took our evening cocktails to the bridge to absorb the sights and sounds of the tranquil bay.
We enjoyed the secure anchorage and surrounding area so much on our first visit, we ended-up staying for five days. Waddington Bay, at the north end of Retreat Passage on Bonwick Island, offers shelter, a relaxing atmosphere, amazing views and an excellent opportunity to enjoy a fresh seafood meal.
If You Visit:
Charts: 3546, 3515
Entrance: 50.43'21" N, 126.35'51" W
Anchorage: 50.43'02", 126.36'55"
Nearest Marina: Echo Bay
This article was featured in Pacific Yachting's October 2018 issue. Order it from our Shopify store now (while supplies last) or subscribe to our Digital or Print & Digital editions to gain access to over 20 years of archives!